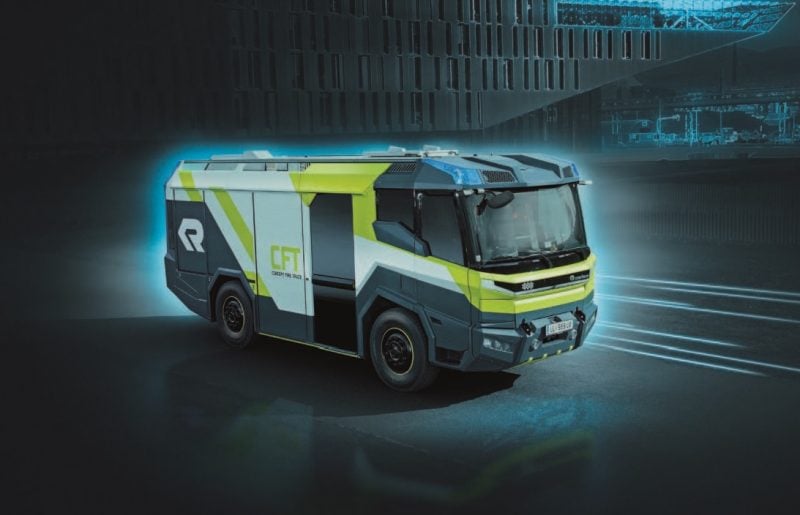 Los Angeles Fire Department (LAFD) is setting the standard for sustainability across North America as the first fire department to purchase an electric fire truck for service in the continent and the third fire department to purchase an electric fire truck in the world.
To announce the new purchase, the Los Angeles Fire Department produced a video hosted by LAFD Fire Chief, Ralph Terrazas showcasing the new fire truck.
The new LAFD fire truck will be built by Rosenbauer Group, a firefighting equipment company based in Leonding, Austria. The electric fire truck is currently a concept vehicle which Rosenbauer creatively refers to as the Concept Fire Truck (CFT). The truck will feature two batteries with a capacity of 100 kWh for up to two hours of runtime. An additional 200 kWh range extended is also integrated for extended use. According to the LAFD, this is enough runtime for 90% of all fire truck applications.
The new electric LAFD fire truck is expected to be delivered by the end of the year and put into service in 2021. It is expected to be deployed at Fire Station 82 in Hollywood.
Eric Garcetti, the Mayor of Los Angeles, has made major commitments to reduce carbon emissions and increase the use of clean energy vehicles last year. According to his L.A. Green New Deal plan, Garcetti is targeting 100% electrification by 2030, 100% renewable energy by 2045, and 100% net zero by 2050.