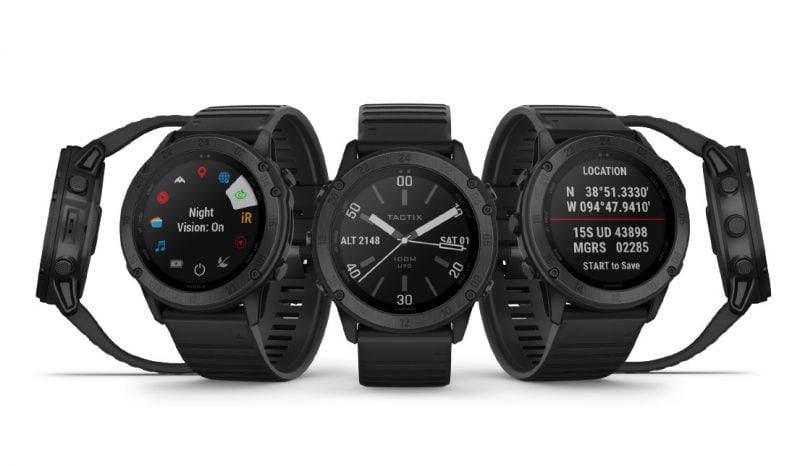 What is a Tactical Watch?
It seems like everything is "tactical" these days. For many gear manufacturers, the word tactical is a buzz word simply because it's a damn cool word, but in actuality a proper piece of tactical equipment signifies that it's a piece of equipment designed specifically for those who frequently operate in the field. This typically include members of the military who can frequently be found in forward operating bases all around the world or law enforcement officers who patrol the streets everyday.
As a result, a tactical watch is a watch that's generally designed for use by those in the military, law enforcement, or outdoors community. Here's what we think are the best.
The Best Tactical Watches
Garmin Instinct Tactical / Garmin Instinct Solar Tactical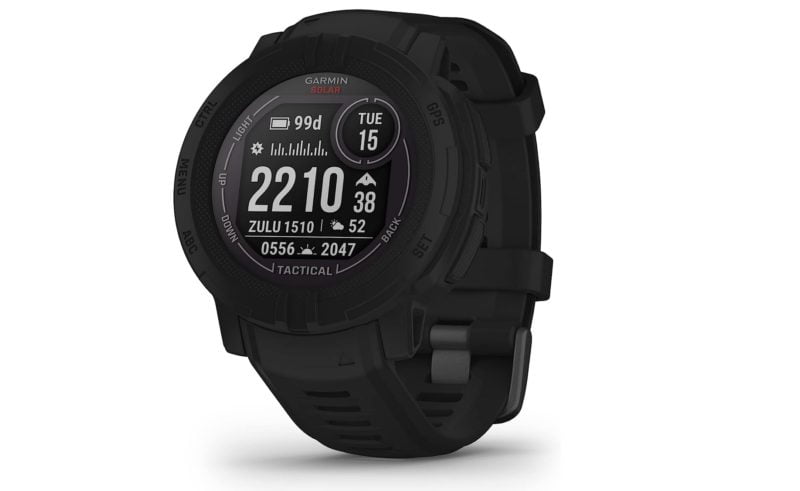 The Garmin Instinct 2 Solar Tactical is one of Garmin's newest additions to the Garmin tactical watch lineup and it's quickly moved its way up to become one of our favorite tactical watches of all time, displacing its predecessor the Garmin Instinct Tactical.
Why? For starters, it's durable. Built utilizing a fiber-reinforced 45mm polymer casing and a chemically strengthened scratch resistant display, the Garmin Instinct Tactical is MIL-STD 810 certified for thermal, shock, and water resistance to ensure that it continues to operate even when in the toughest field conditions. Like Casio's G-Shock series watches, the Garmin Instinct Solar 2 Tactical also features a raised bezel, which further reduces the potential for impact on the display so it'll be safe even after accidentally bumping it into your Humvee door the first or the tenth time.
Unlike Garmin Tactix series, the Garmin Instinct Tactical series isn't exactly the fanciest watch of all time. The Garmin Instinct 2 Solar Tactical features a black and white OLED display which is easily legible, but it definitely isn't a fancy color display here, but it does have all the features you'd expect from an activity tracker as well as a heart rate monitor, Pulse Ox, and respiration. What's more, the solar edition features the capability to charge via solar power, which according to Garmin will provide unlimited battery life if used in smartwatch mode. Amazing.
What makes the tactical editions so unique is that it also has numerous military specific features such as Stealth Mode which prevents location data from being tracked while in activity mode to ensure if you happen to be on a secret base somewhere you don't accidentally share your location with all your Facebook friends, Jumpmaster Mode which helps you land at hopefully the right place when conducting airborne operations, Nightvision Mode if you happen to be operating with night-vision gear, and MGRS navigation which if you're familiar with what that means, means you probably want this watch.
The Garmin Instinct 2 Solar Tactical has an MSRP of $449.99, which isn't cheap, but for all the features you're getting here, it easily tops the list as the best tactical watch you can buy.
Garmin tactix Delta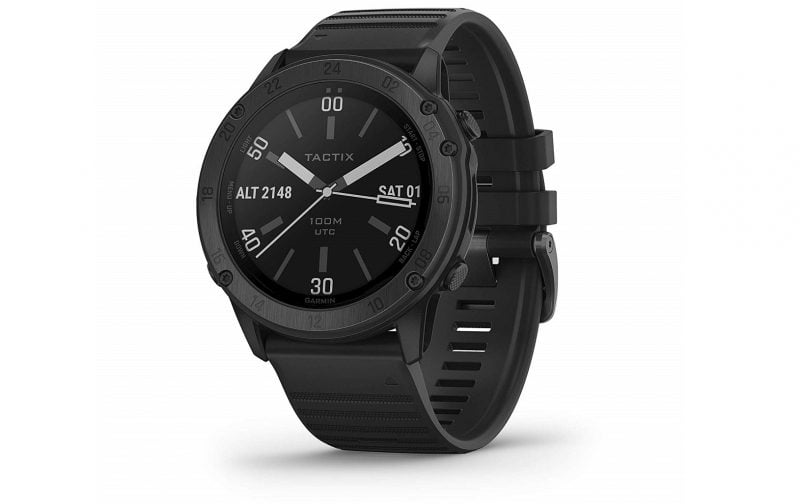 The Garmin tactix Delta is the bigger brother of the Garmin Instinct Tactical and is far and above the best tactical watch money can buy.
With an MSRP of $899, the Garmin Tactix Delta is a MIL-STD 810 certified watch featuring a 51mm casing, domed sapphire crystal on the watch face, and is constructed of a combination of carbon coated steel and fiber reinforced polymer ensuring the device can withstand the harshest of environments.
It also features a 280×280 pixel color display as well as Garmin Connect IQ support allowing downloads of popular apps such as Spotify and Uber, and community created watchfaces. Of course, there's also Garmin's smart payment features so you don't have to pull out a smartphone in order to pay for your extra tactical lunch. Also thanks to its color screen, topographic maps are available on the tactix Delta which is useful for figuring out what type of terrain you're dealing with before trying to navigate to your next waypoint.
As for military specific features, the tactix Delta has everything available to the Instinct Tactical (Jumpmaster Mode, Nightvision Mode, Stealth Mode, MGRS navigation, etc) in addition to a kill switch option which allows you to instantly clear the device memory to prevent data compromise in the event the watch gets into the wrong hands.
If you've got the money and you're looking to buy the best tactical watch on the market, the Garmin tactix Delta is your best bet.
G-Shock Tough Solar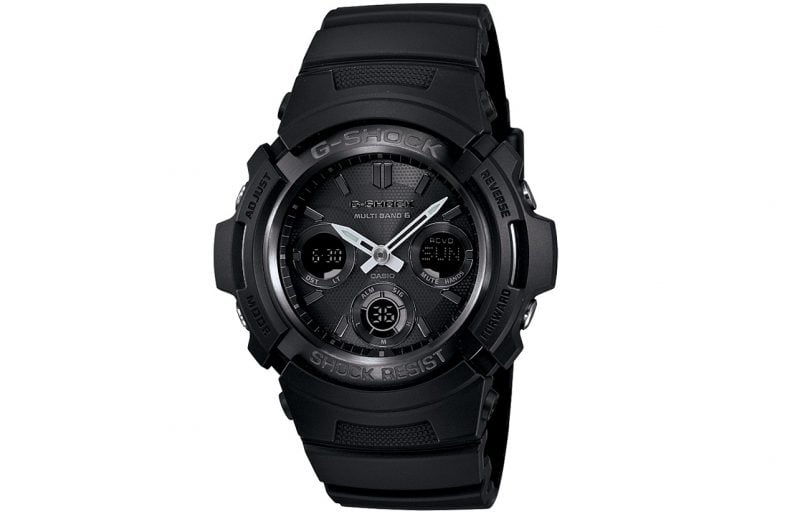 The G-Shock was your quintessential tactical watch before the invention of smartwatches. G-Shocks were well known to be the most durable watches on the planet that could withstand almost every sort of damage imaginable and members of the military and law enforcement community have trusted G-Shocks for a very long time.
The G-Shock Tough Solar is currently the best tactical watch of the G-Shock lineup. Priced at under $100, the G-Shock Tough Solar can utilize solar power to help recharge the onboard battery and features atomic timekeeping to ensure that the time is always accurate no matter what the case.
If you're looking for a simple watch that simply tells time, date, and functions as a basic stopwatch, the G-Shock Tough Solar is it.
Tactical Watch Buying Guide
What Type of Features Differentiate a Tactical Watch?
When buying a tactical watch, there are several important features to look out for and several considerations to make.
High Durability
This is a very important question especially if you're planning to go out into the field. If you've ever operated in a field environment, you'll know that watches can frequently bang into other objects such as a rifle, a vehicle door, a wall, a rock, or some other hard surface. This could be deadly for a normal watch, but a tactical watch needs a higher level of survivability.
Often times, companies that make electronic devices geared for military or law enforcement duty will voluntarily subject their products to US Department of Defense standards. Typically referred to as MILSPEC or Military Standard 810G (MIL-STD 810G). MIL-STD 810G prescribes approximately two dozen tests covering altitude, high/low temperature exposure, humidity, water, dust, shock and more. Devices that meet this standard are ensured to operate even in some of the harshest conditions.
Waterproof
Tactical watches need to be waterproof, period. When working in the field, downpours and storms can easily ruin your day. Don't let it also ruin your watch.
If the watch already meets MIL-STD 810G standards, then chances are it already has substantial protection against shock, water, and dust. However, some manufacturers produce watches that are not capable of meeting the MIL-STD 810G standard however, are still waterproof. Another international standard, IEC 60529 (International Electrotechnical Commission 60529) defines IP (Ingress Protection) and is commonly used for electronic devices as well. Typically devices are either IP67 or IP68 rated. The first number is dust proofing. Devices that are IP6x rated are dust proof. The second number is water proofing. IP68 rated devices are completely waterproof while devices that are IP67 rated are water resistant but not waterproof.
Reliability
This one's a no brainer. Your watch needs to be able to give you the proper time and the proper date not just some of the time, but all of the time. It should also hold its time and hold it well. If it can't do that, then it's useless.
Matte Black
Tactical watches need to come in one color and one color only – matte black. Unless you're in the desert then desert tan is also a good option. Shiny silver or gold watches are great, but if your watch gives away your position because it was a little too shiny, then it's not going to be a good day.
Legible at Night
Tactical watches need to be legible at night. Field operations can happen anytime 24/7 and if your watch isn't legible at night, then you can't tell time at night which makes it useless.
For those who are frequently in the field, it's important to know exactly where you are and where you're going. One of the more important features of a tactical watch is the ability to help determine that. Some tactical watches such as the Garmin Instinct Tactical and Garmin tactix Delta also features the ability to support MGRS (Military Grid Reference System) coordinates so you can locate yourself on a military map as well as navigate using MGRS coordinates.
Battery Life
Battery life is a critical factor when choosing a tactical smartwatch, especially for those who plan to use the watch for extended periods in the field where charging may not be possible. A good tactical smartwatch should have a battery life that can last for several days, or even weeks, on a single charge.
Many modern smartwatches have various power modes that can extend the battery life. For instance, some watches have a battery saver mode that turns off certain features to conserve power. Others have an expedition mode that uses GPS tracking at longer intervals to save battery.
Solar charging is another feature that can significantly extend the battery life of a tactical smartwatch. Watches with this feature have photovoltaic cells built into the watch face that can convert sunlight into electricity, thereby recharging the watch battery. This can be particularly useful for outdoor adventurers who spend a lot of time in the sun.
Even without solar charging, some high-end tactical smartwatches have impressive battery life. For example, they can provide nearly a month of battery life in smartwatch mode and more than 100 hours in GPS mode. This kind of long-lasting battery performance can be a game-changer for those who need a reliable timepiece for long missions or expeditions.
Health and Fitness Tracking
While not crucial, many tactical watches also include health and fitness tracking features like heart rate monitoring, sleep tracking, and activity tracking. Some also include advanced metrics like VO2 max estimation and stress tracking. These can be incredibly useful for maintaining your health and monitoring your physical performance, whether you're training for the next mission or going on a multi-day hike.