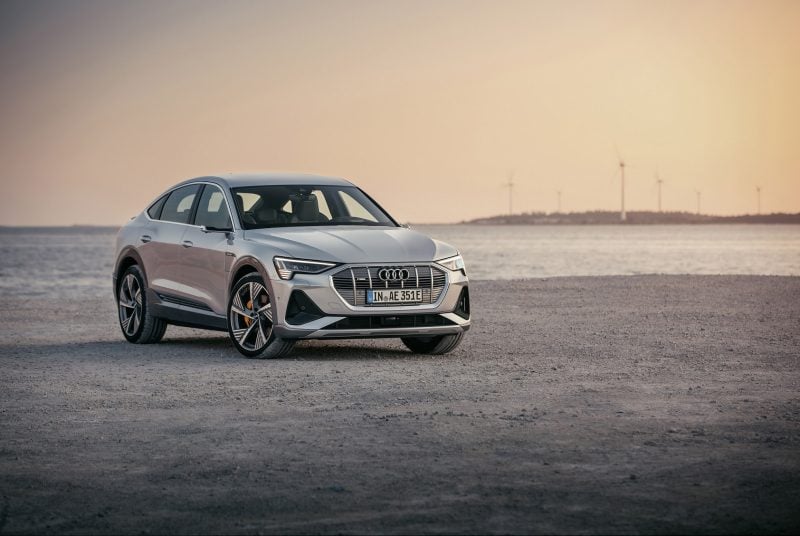 Audi seems to be having their own version of production hell when it comes to production of their e-tron electric SUV. According to German business publication manager magazin, Audi is suspending production of the e-tron electric SUV for four days due to bottlenecks in the supply chain.
Audi has not shared which parts or suppliers the supply issues are stemming from, but this issue is not related to the coronavirus epidemic in China. It has been suspected that the supply issue is due to a shortage in battery cells as Audi has had issues with their battery supply in the past. LG Chem, the primary supplier for Audi e-tron batteries have had issues meeting demand for its battery cells forcing Mercedes-Benz to recently cut production targets of its EQC SUV in half. It has also forced Jaguar to cut production of the I-Pace and has suspended its production for a week earlier this month.
The Audi e-tron SUV is Audi's first electric vehicle built from the ground up. Starting at $74,800, the Audi e-tron features dual asynchronous electric motors, an air suspension system, and an EPA estimated range of 204 miles. Audi will also produce a sportback version of the e-tron later this year. Audi's production target for both e-tron variants total 70,000 vehicles combined however, previous reports suggest that the production targets have been cut to 40,000 due to battery supply shortages.
The Gear Primer Take
While it's not completely confirmed that it's the battery supply that's creating the bottleneck, it wouldn't be surprising if Audi is having an issue with their battery supply chain. It seems like all electric vehicle OEMs are relying far too heavily on LG Chem for batteries at this point and LG Chem simply failed to scale up their production enough to satisfy demand.
Ultimately, I think legacy automakers will need to follow Tesla's lead and build their own versions of Gigafactories. Tesla built their Gigafactory for a reason and it's not because battery suppliers were able to easily meet battery demands. Luckily, Audi's parent company VW is following this strategy with investments of $1.12 billion into a battery factory near its production facilities in Germany. Until the factory is built however, VW and Audi will likely continue to have shortages. GM has previously announced their intentions to build a Gigafactory with a partnership with LG Chem.