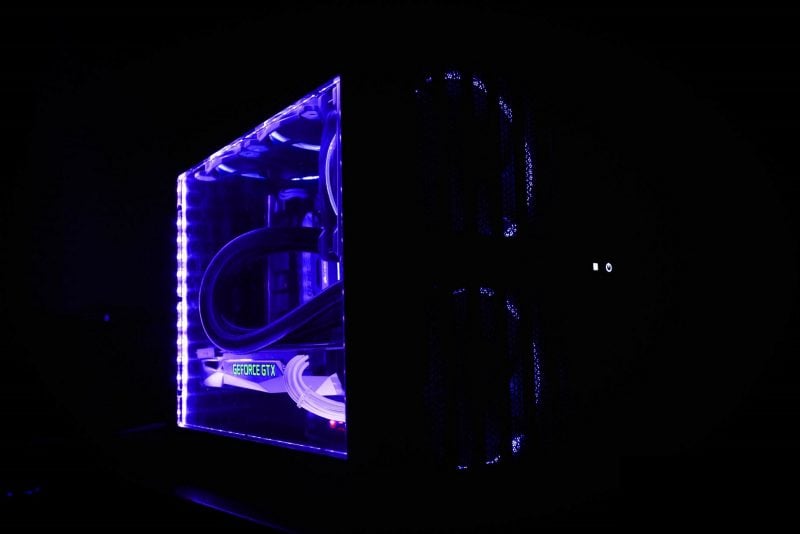 Here at Gear Primer, we love building our own custom PCs and as long as you're up for it, we'd 100% recommend you do the same, but sometimes it's just better to leave the PC building to the pros. Whether it's because you lack the time or your friend who can't even put together a desk from Ikea asks if it's a good idea to build a custom water cooled gaming system, there's plenty of reasons to go with a custom PC builder.
Today we'll be sharing a few of what we think are the best custom PC builders on the market today.
The Best Custom PC Builders
AVADirect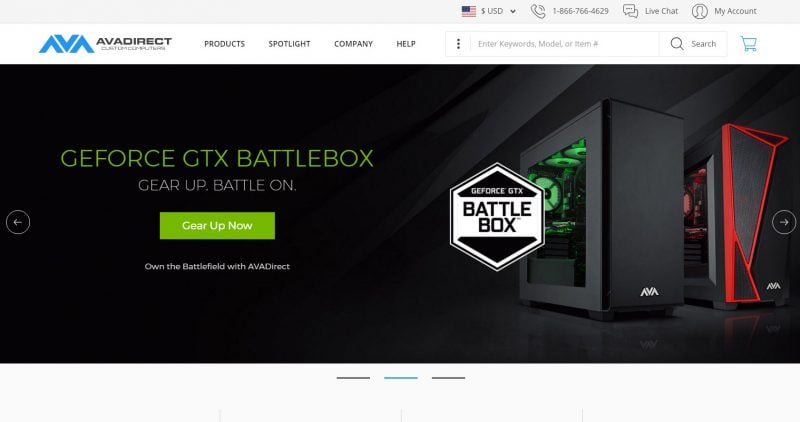 AVADirect is an Ohio based custom PC builder founded back in 2000. True to being a custom PC builder, AVADirect is capable of producing any custom PC you want with options such as custom watercooling loops, premium cabling, out of the factory overclocking and even adding custom automotive paint jobs.
Selection-wise, AVADirect's website has a very wide selection of components to choose from and prevents selection overload by showing only five of the most common component options and hiding the rest. This is important as some components such as memory has as many as 180 options to choose from.
In terms of pricing, AVADirect is actually one of the lowest priced of the bunch, but is slightly higher priced than CyberPowerPC for a comparable system. Of course, as you'd expect custom paint jobs are a "contact for quote" type of deal, so pricing will vary significantly based on the buyer's requirements.
AVADirect warranties their systems between 1-3 years depending on the system purchased. For systems that feature only a 1-year warranty out of the box, a 3-year warranty option is available for a fee. All AVADirect systems also feature lifetime technical support and lifetime labor.
CyberPowerPC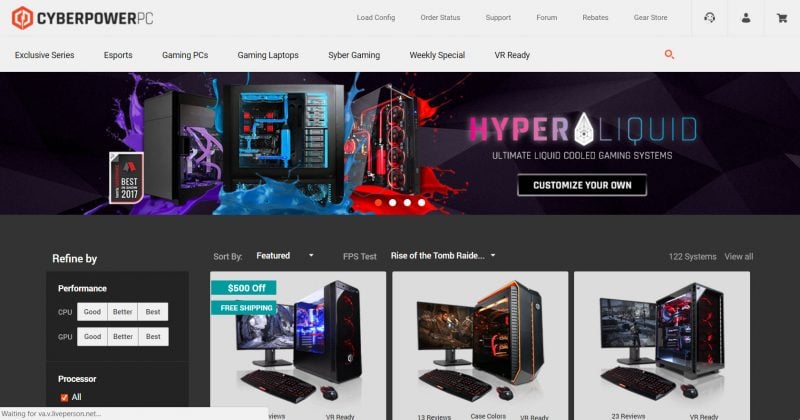 CyberPowerPC is a California based custom PC builder founded way back in 1998. CyberPowerPC is known for having one of the widest selections of components available with over hundreds of options to choose from. While this may create a bit of overload for those unfamiliar with PC components, those who've done the research and know exactly what they want will appreciate the ability to customize their system just the way they want.
Among the custom PC builders, CyberPowerPC is also the most competitive in terms of pricing with regular offerings of deals and bundles which make it seem like they're running a sale almost every single day. In terms of special service offerings, CyberPowerPC offers some basic overclocking, cable management and water cooling options, but don't expect an automotive grade paint job from these guys.
CyberPowerPC's warranty covers desktop systems for 3-years labor, 1-year parts or for laptops 1-year labor, 1-year parts. All systems also feature lifetime technical support.
Falcon Northwest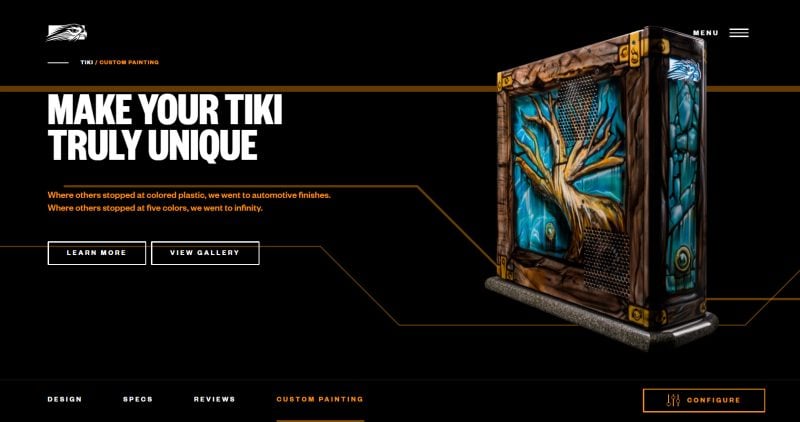 Falcon Northwest is an Oregon based custom PC builder founded back in 1992 making the company one of the oldest custom PC builders on the market. Falcon Northwest is known for their unique custom PC cases along with the beautiful custom paint jobs that can be ordered to go with them.
Unlike other custom PC builders, Falcon Northwest only offers a select few systems, each of which feature an exclusive case design from the company. Selection of components are relatively slim as well, but all components are all high quality, well reviewed and work well together.
In terms of pricing, Falcon Northwest systems without the custom paint jobs fall at the higher end of the price spectrum, but fall short of Maingear's even more premium pricepoints. Those who want a custom paintjob will likely be shelling out somewhere close to $1000 for the privilege.
Falcon Northwest offers a 1-3 year warranty depending on the product purchased along with lifetime technical support.
iBuyPower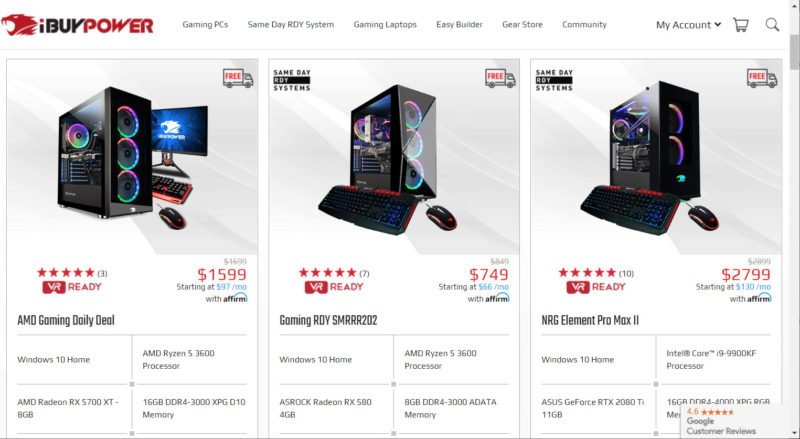 iBuyPower is a California-based custom PC builder founded in 1999. Similar to CyberPowerPC, iBuyPower is known for having one of the widest selection of computer hardware available which may be a bit daunting for those unfamiliar with the latest and greatest in PC components, but those who have done their research and know exactly what they're looking for will appreciate iBuyPower's incredible selection.
As many of iBuyPower's components tend to be those that can be purchased off the shelf rather than custom designed, iBuyPower's systems tend to be less expensive than those from builders such as Maingear or Falcon Northwest making it one of the less expensive custom PC builders with many systems available for under $1,000. Some of the special service offerings from iBuyPower include out of the box overclocking services, basic cable management, watercooling, and custom engraving.
iBuyPower's warranty covers desktop systems for 3-years labor, 1-year parts or for laptops 1-year labor, 1-year parts.
Maingear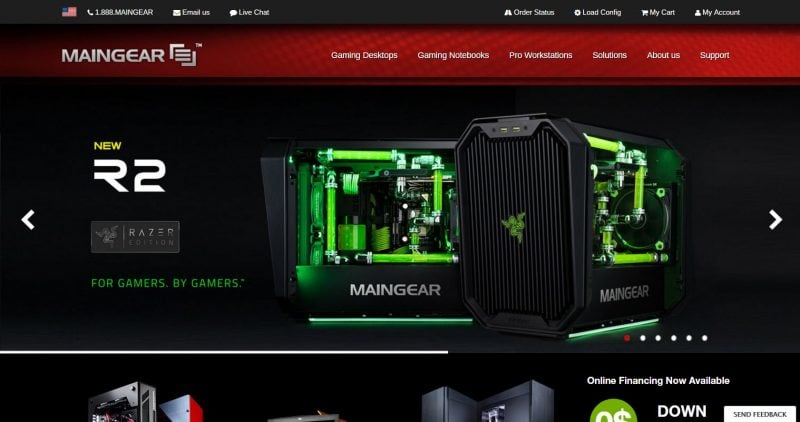 Maingear is a New Jersey based custom PC builder founded back in 2002. Maingear is well known for their high performance custom PCs and their top notch customer service.
Like several of the other top custom PC builders, Maingear's online system configurator is well designed to offer just a few systems with limited component offerings to ensure customers get a system with components that make sense and work well together. Many of Maingear's systems also feature options for out of the box watercooling and other specialty custom work, but it does cost a pretty penny.
Speaking of cost, Maingear systems rank as the most expensive of the custom PC builders with a simple Rush Z270 Core i7-7700K paired with a GeForce GTX 1050 Ti costing over $2,000. For a well equipped version of the system with a Core i9 7900X, 64GB of RAM, a GeForce GTX 1080 Ti, and Samsung 960 PRO 1TB, expect to pay over $5,000 and that's without even adding watercooling or a custom paint job.
Maingear systems are warranted for 1-year out of the box with the option to extend to 3-years for a fee. All Maingear system also feature lifetime technical support and lifetime labor as well.
OriginPC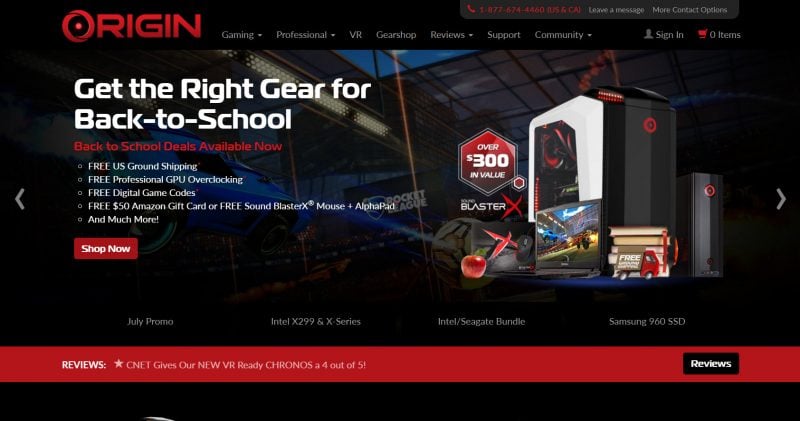 OriginPC is a Florida based custom PC builder founded back in 2009 by former employees of Alienware after it was acquired by Dell. OriginPC is known for their unique case designs, their top notch warranty and customer service.
While OriginPC doesn't boast the insane selection like you'd find at CyberPowerPC or AVADirect, OriginPC does offer exclusive case designs like the Genesis or the Omni that you simply wouldn't find anywhere else. Additionally while Origin PC doesn't boast a super wide selection of components, each of the components offered are well suited for the build making it easy for both seasoned professionals and first time buyers to walk away with a properly equipped system.
Pricing on OriginPC systems is somewhere in the middle between the least and most expensive. While there are some custom PC builders that will build a comparable system for cheaper, none can build an identical system due to the unique products OriginPC offers.
OriginPC systems carry a 1-year warranty out of the box with an option to extend to 3-years for an additional fee. All OriginPC systems also get a lifetime of free technical support and free labor as well.
Xidax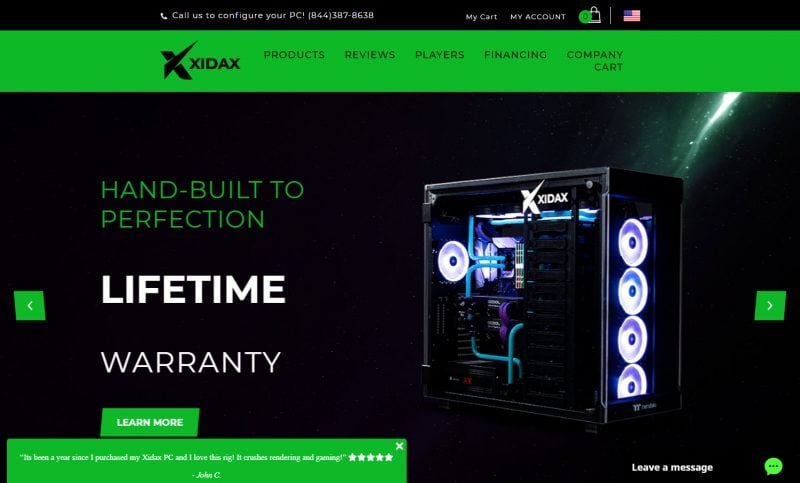 Xidax is a South Jordan, Utah based custom PC builder. Xidax's is known for their quality builds that and a comprehensive desktop warranty that covers both parts and labor for life.
Xidax's system selection isn't nearly as big as the offering catalogs from builders like CyberPowerPC or iBuyPower, but Xidax's focus is more on the ensuring that the builds they do offer have parts that they ensure will work extremely well together. Also because of the limited catalog, Xidax also has an easy to figure out product catalog that includes just the X-2, X-4, X-6, X-8, and X-10 which represents the smallest least powerful gaming PC to the largest, most powerful gaming PC. In addition to gaming desktops, Xidax also offers laptops, workstations, and servers as well.
Who's Your Favorite Custom PC Builder?
These are just some of the custom PC builders we've had great experiences with, but there are bound to be hundreds more we haven't had a chance to work with. Do you know a custom PC builder that needs to be on this list? Let us know in the comments below!
Custom PC Buyers Guide
When buying a custom PC from a custom PC builder, it's important to keep a few things in mind. Below are some of the key considerations to keep when looking into buying a custom PC from a custom PC builder.
What is a Custom PC Builder?
When ordering a computer online, most companies will allow customers to spec out a system online. For example, if you go to Dell's website, you can often decide what CPU, RAM, or graphics card you'd like to buy. However, the difference between a major manufacturer like Dell, HP, or Lenovo and what we consider a custom PC builder is the selection of parts and the options you have to customize your system.
What do I mean by this? Well, a custom PC builder like CyberPowerPC will allow you to choose exactly which motherboard down to the manufacturer and model you'd like to pair with exactly which CPU and graphics card. These are almost always off the shelf components rather than proprietary components built by the manufacturer which allows wide compatibility later on if you want to upgrade your system or swap out some components. Custom PC builders will also typically accommodate special requests such as if you wanted them to put in a water cooling system, they could do that for you, for an additional cost of course.
Customer Service
Depending on your reasons why you went with a custom PC builder, one of the most important reasons for having someone else piece together your next custom PC is simply the ability to be able to talk to someone when you're having issues with your PC. Many of the custom PC builders above have dedicated customer support as well as technical support lines that are available at your disposal should you have an issue. Some of the better vendors even go above and beyond this by offering full lifetime phone support so you can always get some help if you ever need it.
Warranty
When you build your own custom PC, you get a separate warranty from every component manufacturer. This means that if a part breaks down, you'll have to be able to figure out which component went wrong, take apart the system, and get the part warrantied through that component manufacturer. With a custom PC builders, there's convenience in knowing that the entire system can simply be shipped back to the builder and depending on the warranty purchased, parts and labor would be included in the service process.
Price
When building a custom PC, the main reason many want to do this is because they think building a PC on your own is cheaper than buying one from a custom PC builder; however, it does this may not necessarily be true. All custom PC builders get volume pricing discounts, which means they get cheaper pricing on components compared to someone buying retail. As a result, custom PC builders can generally make a profit while still offering the same system at the same specifications as if you were purchasing components individually from a store.