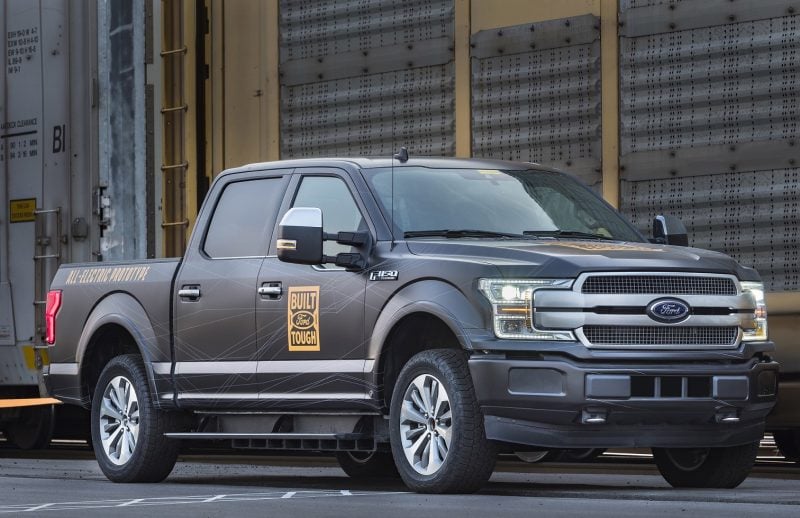 Ford recently demonstrated the capability of its upcoming electric F-150 pickup truck by creating a video of a prototype version of the truck towing a 1M+ pound train. While the video has created quite a stir among the auto and truck community, Ford hasn't released a whole lot of other details about the upcoming electric truck.
However, recent UAW negotiations have provided a glimpse into where investments and the upcoming electric pickup truck will be made. In a recent Twitter post, Automotive News reporter Michael Martinez, shared the UAW document of where Ford will be making investments for their upcoming truck lineup as well as the locations to where they will be built.
According to the document, it appears that Ford has at least two fully electric vehicles in the pipeline which includes the electric F-150 pickup as well as the electric Transit van. The electric F-150 will be built in its Dearborn, Michigan plant and Ford will also be building the electric F-150 batteries there as well. In the Kansas City, Missouri plant, Ford will build the electric Transit van. The document doesn't mention the Mustang Mach-E, but it does mention "…Mustang, including derivatives" will be built in the Flat Rock, Michigan Assembly Plant.
Ford also has several hybrid vehicles coming down the pipeline. This includes the hybrid F-150 which will be built alongside the electric F-150 in Dearborn, Michigan. Ford will also build its Explorer hybrid in its Chicago, Illinois assembly plant and the Escape hybrid in its Louisville, Kentucky assembly plant.
The Ford F-150 Hybrid is expected to be released for the first time in 2020. Ford hasn't announced a release date for the electric F-150 however, it's likely to be released in 2021.