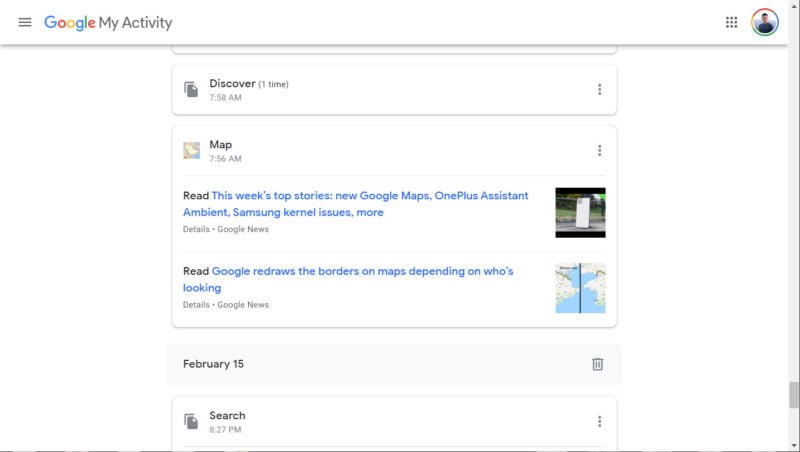 So you think you know how to cover your tracks. You know how to delete your browser history, you know how to clear the search cache, you know how to set up proxies to keep your IP hidden, and you use a VPN because you're just that cautious. But did you know that if you were logged into Google that Google will store all your activity? Yup. And now you can retrieve everything from the Google My Activity history log.
What is Google "My Activity"?
Google introduced "My Activity" in 2016 to provide its users more control over their data. Google, Facebook, Amazon, Microsoft, and others got into a little bit of hot water over the lack of transparency over the data they collect leading to many customer privacy groups making complaints about the companies. These have ultimately led to lawsuits and even laws such as GDPR that have had wide implications over the entire industry. Google took a fairly proactive approach with their My Activity page, which shows you exactly the data they collect. And it's a lot.
If you go to Google's My Activity page, you can find logs of everything you've done while logged into a Google account. Literally everything such as which websites you've visited, your Google Voice searches, YouTube video watch history, Google Map searches and more are all kept in a separate vault from your Chrome browser.
Why Does Google Collect This Data?
Google collects this data for several reasons. Essentially, it's a mix between providing its users a better experience and allowing its customers (advertisers) to net a better return on their investment.
Think about it. The Google search engine is as good as it is because Google has data on what you've searched for before, where you live, where you've traveled to, what you buy, the type of videos you watch, etc. These all feed into Google's algorithms in order to provide a better experience. Maps is only as good as it is because it has all that data. Without it, traffic wouldn't work anywhere near as well as it does today.
On the flip side, Google's primary business is advertising. Companies pay Google so they can deliver effective ads that end up in customers buying their goods. Ever noticed that the ads you get are generally applicable for your needs and not something crazy out of the blue? Well, that's because of the data Google has on you.
However, sometimes Google having that much data is a bit scary. Or sometimes, you've let someone borrow your device and now a bunch of not-so-useful stuff is popping up. How would you be able to fix that? Luckily, Google My Activity can be easily deleted with just a few easy steps.
How to Delete Google My Activity Log
Step 1
Go to Google My Activity
Step 2 (Optional)
Take a trip down the memory lane and go through all your Google activity history. This may either be quite interesting or downright creepy.
Step 3
Hit the hamburger menu button at the top left corner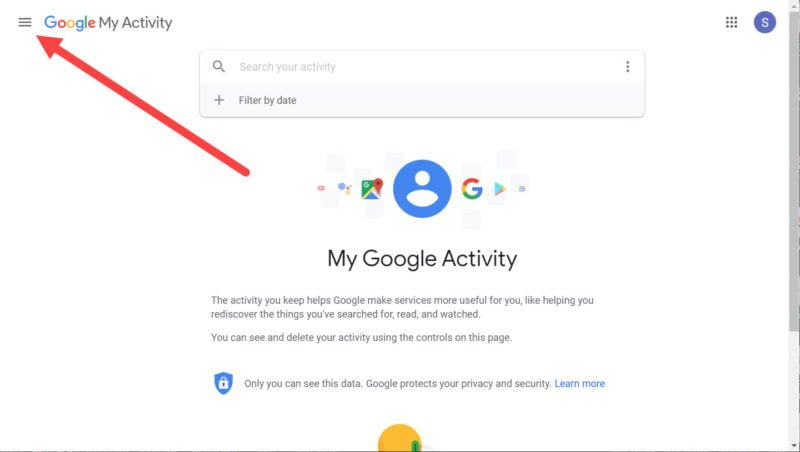 Step 4
Click on "Delete activity by"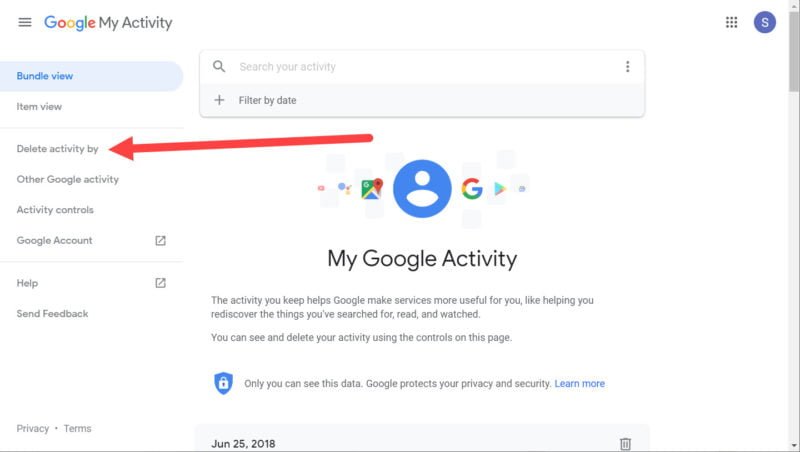 Step 5
Under the "Delete by Date" drop-down menu, select "All Time".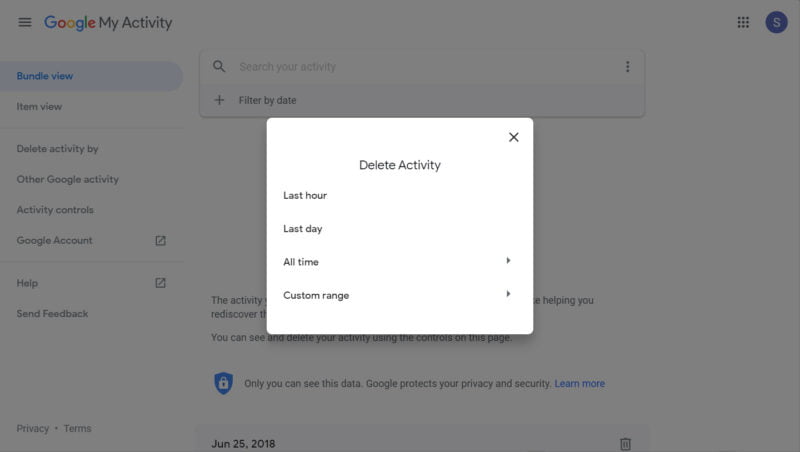 Step 6
Hit "Delete"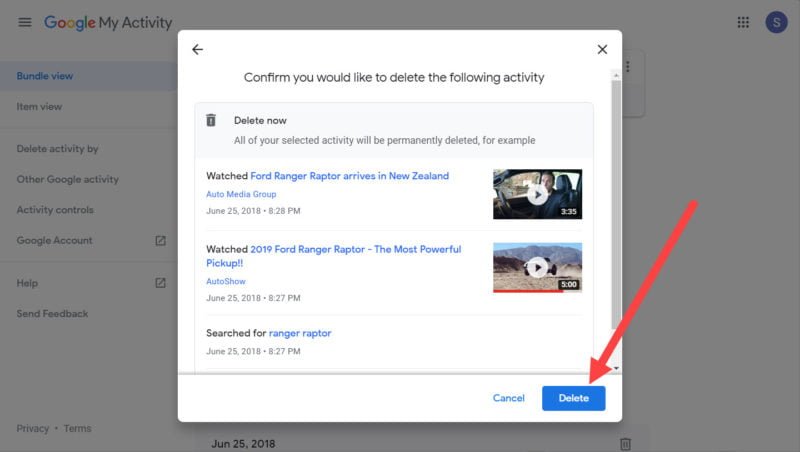 Step 7
Once you hit delete, Google will go ahead and process the deletion of all your Google activity. Once that's complete, you will receive a message stating "Deletion complete".
Go ahead and click on Got it to exit out. That's it!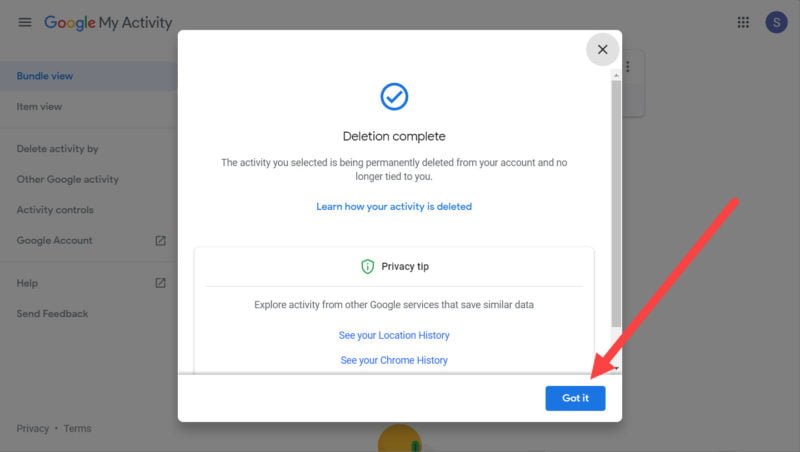 Delete Google My Activity Log for a Particular Product
Alternatively, if you want to delete the search history for a particular Google product such as search for example, but you still want to keep your Google Home history, here's how you do that.
Step 1
Go to myactivity.google.com
Step 2
Type in the name of the Google service you'd like to delete (Example: Maps)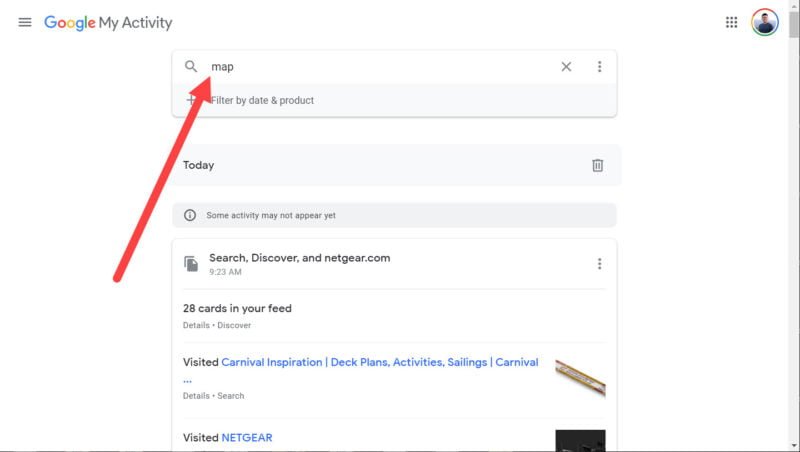 Step 3
Once search completes, hit the three dots next to the search bar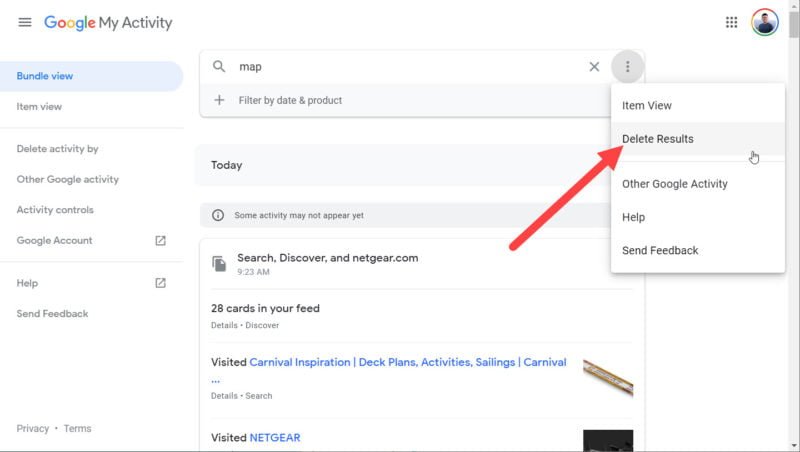 Step 4
Hit "Delete results"
Conclusion
Voila! Now you know how to keep your history safe from prying eyes. Whether or not the My Activity log is actually deleted completely at Google is a mystery, but at least you now don't get some weird page recommendations from looking up Viagra information "for your friend".