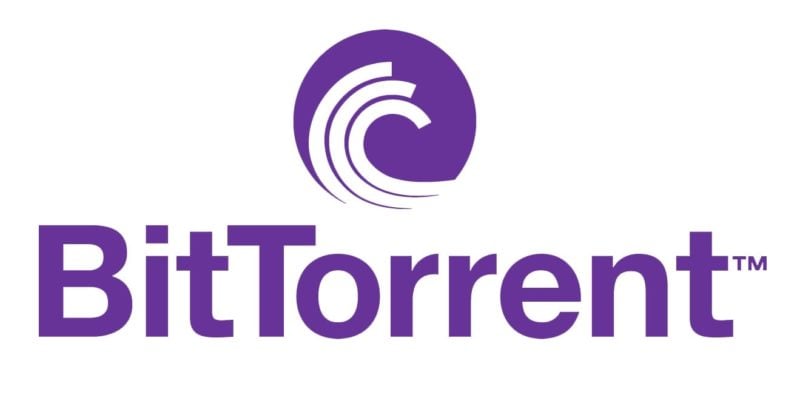 Torrents have gotten a bad rap over the years as a platform for sharing illegal movies, music, TV shows, and software, but they have quite a few legitimate uses as well. For example individual developers, content creators and non-profit organizations can simply set up a Torrent, share it with a couple people and let it self propagate, significantly reducing the cost overhead of purchasing file hosting or content delivery.
However, unlike traditional file delivery methods such as through HTTP/HTTPS or through FTP, in order to download a Torrent file, a Torrent client is needed and of course not all Torrent clients are created equal. As such, today we'll be sharing some of the best Torrent clients available on the internet today.
Disclaimer
While Torrents have a lot of legitimate uses, there are quite a few Torrents online hosting illegally shared copyrighted materials such as movies, music, TV shows, and others. Custom PC Review does not condone the downloading and sharing of copyrighted materials and is not responsible for any legal action taken against you.
As many Torrent trackers are monitored by music labels, movie studios, copyright watch groups and government agencies a VPN is also highly recommended. A list of the best free VPN services are available here.
qBittorrent (Free, Open Source)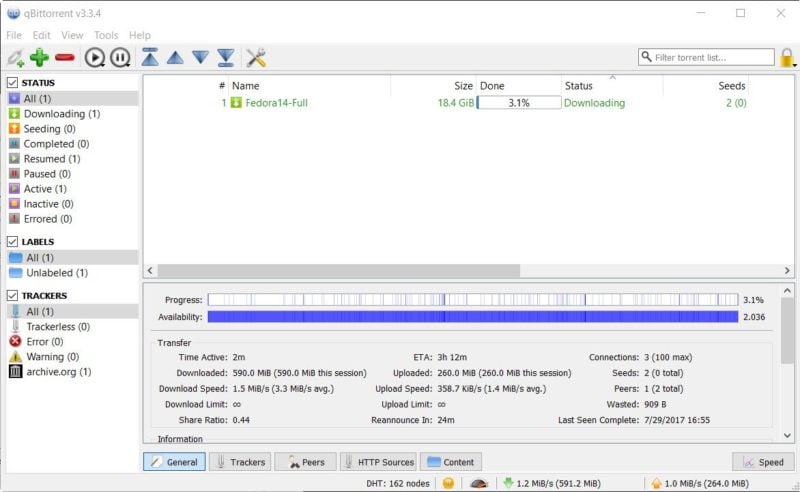 By far, the best Torrent client is qBittorrrent. Developed as an open source alternative to µTorrent, qBittorrent is everything µTorrent is except it's even lighter in weight and completely ad-free without paying the $4.95/year µTorrent charges to remove ads or the $19.95/year for the µTorrent Pro version.
In terms of features, qBittorrent is right in the middle. While qBittorrent's lightweight interface appears a bit feature-less, there's plenty of functionality underneath the hood including encrypted connections, IP filtering, UPnP support, magnet link support, DHT support, PEX support, Torrent creation and more.
qBittorrent is available on all major computing platforms including Windows, MacOS and Linux.
Deluge (Free, Open Source)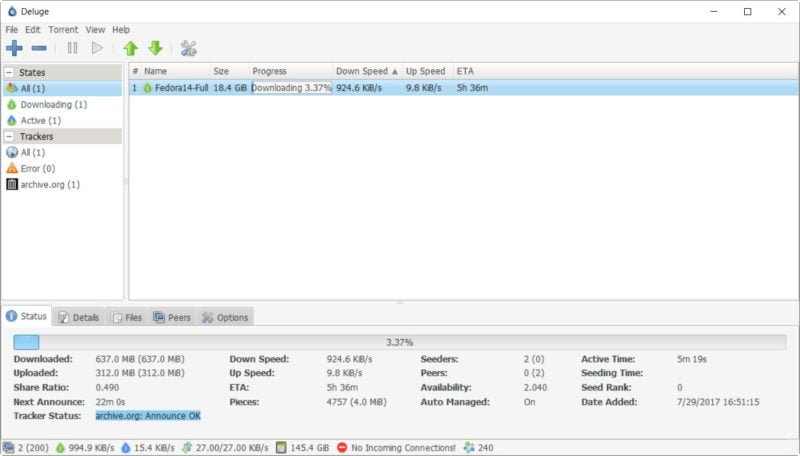 Deluge is another excellent open source torrent client which has been around for a very long time. The beauty of Deluge is that it's extremely light-weight out of the box, but the platform can be extended using plug-ins so it can easily become one of the most fully featured, but only if you want.
As such if you just want to download Torrents, you can just use the base Deluge client, but if you want to do stuff like set speed limits, prevent your computer from going to sleep, look at pretty graphs, or even control the upload ratio, a quick visit to Deluge's plugins page can help with that.
Deluge is available for all major platforms including Windows, MacOS, and Linux.
Tribler (Free, Open Source)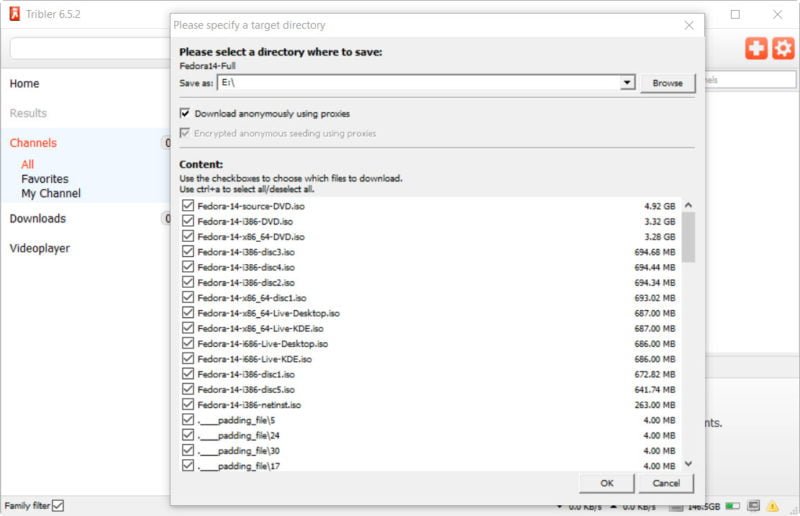 Tribler is another open source Torrent client which is relatively new, but is quickly becoming very popular thanks to its unique focus on security. Unlike other Torrent clients, Tribler attempts to use encryption, hidden seeding, and onion routing similar to the infamous Tor network to improve anonymity online.
As far as features, Tribler is quite developed despite being a relatively new client. For example, Tribler already includes an internal Torrent search engine as well as video streaming so that videos being Torrented can be watched as it's being downloaded.
That said, Tribler isn't without issues. While it's considerably more secure compared to other Torrent clients, the developers do warn however that Tribler does not yet protect against "spooks and government agencies", so those who want ultimate security may still want to use a VPN. Additionally due to its use of an onion routing, download speeds does take a significant hit compared to other Torrent clients.
Tribler is available for nearly all major platforms including Windows, MacOS, and Ubuntu Linux.
µTorrent (Free, Paid Premium Available)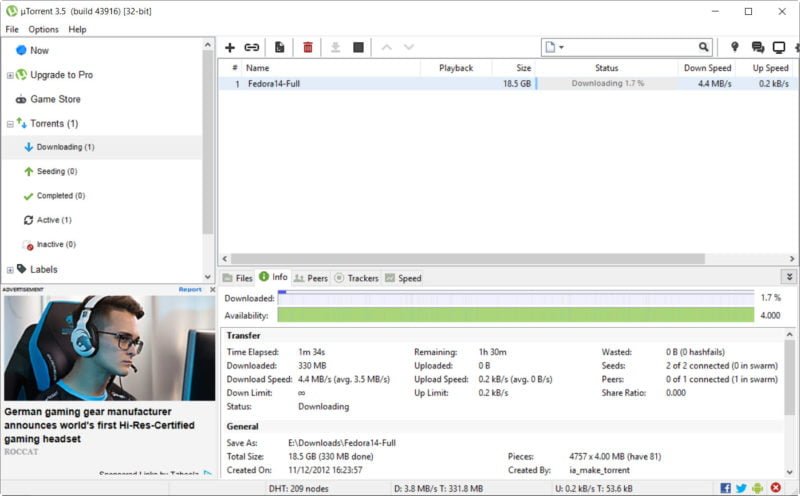 µTorrent is a Torrent client that could easily be classified as one of the best due to its emphasis on being as lightweight as possible. Despite its strong feature-set, µTorrent is only a mere 2MB which is probably smaller in total size than the webpage that you're viewing right now.
Despite its lightweight, µTorrent has plenty of features including an easy to use interface, support for encryption, bandwidth throttling, automation, scripting support, remote management and more.
While µTorrent sounds like it could easily be the best Torrent client out there, it has been plagued with some controversy in past years as the developers behind µTorrent has decided to monetize the platform with banner advertising and subscription plans. However, µTorrent is still completely free to use for those who don't mind seeing a few ads and µTorrent is still one of the best Torrent clients that's not only lightweight, but has an excellent feature-set to go with.
µTorrent is available for all major platforms including Windows, MacOS, and Linux.
Transmission (Free, Open Source)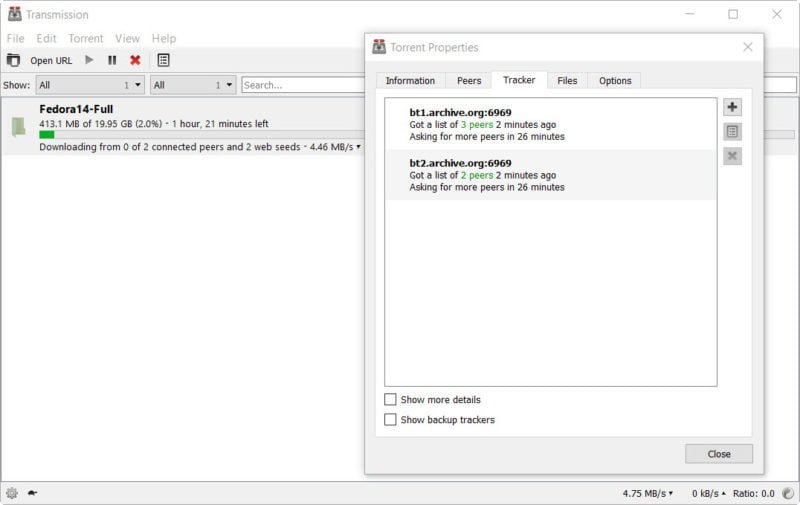 Years ago, those who wanted a good Torrent client for MacOS only had one real option, Transmission. Transmission is an open source simple, extremely lightweight Torrent client that's relatively full featured although not as intuitive and easy to use out of the box compared to qBittorrent.
What's awesome about Transmission however, is that it supports remote access via a webpage or via SSH making it an excellent client for NAS boxes and HTPCs. As with any top notch Torrent client, Transmission supports everything you'd expect from a top notch Torrent client such as watch directories, bad peer blocklists, encryption, peer exchange, magnet links, UPnP, and more.
Transmission is available for all major platforms including Windows, MacOS, Linux and even more specialized OSes such as those on NAS devices.