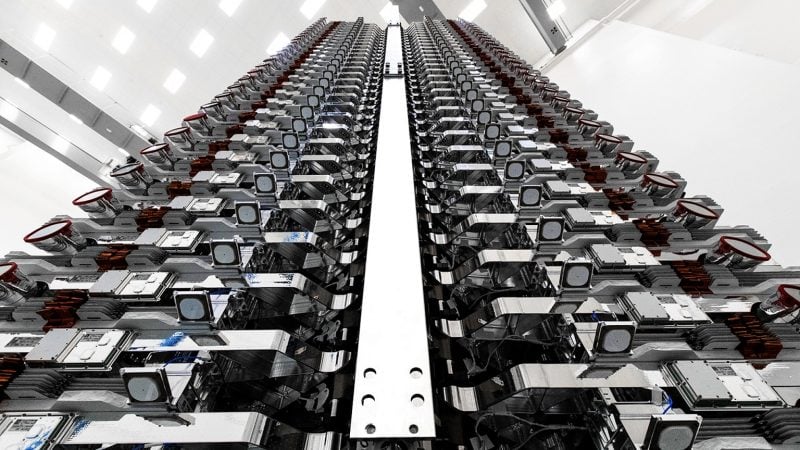 SpaceX's Starlink satellite system is poised to take a bigger role in a "massive" upcoming Air Force live fire exercise in April, according to Air Force Acquisition Chief Dr. William Roper.
The Air Force had been testing SpaceX's Starlink satellite system as a part of its experimental next generation Advanced Battle Management System capable of connecting air, sea, land, and space assets since last year. The Air Force completed an exercise successfully last December connecting a Lockheed Martin AC-130 gunship to the Starlink satellite constellation.
For the April exercise, the Air Force will be performing live fire exercises including destroying an Unmanned Aerial Vehicle (UAV) and intercepting a cruise missile. The Air Force intends to expand the role of SpaceX's Starlink satellite system utilizing it to connect to assets both in the air and on the ground.
SpaceX's Starlink satellite system is SpaceX's next generation low-earth orbit satellite internet service. According to SpaceX Founder Elon Musk, once the Starlink constellation is fully operational, it will be able to provide global internet coverage utilizing a satellite dish the size of a pizza. SpaceX currently has 300 Starlink satellites currently in orbit and intends to eventually launch a total of 40,000. Elon Musk believes 400 Starlink satellites are needed for minimal internet coverage covering the Northern United States and Canada and 800 Starlink satellites are needed for moderate global internet coverage.
According to SpaceX CEO Gwynne Shotwell, SpaceX plans to launch their Starlink internet service as soon as this summer. To help accelerate SpaceX's rollout of Starlink, SpaceX is reportedly looking into raising $250 million from investors valuing the company at $36 billion.