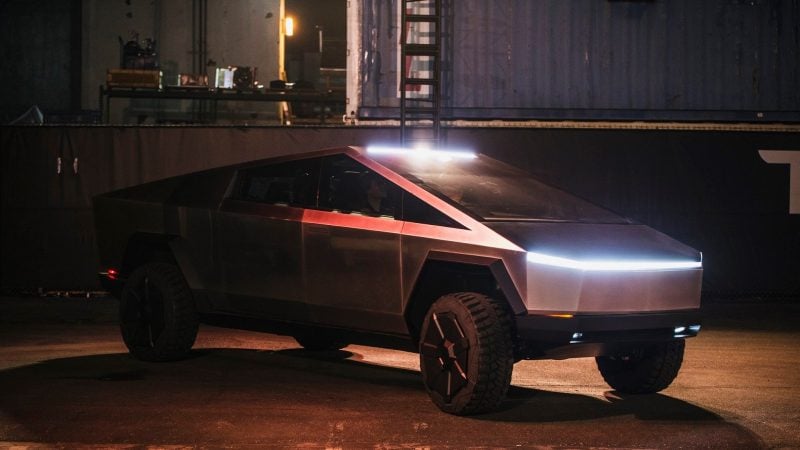 Tesla CEO Elon Musk sent out a Tweetstorm last Friday with a significant amount of updates that will be coming to the upcoming Tesla Cybertruck.
The first update is the size of the production Cybertruck which will be ~82-inches wide rather than ~80-inches wide as previously expected. Elon Musk commented that 80-inches would be slightly too small. However, at 82-inches, the production version of the Cybertruck will still be slightly smaller than the 84-inch wide body of the Cybertruck when it was first revealed at the Cybertruck event.
The second update is that the upper laser blade lights will come standard. The upper laser blade lights help provide better visibility to the driver in areas of low visibility such as when off-roading.
The final update that was provided is that the Cybertruck will provide real-time towing statistics, which will be a complete game changer for those who intend to use the Cybertruck for towing. According to Elon Musk, the Cybertruck will have a towing / payload calculator and will "…also show real-time changes to max acceleration, braking, cornering, speed on gradient & range, latter factoring in route elevation changes & cargo or tow mass & drag impact".
The Tesla Cybertruck was first unveiled last November as Tesla's first fully electric pickup truck. It features a unique exoskeleton design with a proprietary Ultra-Hard 30x Cold Rolled Stainless Steel and Armor Glass, both of which are materials SpaceX currently uses on their spaceships.
The Cybertruck will be offered in three variants:
Single Motor Rear Wheel Drive (RWD): 0-60 MPH in less than 6.5 seconds, 250+ miles of range, 7,500+ pound towing capacity, and a starting price of $39,900.
Dual Motor All Wheel Drive (AWD): 0-60 MPH in less than 4.5 seconds, 300+ miles of range, 10,000+ pound towing capacity, and a starting price of $49,900.
Triple Motor All Wheel Drive (AWD): 0-60 MPH in less than 2.9 seconds, 500+ miles of range, 14,000+ pound towing capacity, and a starting price of $69,900.
In addition, the Cybertruck will also have the option for full self driving with a $7,000 upgrade and will also have an adaptive air suspension system, which will provide active ride height and dampening capabilities.
The Tesla Cybertruck is currently available for pre-order at the Tesla website for a $100 deposit. The Dual Motor and Triple Motor variants are expected to begin deliveries in late 2021. According to recent crowdsourced data, Tesla is said to have over 500,000 pre-orders for the Cybertruck and will require several years to clear the backlog.