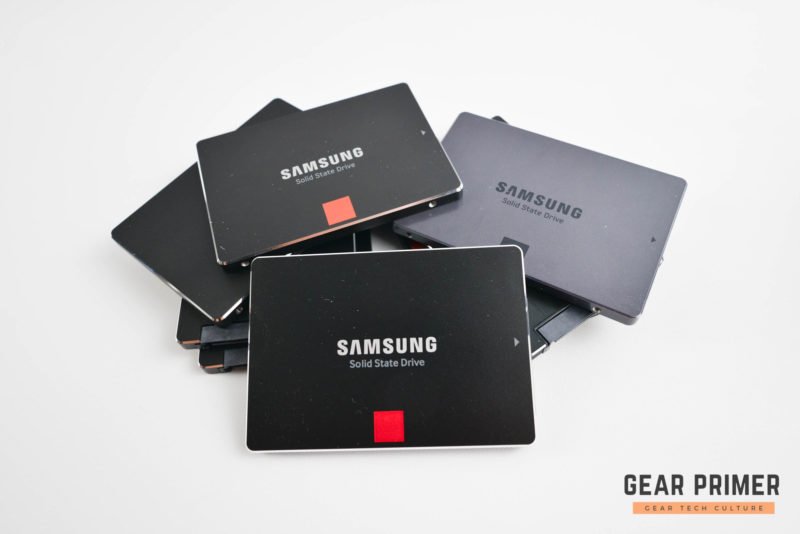 Building a new PC? Putting the final touches on a PC you already own? Your current PC need a little speed boost? One of the best purchases you can make for a PC is either going with an SSD from the get-go or upgrading from an HDD to an SSD.
Here we'll sort through a number of the most popular SSDs to give you a recommendation on the best SSDs available for the money. As always, because we review a lot of computer hardware here at Gear Primer, so most of our recommendations will be either from our own experience or the experiences of one of the other highly reputable tech publications out there. As such, all SSDs recommended here have been thoroughly researched and are what we feel to be the best of the best for the money.
Best Enthusiast PCIe SSD
Samsung 970 EVO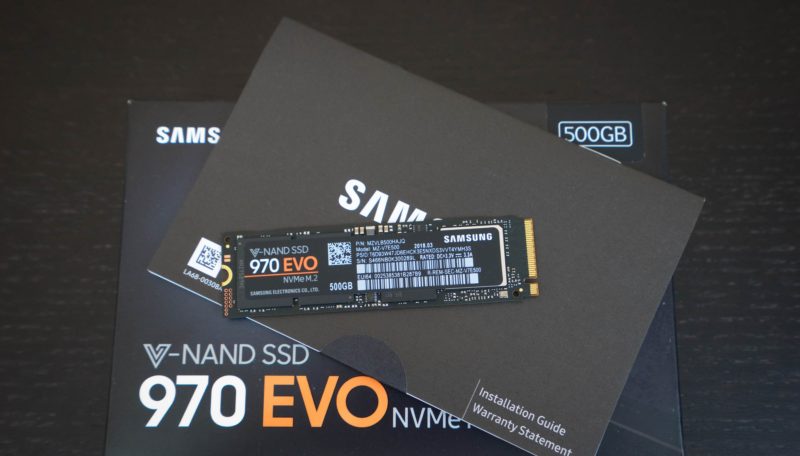 If you're looking for the best PCIe drive from a value to performance standpoint, the Samsung 970 EVO should be the first drive on your list.
Rated at up to 3.5GB/s sequential reads and up to 2.5GB/s sequential writes, the Samsung 970 EVO is easily one of the fastest drives we've reviewed, bar none. In addition to being one of the fastest SSDs on the market, the Samsung 970 EVO also offers the highest capacity for a consumer M.2 PCIe SSD with drive capacities up to 2TB.
Of course, that's not all. The Samsung 970 EVO also features a an industry leading 5 year warranty, up to 1.2PBW (Yes, PetaBytes Written) of endurance, and the Samsung Magician software suite, the gold standard of SSD software suites available on the market today.
If you must have the best, the Samsung 970 EVO is the clear choice. The only caveat with the Samsung 970 EVO is that while it's the best PCIe NVMe SSD with price, performance, and endurance in consideration, the Samsung 970 EVO's big brother, the Samsung 970 PRO does edge out the EVO in endurance and in some cases, performance, due to its use of 2-bit MLC NAND. As such, serious power users planning to utilize their SSDs in high write applications may want to shell out the extra for the Samsung 970 PRO, but for all others, the Samsung 970 EVO is the best SSD money can buy.
Best Enthusiast SATA SSD
Samsung 860 PRO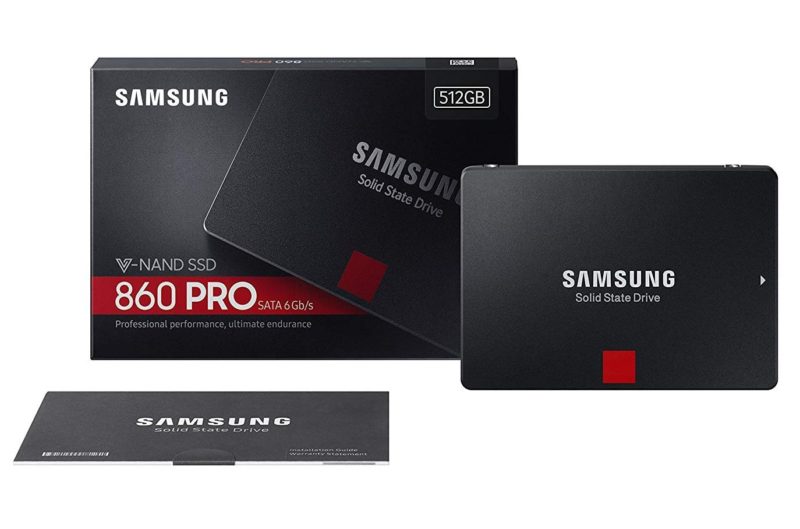 As the successor to the already interface saturating Samsung 850 PRO, the Samsung 860 PRO simply continues on the legacy with even better sustained performance than its predecessor.
Featuring capacities of up to 2TB, the Samsung 860 PRO is capable of speeds up to 560MB/s sequential reads and 530MB/s sequential writes, and up to 100,000 IOPS 4K random reads and 90,000 IOPS 4K random writes.
Samsung covers the 860 PRO for up to 5 years with an endurance of up to 4.8 PBW (Petabytes Written) so if you do pick up the 860 PRO, you'll practically be covered for the rest of the drive's life.
Best Mainstream SATA SSD
Samsung 860 EVO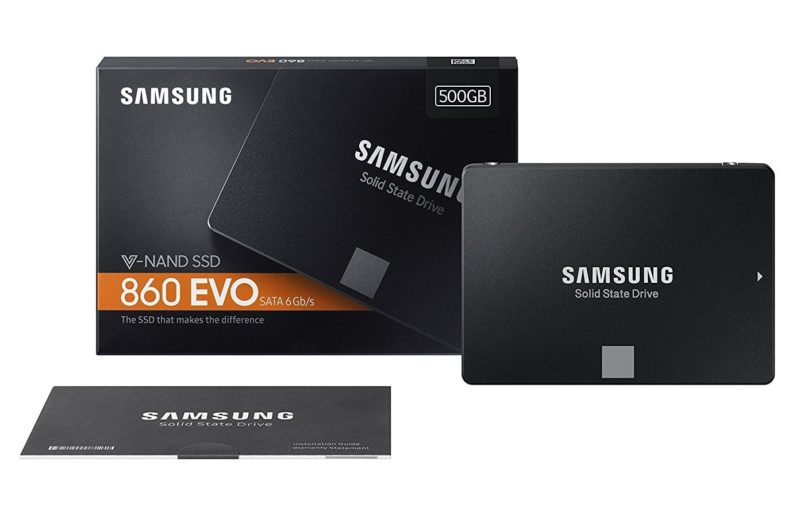 Launched at the same time as the Samsung 860 PRO, the Samsung 860 EVO is undoubtedly the best pick for any mainstream user. Featuring Samsung's 64-layer TLC 3D V-NAND, the Samsung 860 EVO is offered in capacities of 250GB all the way up to a whopping 4TB.
Performance on the Samsung 850 EVO is very good as well, coming in rated at 550 MB/s sequential reads and 520 MB/s sequential writes.
Although not as impressive as its bigger brother the Samsung 850 Pro, the Samsung 850 EVO still features an industry leading warranty at 5 years with an endurance rating of up to 2.4 PBW (PetaBytes Written).
Best Budget SATA SSD
Crucial MX500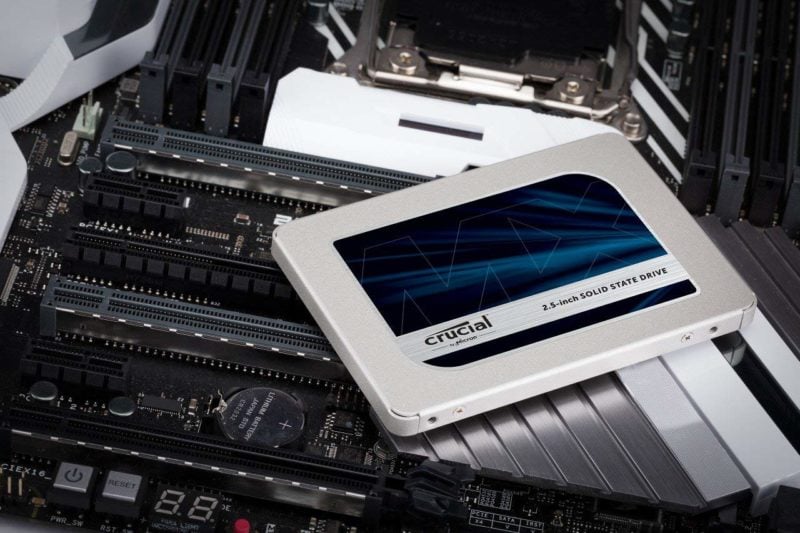 For those on a budget or simply don't need all of the additional performance features that entail with the SSDs above, the Crucial MX500 is the best choice.
Available in capacities of 250GB, 500GB, 1TB and 2TB, the Crucial MX500 features parent company Micron's 3D NAND technology. As such, performance on the Crucial MX500 is rated at up to 560 MB/s sequential reads and 510 MB/s sequential reads.
Warranty on the Crucial MX500 is rated at 5 years or up to 700TBW (TeraBytes Written) depending on the drive capacity.
SSD Buying Guide
Solid State Drives (SSDs)
Created as the successor to traditional HDD technology, SSDs are the speed demons of the storage world. Without any moving parts, SSDs don't need to wait for actuator arms to read the data off platters and instead directly transfer data from the NAND flash memory. As a result, SSDs feature read and write performance that can be orders of magnitude faster than traditional mechanical hard drives drives.
Additionally as SSDs have no movig parts, they can also take punishment much better than HDDs. Vibration and impact don't affect SSD operation and they're significantly more power efficient with some of the best SSDs drawing less than 0.1w at idle. Due to this decreased power draw, they also output less heat than mechanical drives which helps improve the longevity of the SSD as well as the longevity of other components within the system.
So why are we still gripping on to mechanical drives when SSDs seem like an infinitely better alternative? SSDs are still much more expensive per gigabyte compared to hard drives and as a result, capacities tend to be smaller as well. Due to the high costs of NAND flash memory, the size of SSDs must be limited to what the consumers can afford. While manufacturers could theoretically produce gargantuan-sized SSDs, their prices would be stratospheric.
How they work
Before we dive into a discussion on what to look for, it's important to understand how SSDs work. SSDs have two major components which include the SSD controller and the NAND flash memory.
SSD Controller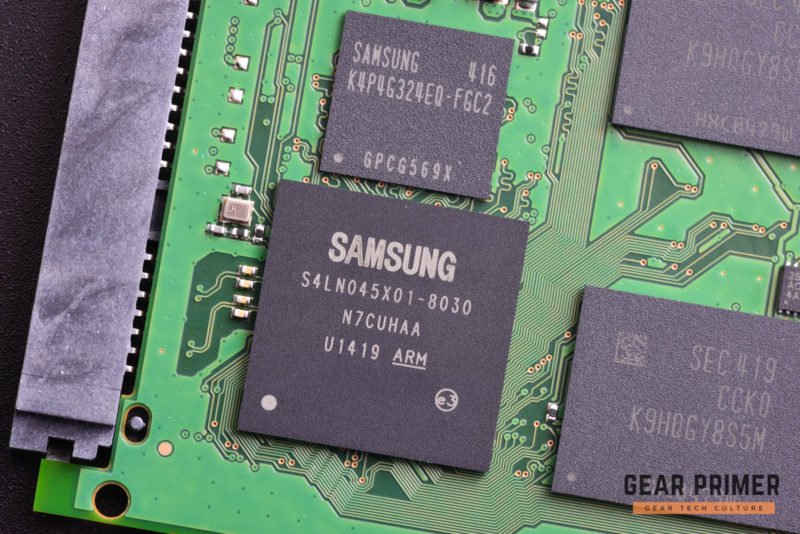 The SSD controller is the component that manages where the data goes on the NAND flash and also acts as the bridge between the drive and the computer. Depending on the controller, it also has a number of other useful functions, such as encryption, garbage collection, error correction, etc.
NAND Flash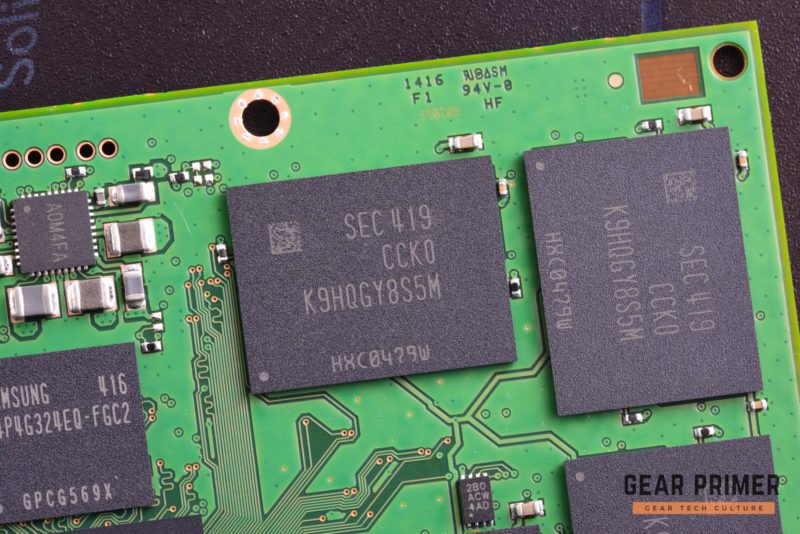 The NAND flash memory is simply the cells that store the data.
DRAM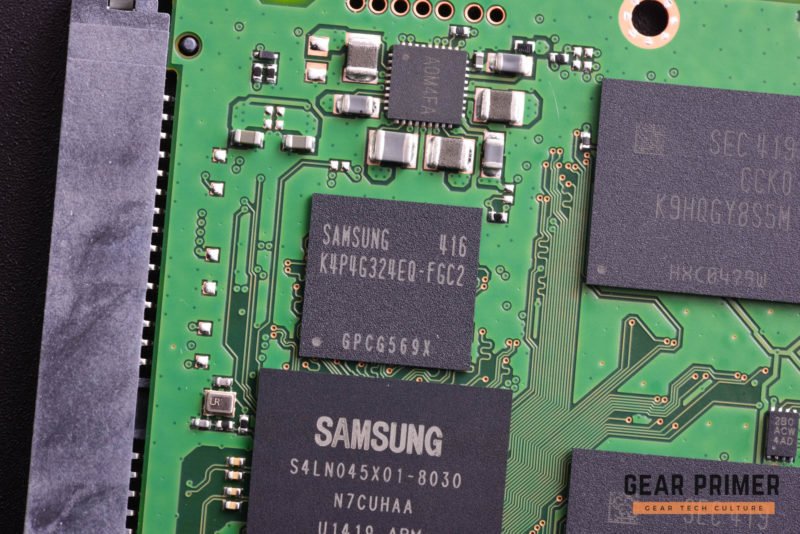 Some SSDs may also include a DRAM module used for storing mapping tables and other information. Generally, this is not a determining factor in selecting an SSD. Some newer NVMe PCIe SSDs may not have a DRAM module thanks to NVMe's Host Memory Buffer (HMB) feature.
SSD Form Factors
One of the most important things to consider when purchasing a new SSD either as an upgrade or as a drive for a brand new system is the form factor. Given the limitations of your platform, this may determine what type of SSD is available to you.
2.5-inch SATA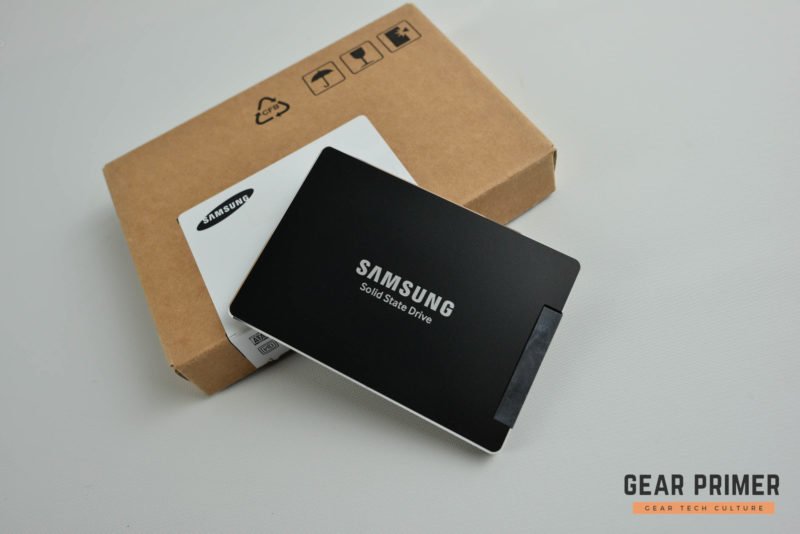 2.5-inch SATA SSDs are the most common as the form factor allows them to be drop-in replacements for 2.5-inch hard drives. These drives typically utilize the SATA connector although some newer drives also utilize the new U.2 connector which allows for a PCIe connectivity.
mSATA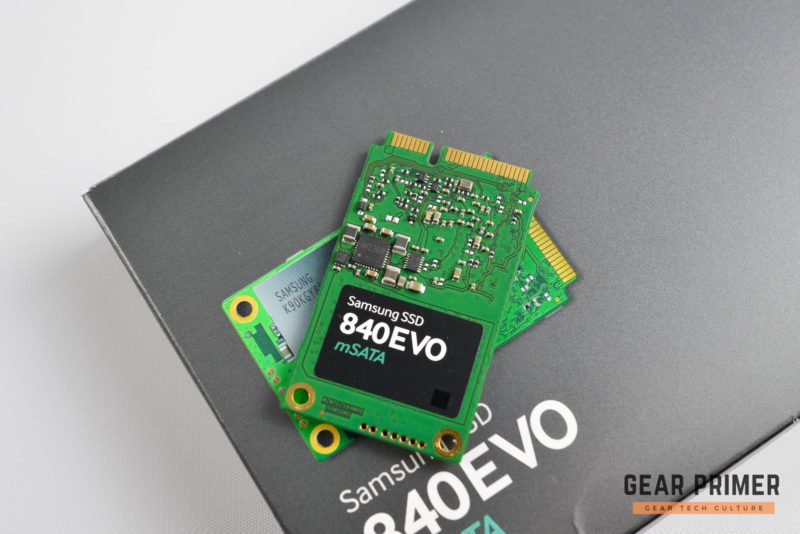 As laptops and tablets don't have the space for the relatively large 2.5-inch form factor and SSDs themselves don't really require all that much physical space, the mSATA form factor was used for older SSDs prior to the introduction of the M.2 form factor. While these drives are slowly getting replaced by M.2, mSATA drives are still fairly prevalent in many laptops and tablets from just a few years ago. As its name implies, mSATA utilizes the SATA interface although it uses the special mSATA connector.
M.2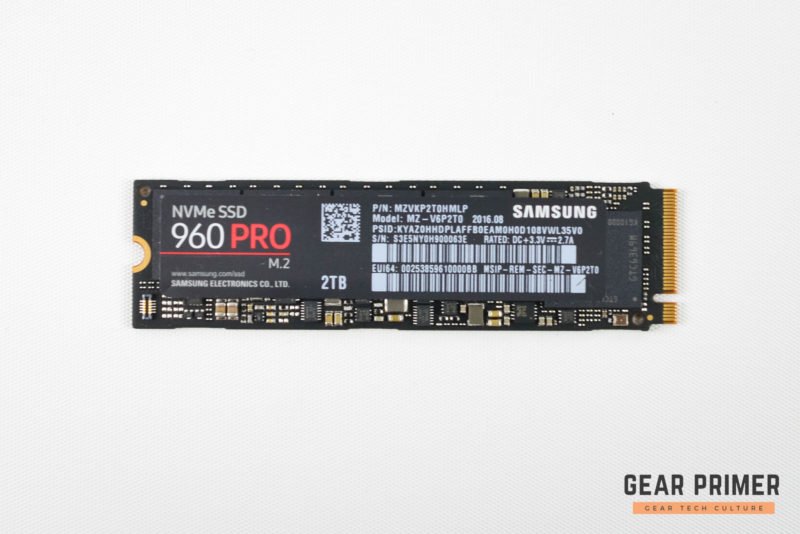 The M.2 form factor is the latest SSD form factor on the market. Formerly known as NGFF, or Next Generation Form Factor, consumer M.2 drives are generally found in the 22mm x 80mm however, the card style form factor can exist in a variety of sizes such as 22mm x 30mm, 22mm x 110mm and more.
M.2 SSDs are typically wired to use the PCIe interface however, older laptops and tablets may have M.2 SSDs that use the SATA interface.
PCIe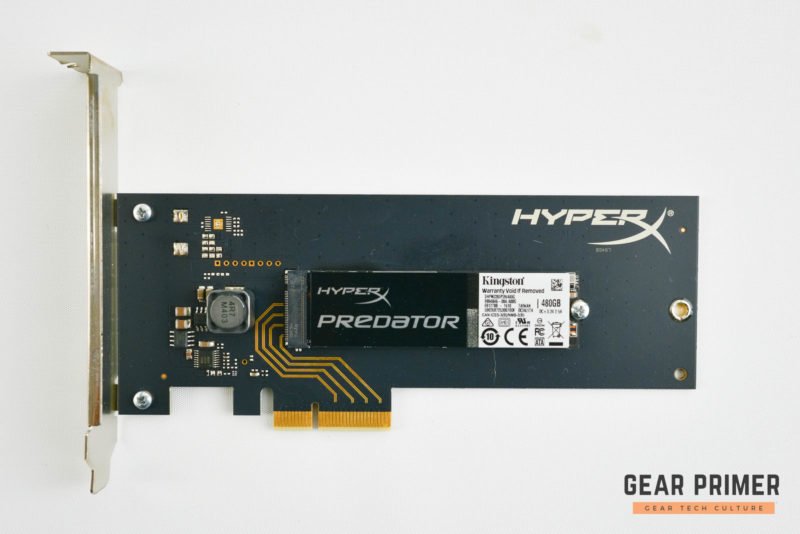 Many SSDs are also available in the PCIe expansion card form factor. While some older SSDs were custom built PCIe solutions, most newer SSDs in the expansion card form factor are simply M.2 SSDs put into an adapter for compatibility with motherboards that don't have a M.2 slot built-in.
SSD Buying Tips
Tip #1: Buy an SSD based on its purpose
Figure out what you're planning to do with the SSD. The type of interface, the type of NAND flash and the way the controller is optimized is very different for different use cases. If you're looking for something for your family computer to browse the web and go on YouTube, a budget SATA SSD will likely fit the bill whereas if you're looking for a SSD for editing massive amounts of video may want an enthusiast PCIe SSD.
Tip #2: Understand SSD Performance Numbers
Just like you probably wouldn't buy a car based on the size of the engine alone, you probably don't want to buy a SSD based on its sequential read performance alone either. For more information about SSD specifications, check out our guide on the relationship between IOPS, throughput and latency here.
Tip #3: Go with brand names
Buy a SSD from a brand name. Unlike buying a banana where everybody's offering is relatively similar, in the SSD world, certain brands are simply better than others.
SSD manufacturers can generally be separated into four tiers:
| | |
| --- | --- |
| Tier 1 | Samsung, Intel, Toshiba (Formerly OCZ) |
| Tier 2 | Crucial, SanDisk/WD |
| Tier 3 | Plextor |
| Tier 4 | ADATA, Kingston, Corsair, Patriot, PNY, Transcend, Silicon Power |
Tier 1 manufacturers are the top dogs when it comes to SSDs. These companies own the entire supply chain from the SSD controller to the NAND flash. These manufacturers ensure that the controller is best optimized for the NAND that it'll be paired with and they also tend to use the best NAND for their products as well.
Tier 2 manufacturers own a portion of the supply chain, which is generally the production of the NAND flash. In most instances, Tier 2 manufacturers will source controllers from controller manufacturers, but they will usually write their own firmware to ensure that the controller is well suited for the NAND. Like Tier 1 manufacturers, Tier 2 manufacturers also tend to use the best NAND for their products.
Tier 3 manufacturers don't produce their own NAND, but they either have their own controller technology or they write their own controller firmware. This provides them with some level of flexibility in unique features or optimizations for the SSD.
Tier 4 manufacturers don't produce their own NAND and mostly use turnkey controller solutions. While this doesn't make their drives bad, the drives aren't significantly differentiated from each other.
January 2019
SSD pricing is starting to stabilize as SSD manufacturers have begun to slow down NAND production. Pricing is among the lowest we've ever seen across all brands of SSDs, and for those considering a new drive, now is an excellent time to buy.
September 2018
With the easing up on the global shortage on NAND, now is the perfect time to upgrade to an SSD as prices have dropped to some of the lowest levels we've seen and the supply of SSDs, especially those from Samsung, SanDisk/Western Digital, and Micron/Crucial, have been well stocked.
July 2017
Due to the global shortage on NAND, which make up the memory chips within SSDs, currently no SSD manufacturer is making big announcements for new products. SSD prices are also expected to go up between now and the end of the year, so if you find a top SSD at a reasonable price, we'd highly recommend purchasing one before increased demand for the holidays further constrain SSD supply.
On the NAND technology development side, SK Hynix has recently unveiled their 72-Layer 3D NAND which has either gone into production or will go into production soon.
Samsung began operation on its Pyeongtaek fabrication facility which will begin mass producing its 64-Layer 3D NAND. As usual, you can expect SSDs based on this new NAND to land sometime in the fall as Samsung generally releases a new SSD around two quarters after they begin mass production on a new NAND technology.
Although Toshiba is experiencing financial woes and is expected to sell off their SSD/NAND memory business, they're still developing new products and they recently announced a new 768Gb 64-Layer BiCS QLC 3D NAND which will allow NAND packages up to 1.5TB per package. Toshiba partner Western Digital followed suit as well announcing their own 768Gb 64-Layer BiCS QLC 3D NAND. It's unclear when both companies will unveil SSDs based on the new NAND, but it's likely sometime before the end of the year.