The Best Tactical Backpack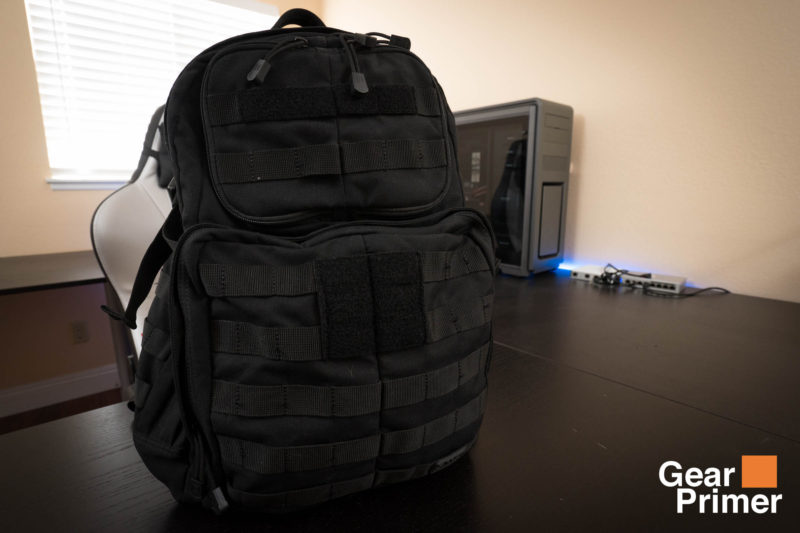 Welcome to another backpack review here at Gear Primer. The subject for review today is the 5.11 Tactical Rush 24 Backpack, which is one of the most popular EDC backpacks from one of the most recognizable gear brands on the market today.
The 5.11 Tactical Rush 24 Backpack is a mid-sized backpack featuring 2275 cubic inches, or around 37 liters, of storage capacity. The Rush 24 designation means that it's designed to carry about 24 hours worth of equipment.
Specifications
Durable 1050D nylon (MultiCam®: 1000D nylon)
Stuff-it pocket with integrated draw cord
Reinforced grab-and-go handle
Wrap-around MOLLE/5.11 SlickStick® web platform
Three mesh admin compartments
Zippered fleece-lined eyewear pocket
Zippered side water bottle pocket
Hook and loop nametape and flag patches
Water-repellent coating
20″ H x 12.5″ L x 8″ D main compartment
12.5" x 11" x 2" front pocket
18" x 12.5" 2 liter hydration pocket
2275 cubic inch / 37 liter total capacity
Adjustable height sternum strap
Two external compression straps
Contoured yoke shoulder strap system
Twin drainage grommets
Self-repairing YKK® zippers
Glove-friendly pull tabs
A Closer Look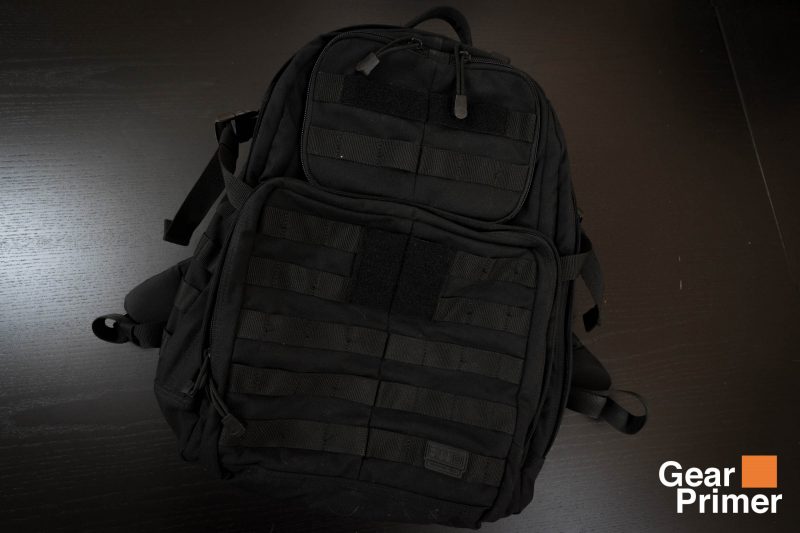 Here's a look at the front of the 5.11 Tactical Rush 24. Constructed of 1050D Nylon and featuring YKK zippers, the Rush 24 is constructed of some of the toughest materials out there making it one of the more durable packs on the market.
From first glance, the bag is clearly a tactical bag with MOLLE webbing wrapped throughout. This makes the Rush 24 extremely versatile as additional add-ons can be attached for additional functionality.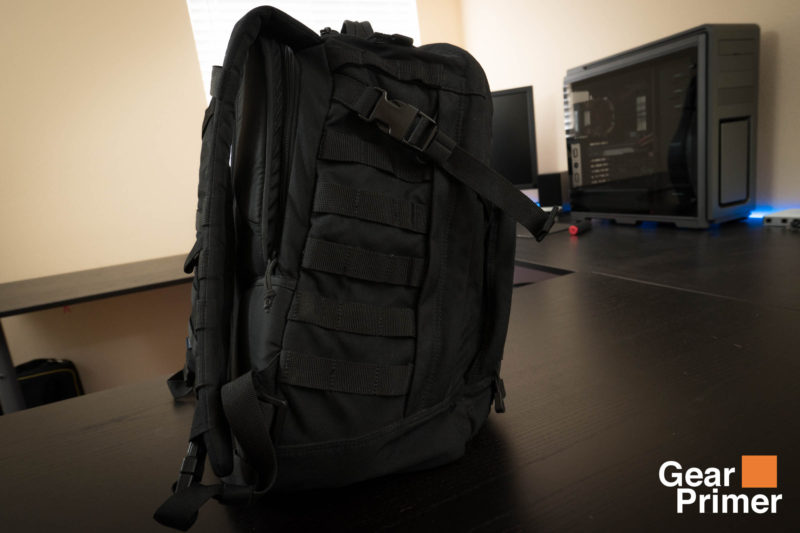 Here's a look at the side of the Rush 24. There's more MOLLE webbing here for attaching additional expansion pouches. At the upper portion of the pack is a compression strap which allows cinching down the pack to ensure the contents of the pack doesn't move around. Unfortunately there's only compression straps at the upper portion of the pack with nothing at the bottom, but it does an adequate job of holding the pack together.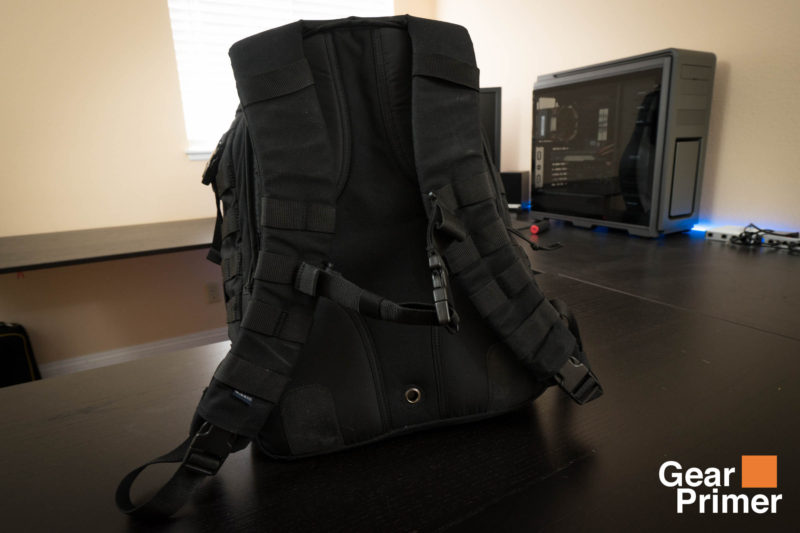 Here's a look at the rear of the Rush 24. The thick straps are fairly heavy duty, constructed of DuraFlex buckles and dual density closed cell foam. Additional MOLLE webbing is added for adding additional pouches such as a radio, smartphone or eyepro pouch. There's also a sternum strap across the middle to help balance the weight of the pack on your shoulders.
One thing missing here however, is the lack of a waist strap to help distribute the weight of the pack on your waist along with your shoulders.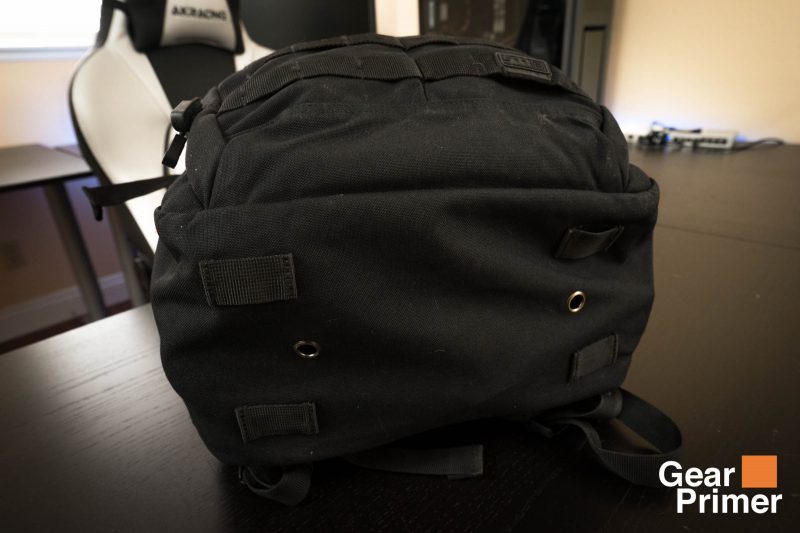 At the bottom of the Rush 24 is some more webbing which will allow attachment of straps for additional gear such as sleeping mats or bags. There's also some holes added to allow water to escape.
At the top of the Rush 24 is a fleece lined eyewear pouch which has no issues fitting larger sized military issue eyepro from ESS or Oakley. There's also two velcro'ed holes which allow for hydration system tubing to pass.
At the rear of the pack is a separated compartment which contains a space large enough for a large hydration bladder, or a 14-inch laptop depending on your loadout for the day. The back also contains a removable plastic board which acts as a pseudo frame to help the backpack keep its shape.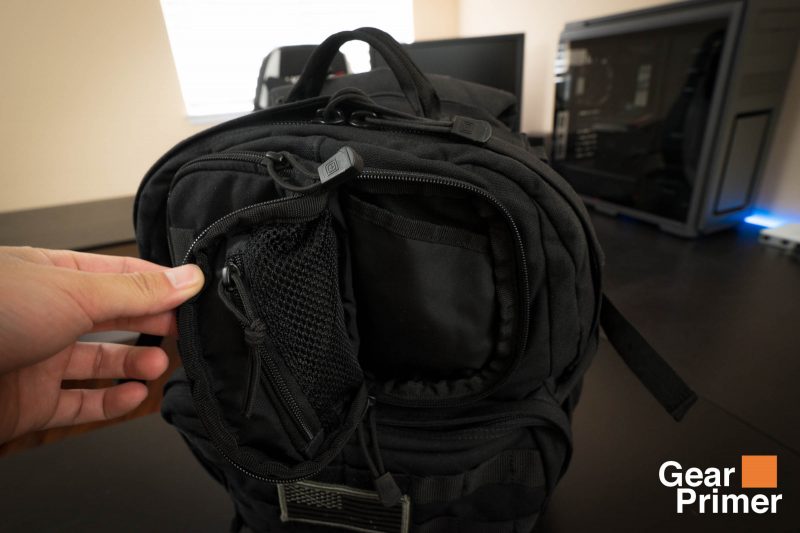 Moving back to the front of the Rush 24, at the upper portion of the top of the bag is two zippered book end pockets which open up to reveal some storage for smaller items such as cards, cash, headphones, lighters, change, etc.
Opening up the front admin pocket, we can see that there's clearly a lot of space to work with tons of organization options and quite a few large pockets. Here, I've outfitted the pack with several pens, a multi-tool, a 10,000 mAh power bank, flashlight, gloves, keys, a CAC reader, and a waterproof pouch which is what I typically carry on a more standard daily EDC type of loadout.
Opening up the middle portion of the pack reveals quite a bit of space for gear as well as large built-in pouches to help organize equipment. Depending on the loadout, a few days worth of civilian clothing can definitely fit in here or if storing military gear, a set of uniforms including boots could fit easily with room to spare.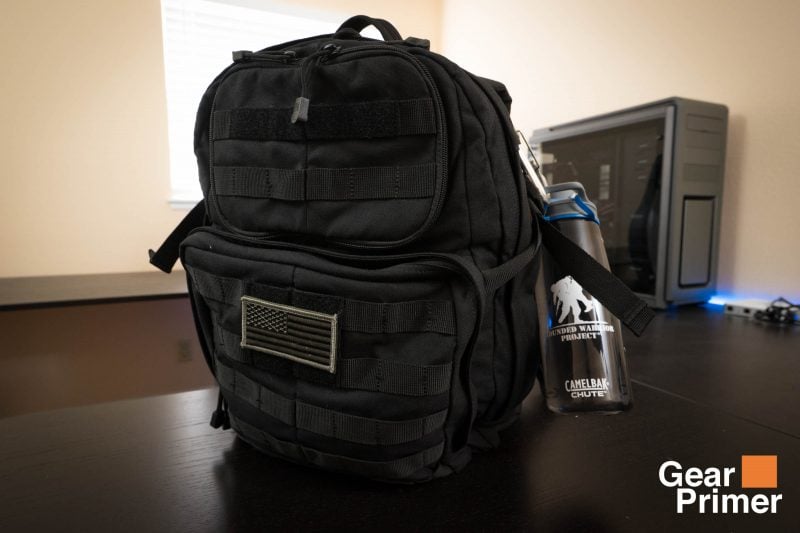 What the Rush 24 is missing is decent water bottle storage options. Underneath the side pocket is a space where bottles can be stored however, it's relatively small and does interfere with the internal storage capacity in the bag. 5.11 Tactical does sell an additional MOLLE compatible water bottle pouch however, for those who own a bottle that's attachable and want to save a couple bucks, I've found that a simple carabiner attached to the MOLLE webbing does the trick just fine.
Performance & Conclusions
Overall, I'm happy with the 5.11 Tactical Rush 24 Backpack. Having owned it for several years, throwing it around and abusing it to the fullest of my ability, I've yet had any major issues with it which I think is really a testament to the success of this pack. Despite owning several tactical backpacks, the Rush 24 is the one I always keep ready to go at a moment's notice.
That said, after several years of use I do have some slight design changes I'd suggest to make the Rush 24 just a bit better. The first is adding some sort of option to add a waist strap. I often find myself sometimes carrying fairly heavy loads in the pack (not always) and I get fatigue in the shoulders without a waist strap to help balance out the weight. Waist straps are included in the Rush 72, but it's not one in the Rush 24, which I feel is a major oversight. Second, I'd also like to see the separated pouch in the front of the pack get combined into a single pouch. This will provide significantly more storage space and accommodate larger items in the top pouches. This is another feature in the Rush 72 that seems to have been lost in transition to the Rush 24.
Pricing on the 5.11 Tactical Rush 24 is a bit on the high side, generally hovering between $90 to $150 depending on the color option. Understandably, Multi-cam is a bit more expensive as it's a licensed pattern, but some of the less popular color options are a bit cheaper. That said, those interested in getting a highly versatile pack that will last a very long time, the 5.11 Tactical Rush 24 is an excellent choice.