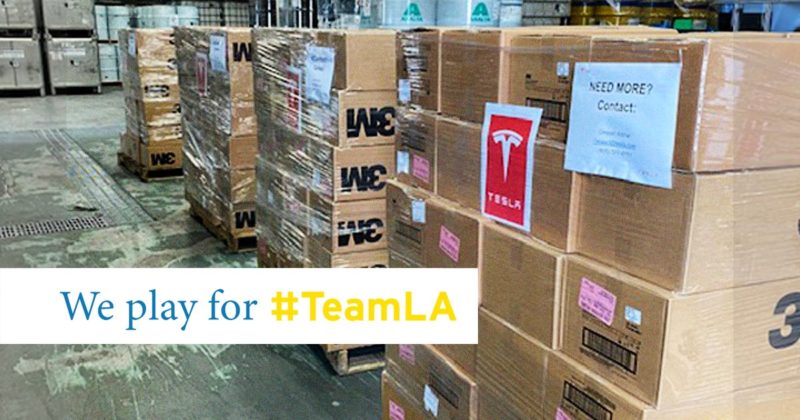 Over the past few days, Tesla has reportedly delivered 50,000+ N95 masks, 1,000+ ventilators, and various additional PPE equipment to hospitals in California and Washington.
The COVID-19 outbreak is beginning to wreak serious havoc in the United States with cases of COVID-19 infected people surging to 30,000+ over the weekend. One of the main issues caused by the virus outbreak is that hospitals are unprepared for the surge in patients with a lack of personal protective equipment for health workers and ventilators to treat critically ill patients.
Several days ago Tesla CEO Elon Musk was investigating the idea of spinning up manufacturing lines for ventilators if there was a shortage, but it was estimated that this would take 8-10 weeks. Considering the dire situation in the meantime, CleanTechnica recently reported in an interview with Elon Musk that Tesla would donate 250,000 N95 masks and 1,000+ ventilators.
The first shipments of those N95 masks and ventilators appear to have arrived.
Dr. Adams Waldorf with the University of Washington recently received a shipment of 50,000 N95 masks and PAPR helmets in her garage which was sent to the university hopsitals.
UCLA Health reported that a shipment of PPE including N95 masks, gowns, and other equipment arrived.
Columbia University Medical also reported that they received a shipment of N95 masks from Tesla.
According to a recent press briefing by California Governor Gavin Newsom, Tesla was also able to obtain 10,000+ ventilators which will be provided to hospitals in the state.
Elon Musk says Tesla was able to acquire 1,255 FDA-approved ResMed, Philips, and Medtronic ventilators from their supply chains in China and airshipped them to LA. They will be donated to hospitals fighting the COVID-19 epidemic as well.
Latest models predict that California alone will need an additional 50,000 hospital beds, 500 million N95 masks, and 1 billion gloves to fight the outbreak.