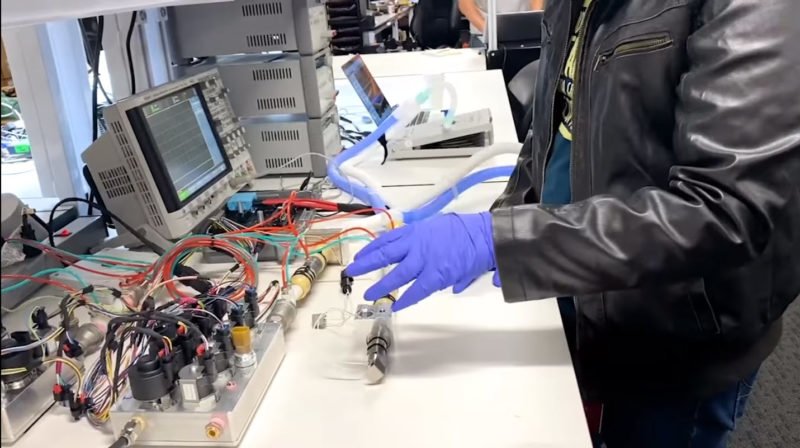 The COVID-19 outbreak has continued to wreak havoc in the world with worldwide cases surging to nearly 1.3 million and US cases alone surging to 337,000. Several weeks ago, Tesla CEO Elon Musk Tweeted that he would begin producing ventilators if a need arose and many health and governmental organizations took him up on his offer.
Today, Tesla released a video demonstrating its prototype ventilator, which is made largely of Tesla vehicle components. The video, which features a number of Tesla engineers wearing gloves and surgical masks shows off a high level design schematic, introductions of the components being used, and a demonstration of its capability.
The entire ventilator appears to have been fitted into a casing around the size of a computer case with a monitor outfitted on a stand. According to the video, the ventilator utilizes the oxygen mixing chamber from its vehicles along with pumps, compressors, and tubes. Electronic control is handled by the touchscreen display from the Tesla Model 3 along with its infotainment computer (MCU).
Tesla has not provided any additional details on how soon the prototype will go into production, details of FDA approval, or its mass manufacturability at this time.
Over the past few weeks, Tesla has moved incredibly quickly to help hospitals and government organizations fight the COVID-19 outbreak. Tesla has so far donated 50,000+ N95 masks, 1,000+ BiPAP machines which can be converted into ventilators if needed, SpaceX is helping manufacture components for Medtronic, the Tesla New York Gigafactory is converting lines to help Medtronic double ventilator production, and Tesla is developing an in-house ventilator which it intends to donate to hospitals as well.