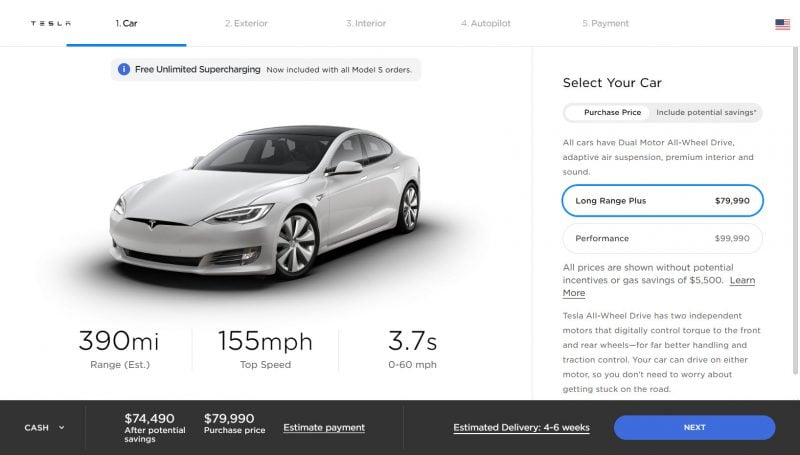 Tesla seems to have one upped themselves again, pushing the Tesla Model S and Tesla Model X to even higher range capability than ever before.
According to the Tesla Design Studio, the Tesla Model S Long Range Plus can now travel up to 390 miles on a charge while the Performance can now travel up to 351 miles per charge. The Tesla Model X is also getting some range increases with the Long Range Plus now capable of up to 351 miles per charge and the Performance now capable of up to 305 miles per charge. This represents an approximately ~4-5% increase in range since the last time Tesla improved the range of the Model S and X in April.
According to Tesla CEO Elon Musk, the improvements were achieved through "Many small hardware improvements throughout the car that have been introduced gradually over past several months" and that it may be possible to break the 400 mile range barrier with "improved wheels/tires", which would be available to all previously made vehicles.
He also informed followers that "All [Tesla Model] S/X cars made in recent months have actually been above stated EPA range. Will be unlocked soon for free via a software update."
Unlike traditional car manufacturers, Tesla's product development cycle has always been to make incremental updates to their vehicle constantly rather than do refreshes and full redesigns of the vehicle every few years. As a result of their continuous improvement cycles, Tesla has been able to consistently refine their vehicles over time adding features such as increased range, improved charging speeds, better ride comfort, improved in-car entertainment features and more.