When I was first introduced to Acorns back in February of 2019, I was a bit skeptical of whether it would be as amazing as many in the financial technology world claimed it would be. Unlike other automatic investing services, Acorns focuses on micro-savings and micro-investing, which essentially is similar to you saving your change in a piggy bank, but rather than having cash in a piggy bank depreciating in value, Acorns intelligently invests it for you using its own robo-advisor service so you actually make money on the money in the piggy bank and it does it automatically so you essentially forget it's even there.
While this is no doubt an automated robo-investing platform, it's very different from the design of companies like Wealthfront or Betterment which are geared towards growing substantial amounts of your money using similar automated investing strategies.
How Does Acorns Work?
Acorns accounts can be opened either via their website or via their Android or iOS app. The app is super simple and incredibly easy to use which is a plus and after entering some personal information, simply link your bank account to Acorns, deposit at least $5, and you're in business.
Acorns will offer you five pre-defined portfolios to choose from. According to Acorns, their portfolios are developed using models by Nobel Prize-winning economist, Dr. Harry Markowitz. Markowitz is a professor of finance at the University of California, San Diego who developed the Markowitz-efficient portfolio which a investment model that in simple terms delivers the highest rate of return given an amount of risk.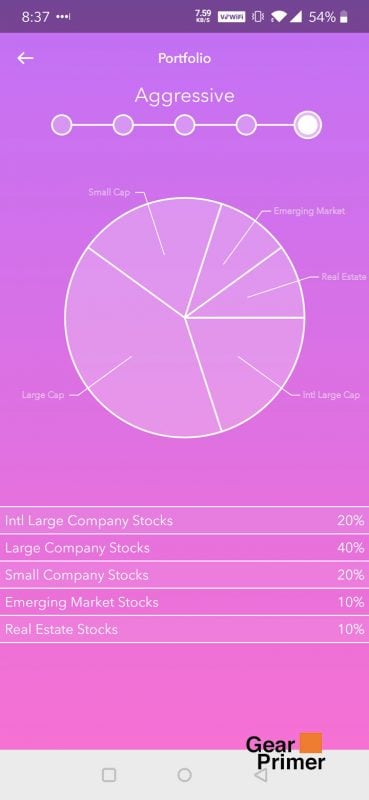 The five portfolios you have to choose from are conservative, moderately conservative, moderate, moderately aggressive, and aggressive depending on your investing time horizon and your tolerance for risk. Once you choose a risk level, Acorns buys a preset formula of ETFs from seven asset classes: corporate and government bonds, domestic and international large company stocks, small company stocks, emerging markets and real estate.
Acorns Round-Ups
There are two methods of depositing money into Acorns.
The first method is simply to deposit a lump sum of money or setup an automatic weekly deposit. You can just link a bank account and have the money transferred over. Pretty standard.
The second method is what Acorns calls "Round-Ups". The way Round-Ups works is similar to spare change and a piggy bank. You can link as many credit or debit cards to your Acorns account as you want and every time you spend money, it will round up to the nearest dollar. Once those "Round-Ups" reach a certain amount of money you set, it will automatically draw that money from your checking account. The whole idea here is that it takes small amounts of money from your account, so psychologically you don't really notice it, but after a few months to a year, the money does start to add up.
Acorns Found Money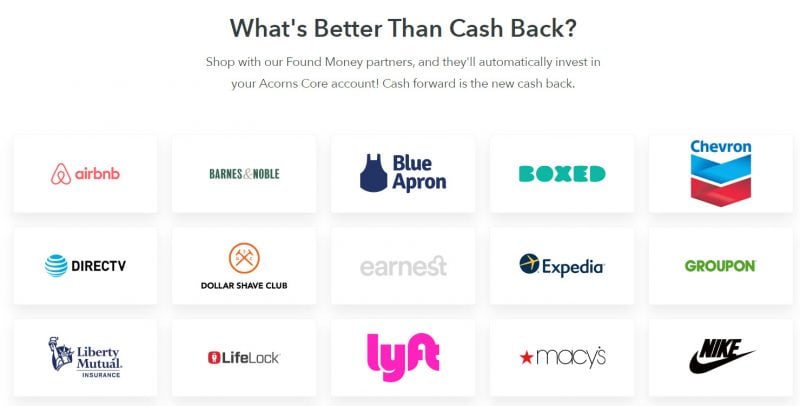 In addition to the two ways above, there's also a very cool third way to make deposits and it's definitely a good way to invest even more without actually depositing additional money into the Acorns account. Acorns calls this Acorns Found Money. What this service essentially does is it offers you cash-back (yes, it stacks with your credit card) on purchases from popular retailers like Walmart, Macy's, Nike, Expedia, Lyft, Sephora, and 350+ additional partners right into your Acorns account.
The cash back varies depending on the retailer, but you simply have to find the retailer, hit "Tap and Get" and buy something. Acorns also has "Simply Spend" offers at places like Chevron gas stations where you get some cash back into your Acorns account simply by swiping a linked credit card. It's actually pretty awesome and if you end up making some large purchases, it could easily add up to some serious cash.
Acorns Fees and Costs
Acorns is all about making investing easy, so their cost structure is pretty easy as well. They charge a flat $1 monthly fee for a basic taxable account, $2 a month if you want to add a Roth or Traditional Individual Retirement Account (IRA) and $3 a month if you want to add a checking account.
Acorns also offers a student account which waives the management fee for up to four years for those with a valid .edu email address.
One Year Results
I started my Acorns account in March of last year, so technically I'm about a month shy of actually one year, but I'm definitely pleased with the results.
I setup my Acorns account to the most aggressive investment profile, invested $20 per week, and simply round up my credit card purchases. I've also utilized Acorns Found Money several times although I have to admit I haven't really been as disciplined as I should be for checking if what I'm about to buy is something that can also get some Acorns Found Money.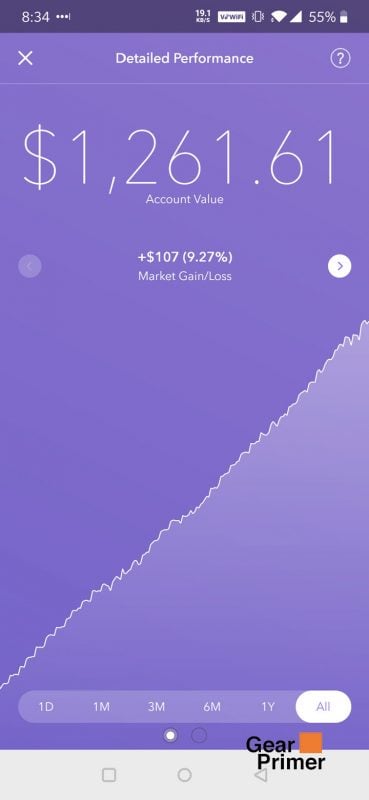 That said, I was able to generate a return of $107 over the past year, which is approximately a 9% return. Keeping in mind my account was pretty small in the beginning, so the returns later on were definitely a bit larger than at the beginning. While 9% doesn't seem like a lot, keep in mind I largely forgot about the Acorns account which was automatically saving and investing for me in the background. If I had saved $40 a week or even more, I could have a really good car down payment or just a really good rainy day fund. Even at ~$1,261 for the past 12 months, it's still been a good experience.
Would I Recommend It?
Yes! I'm happy with the results of being with Acorns for over the year and while the returns were fairly good, what I actually like more about the account is that it's automated to a point where I don't even notice the small amounts of investing and saving it does. As a result, I've got a solid amount of savings and over $100 return over the past year by doing almost nothing.
If my review helped, please consider joining Acorns using my referral link to receive a $5 bonus.