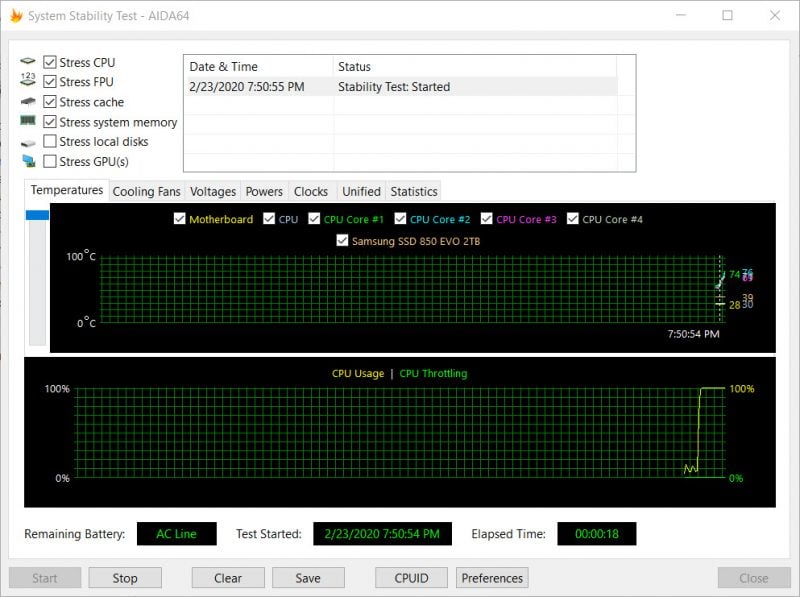 One of the most important pieces of software to have in any PC is some sort of hardware or system monitoring tool. While many think this is only necessary for overclockers who push their hardware to the absolute limits, it's really not. I simply can't tell you how many times I've had people ask me why their computer is running so slow or why their laptop is shutting down randomly because they had no idea that a fan died in their system and the system was overheating.
Lucky for you, this won't happen to you because you'll have a hardware monitoring tool which will help you diagnose any problems before handing your computer over to a technical professional.
HWMonitor (Free)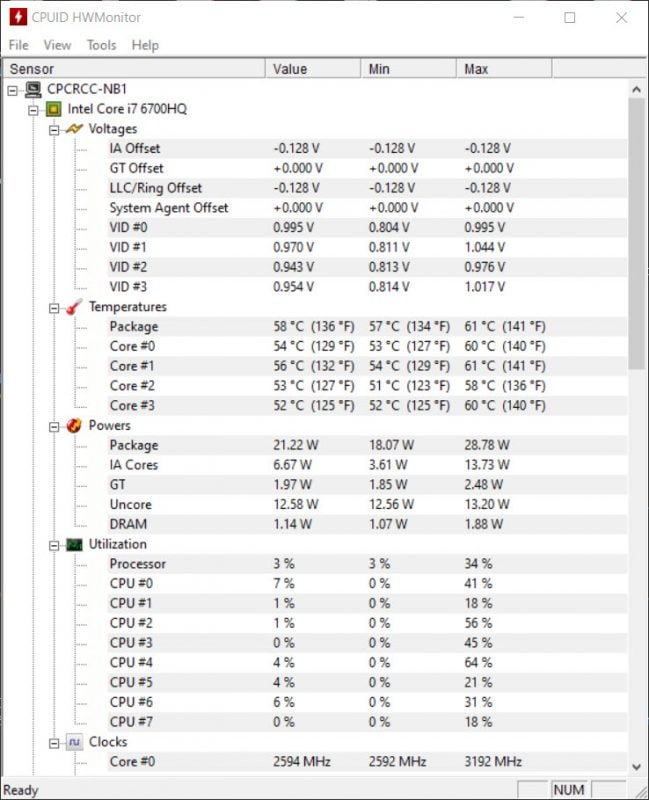 When it comes to hardware monitoring utilities, one of the most well known, most popular utilities is HWMonitor, which is a hardware monitoring tool developed by the same people who developed the popular CPU-Z utility.
What makes HWMonitor stand out from the rest is that it's lightweight, is regularly updated to support the latest hardware and displays a very comprehensive load of information including temperatures, voltages, clock speeds, and more in an easy to read format. HWMonitor also helps you understand the information as well by providing not only the current values, but also the minimum and maximums as well.
Those who want a free tool for monitoring their system, but not something that will eat up too many system resources, HWMonitor is an excellent choice.
HWiNFO (Free)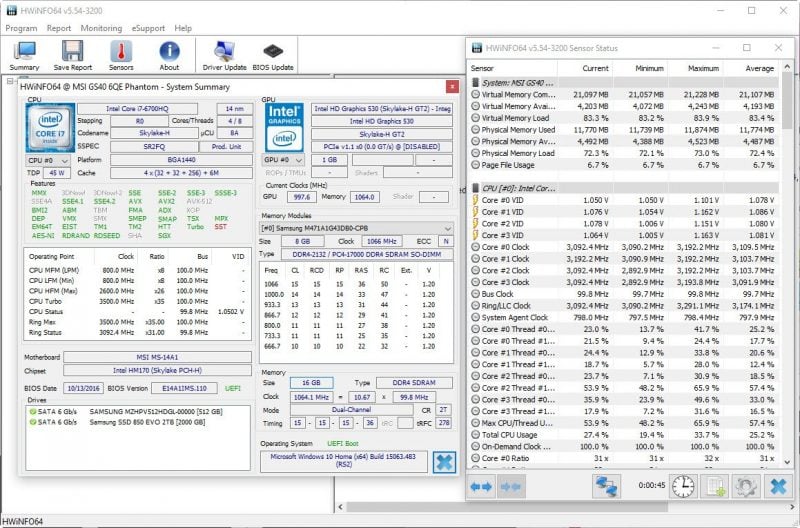 HWiNFO is another excellent free hardware monitoring utility that not only does what HWMonitor does, but goes a step beyond. HWiNFO is not only capable of monitoring the temperatures, voltages, and frequencies of each piece of hardware, but it's also capable of diving deeper by providing detailed information about each component. Ever wondered what timings your RAM is rated for at 2133MHz? Or wanted to know the memory bus width of your graphics card? HWiNFO will tell you.
AIDA64 (Paid, Free Trial)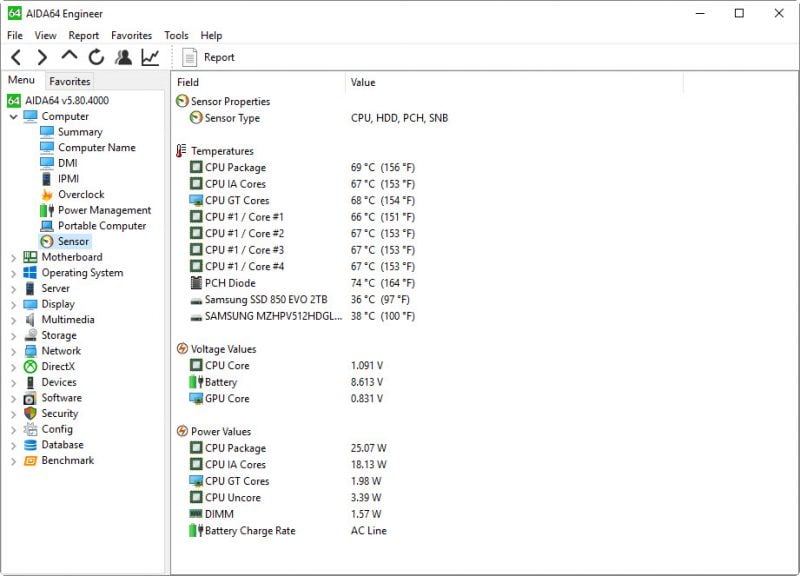 For those with even more serious hardware monitoring and diagnostic requirements, AIDA64 is what you're looking for. In addition to being able to provide all the information HWMonitor and HWInfo provides, AIDA64 goes several steps beyond by providing information about your system software, includes benchmark testing utilities, and includes an excellent integrated stress testing utility to ensure your system is stable.
With all these features however, AIDA64 unfortunately isn't free. The home version of AIDA64, AIDA64 Extreme costs $39.95 however, AIDA64 does offer a 30-day free trial.
Intel XTU (Free)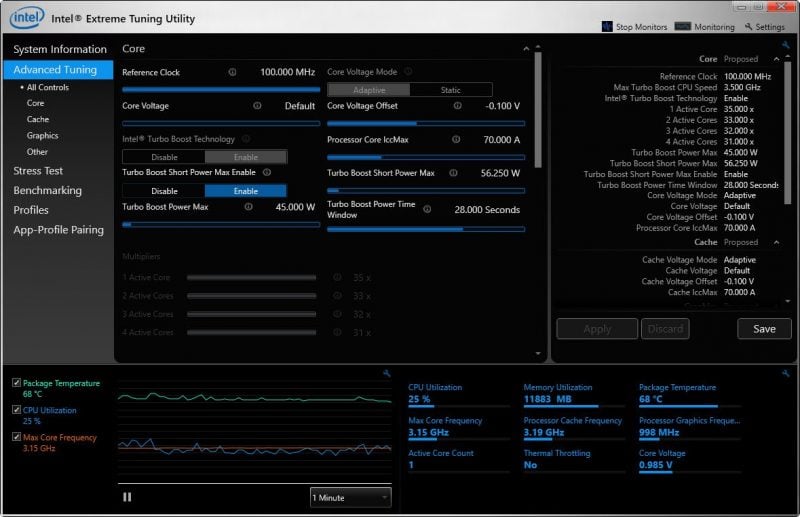 Intel XTU or Extreme Tuning Utility, is a CPU monitoring, overclocking, and stress testing utility designed specifically for systems using Intel CPUs.
The utility not only provides comprehensive CPU monitoring capabilities such as voltage, frequency, and temperature monitoring, but for Intel CPUs that support it, the utility also provides the ability to adjust the frequency, voltages, and other aspects of the CPU. Included in the utility is also a stress testing tool which is able to stress test the CPU, memory, and GPU.
AMD Ryzen Master (Free)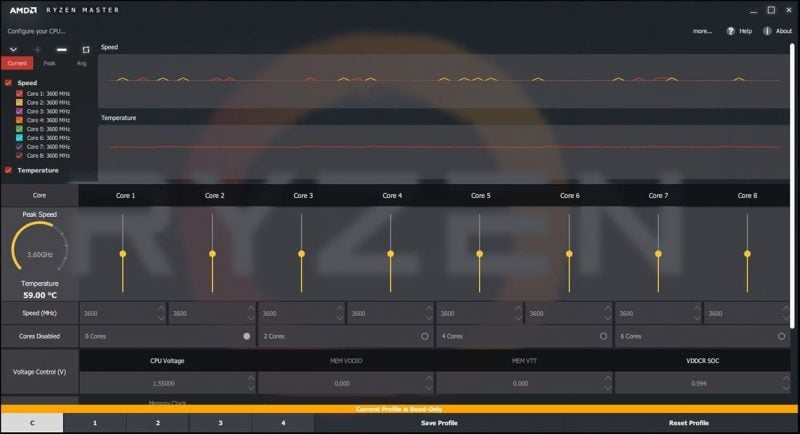 AMD Ryzen Master is a new CPU monitoring and overclocking designed for AMD Ryzen CPUs. AMD Ryzen Master is very similar in functionality to Intel XTU with the exception that it's designed for AMD Ryzen CPUs.