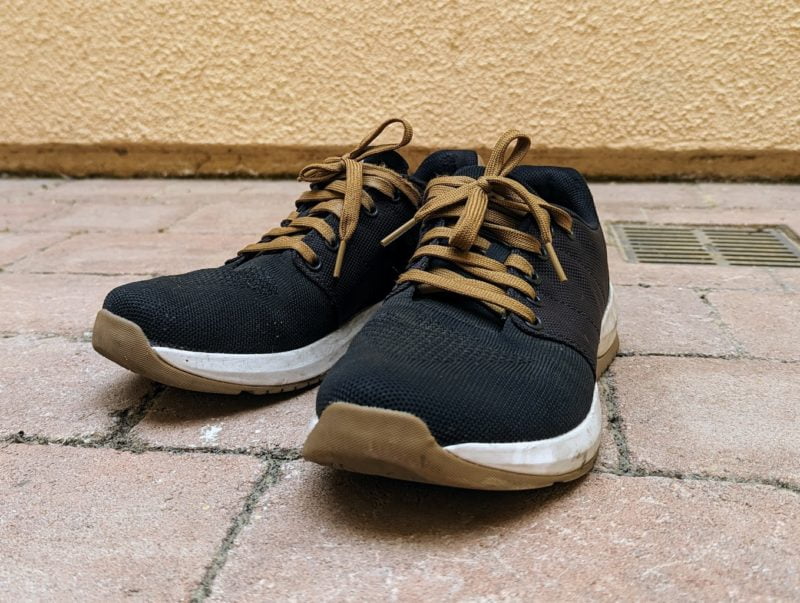 Whether you're a CrossFit enthusiast, a rucking adventurer, a high-intensity interval training (HIIT) devotee, or a dedicated weightlifter, finding the right footwear that can keep up with your dynamic and demanding routines is crucial. Enter the GoRuck Ballistic Trainers – a game-changer in the world of fitness and outdoor footwear. These trainers are meticulously designed to cater to the unique needs of various fitness disciplines, offering an unparalleled blend of durability, comfort, and functionality.
At the end of 2022, I purchased a pair of the Ballistic Trainers and have put them through almost 7 months of use ranging from rucking, CrossFit, hiking, weightlifting and more.
Does it live up to the hype? Let's take a look.
Design & Construction
First of all, I have to say the GoRuck Ballistic Trainers are a great looking shoe, especially the black, white and gum (coyote) color combination. The colors look great together and I've gotten far more compliments about this than any other pair of trainers I own.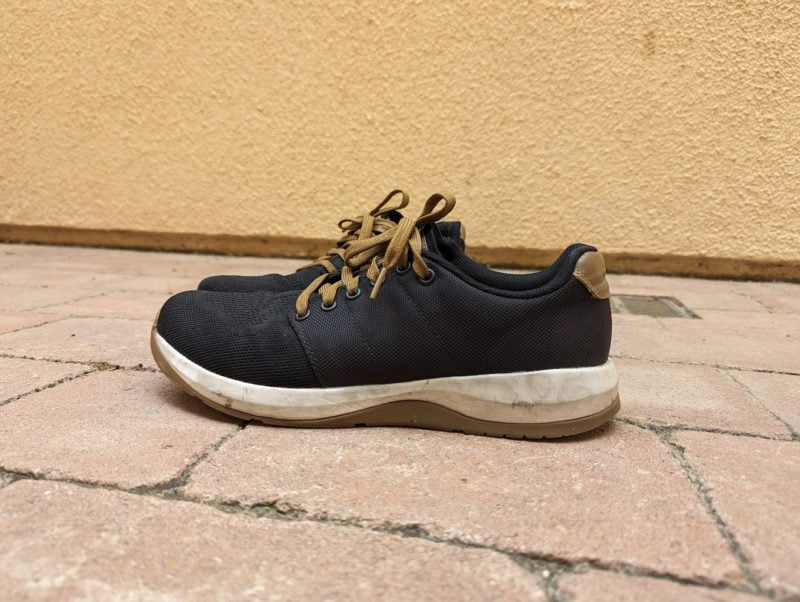 The upper part of the shoe is constructed with an engineered warp knit and 1680D CORDURA Ballistic Nylon. The lace area, midfoot, and heel are made from two panels of 1680D CORDURA Ballistic Nylon. The use of 1680D CORDURA Ballistic Nylon in the construction of the shoes ensures that they can withstand the rigors of more intense workouts and outdoor adventures. This material offers superior abrasion resistance, making these shoes far better than your average trainer for activities like rope climbs and scaling walls.
The triple compound rubber outsole is another feature that contributes to the durability of these shoes. It is formulated for increased grip, abrasion resistance, and durability. This ensures that the shoes can handle both indoor and outdoor use, making them a versatile choice for any fitness enthusiast or outdoor adventurer. The Gradient Density EVA Midsole and Triple Compound Rubber Outsole provide a firm, stable platform for lifting and squatting. This ensures that you have a solid base for these activities, reducing the risk of injury and improving your performance.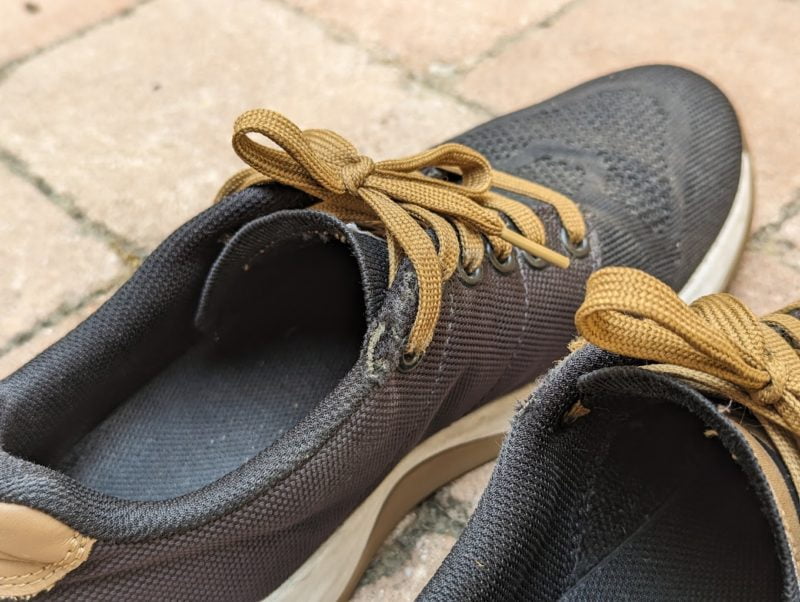 Over the past 7 months, my Ballistic Trainers have seen some substantial wear including quite a bit of fraying and potentially a hole developing on the toe box, but overall they've held up well.
The Ballistic Trainers also offer excellent cushioning and support for explosive movements, thanks to the high rebound, high flexibility EVA in the forefoot. This provides great cushioning and rebound from strike to recovery when running, jumping, or performing other explosive movements.
A little unique to the GoRuck Ballistic trainers, the shoes also feature an 8mm heel-to-toe drop. According to GoRuck, this creates a biomechanical advantage when lifting heavy loads or moving more than 400 meters. For weightlifting in the gym, CrossFit or rucking this worked super well and provided great stability.
Comfort and Fit
Comfort is a key factor when choosing a shoe for workouts or outdoor activities, and the Ballistic Trainers do not disappoint. These are very true to size as I'm an 8.5 for most of my other trainers (Adidas). They are designed with a wide toe box and with the flexible knit, your toes have plenty of room to breathe. This is particularly beneficial during long workouts or hikes, as your feet tend to swell. The extra space, combined with the breathable and flexible knit, reduces the friction that can occur if your feet rub against the insides of your shoe.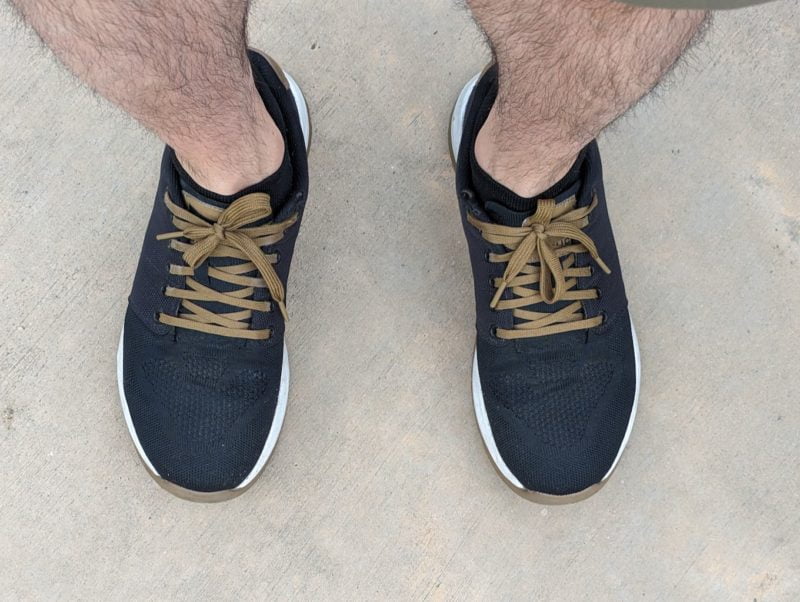 The shoes also come with a custom high-density insert. This insert is made of dense, PU foam and is custom made to fit the contours of your foot. This is supposed to support all three arches of your foot, ensuring that your foot is well-supported and comfortable, no matter the activity and in testing this worked fairly well given how stable this shoe feels.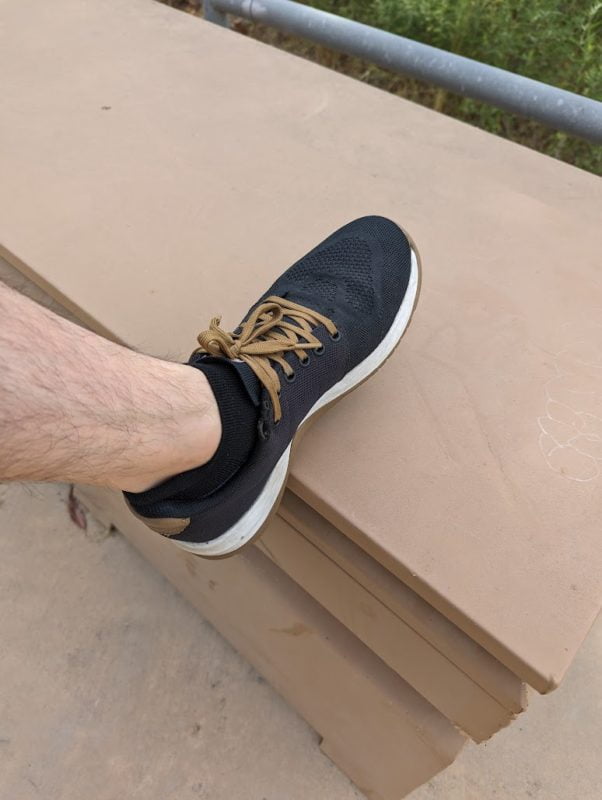 The lacing system on the Ballistic Trainer is excellent and the eyelet holes are well placed to ensure your foot is completely locked into the shoe. The only complaint I have with the lacing system is the last eyelet provides no friction making the shoes hard to tie as the shoestrings don't stay put.
Performance
One of the standout features of the Ballistic Trainers is the stability of the shoe. The Ballistic Trainers offer what GoRuck markets as 3X Support. This is designed to provide stability for all three arches of your foot – the medial longitudinal arch, the lateral longitudinal arch, and the anterior transverse arch. This is a unique approach to foot support, as most shoes only focus on one arch. By supporting all three arches, these shoes ensure that your foot is well-supported, reducing the risk of injury during dynamic, load-bearing exercises.
In addition to the 3X Support, the Ballistic Trainers also feature an anatomically molded TPU heel counter. This counter anchors your foot and provides a supportive, injection-molded heel counter that stabilizes your heel when you're doing dynamic, load-bearing exercises. This feature is particularly beneficial for activities that require a lot of movement, as it helps to keep your foot stable and reduces the risk of injury.
Walking / Rucking: As you'd expect from a set of trainers from GoRuck, these are excellent for rucking. The shoe provides great support and stability while carrying quite a bit of weight. In the 7 months I've had these, I've done at least 2-5 miles 4-6 days per week rucking with the GoRuck Rucker Long Range + 30LB plate in these and with some cushioned socks have had no issues with blisters or hot spots.
Gym / Weightlifting: 2-4 days a week I do deadlifts and squats and these trainers are excellent in the gym. They provide a ton of stability even when lifting heavy weights and for more explosive HIIT workouts they are excellent as well.
Jogging / Running: I've done light jogging / shuffling while rucking and have had no issues in short bursts. However, on longer and faster runs, it's pretty evident that the sole is quite a bit stiffer than my normal Asics runners causing foot strain.
Bottom Line
The GoRuck Ballistic Trainers are a great all around trainer that I'd highly recommend if you wanted a great all around shoe that can work in a variety of settings from daily walking around town to rope climbing. They offer a unique blend of functionality, durability, and comfort, making them an excellent investment for anyone looking for a solid pair of trainers that offer significantly better durability than what you'll typically find from a Nike, Adidas or Reebok.