Nest's Doorbell is the Best, but at a Cost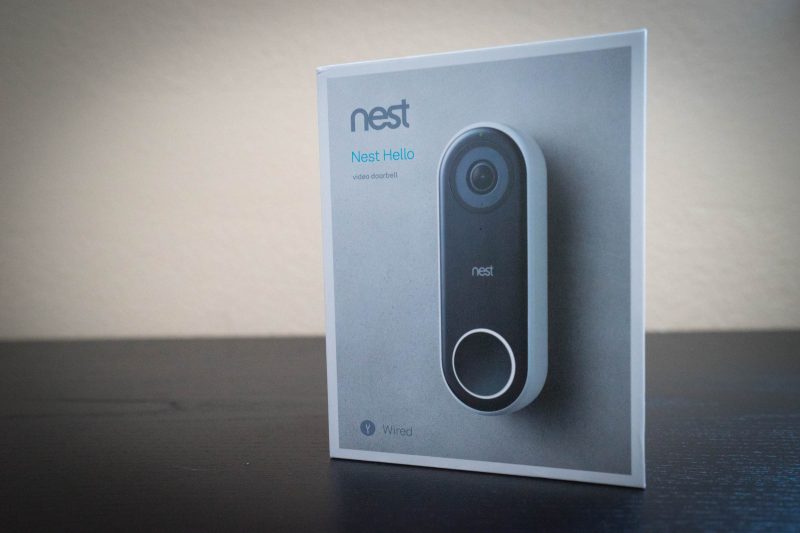 If you're thinking of making your home a bit smarter and a bit more secure, one of the best first upgrades to make is to install a video doorbell. Not only do video doorbells help you feel a lot more secure in your home, they also have the added benefit of reducing crime in entire neighborhoods as thieves are more easily identified and subsequently caught.
One of the newest video doorbells is the Nest Hello, which was recently launched by Google's Nest team back in March of this year.
Installation
If you've installed a video doorbell before, Nest installation should be very straightforward. If you have a newer house, Nest installation should be relatively straightforward as well. If you have an older house without the proper wiring or transformers, a professional is recommended.
The biggest issue you'll likely run into is if your doorbell transformer isn't rated to deliver between 16-24 VAC and 10 VA. If it's not, you can simply replace the transformer with something that is.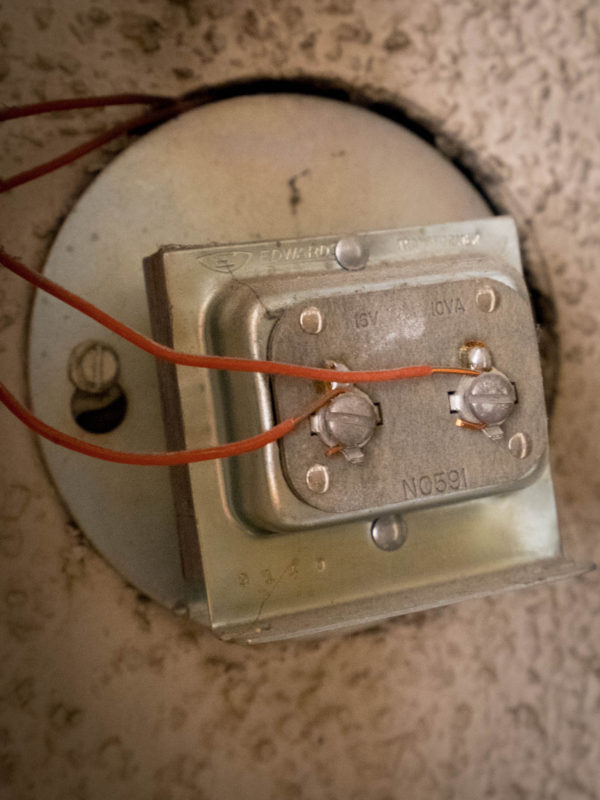 There are several ways to figure out if your doorbell transformer is compatible. The first is to find the transformer and check the rating on the transformer itself. If it's between 16-24 VAC and above 10 VA, you're good. The second is to simply remove the old doorbell and stick a multi-meter on it. If you have no idea what I'm saying here, go ahead and contact a professional.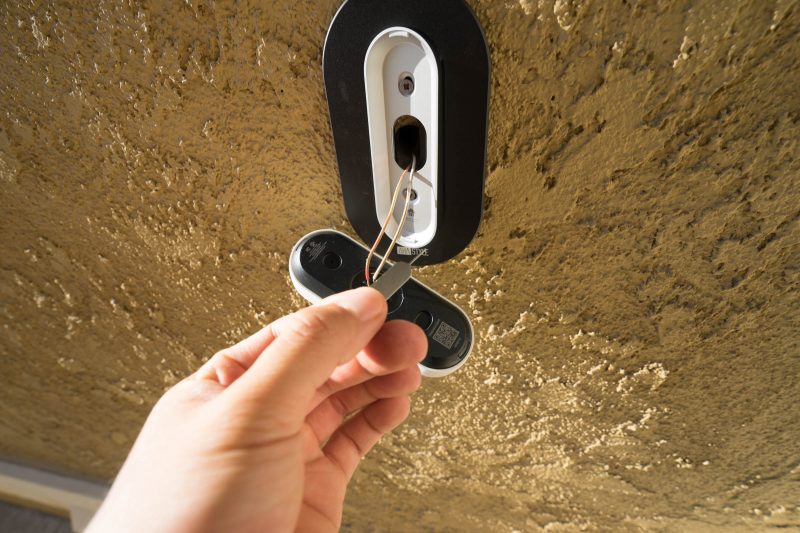 If the transformer is good, you simply need to remove the old doorbell and attach the Nest Hello. The Nest Hello attaches on through a metal mounting plate. Nest provides both a regular flat mounting plate and another with a 15 degree angle. The mounting plate is attached via two screws that go into the wall. As I had a large hole already drilled by the previous doorbell, I also opted to purchase a third party doorbell plate which covered the hole perfectly. Nest provides all the hardware needed for this including a drill bit for mounting the anchors if needed. From here, simply connect the two wires in any order and the Nest Hello will power on. Then simply click the Nest Hello into the mounting plate and it will power up.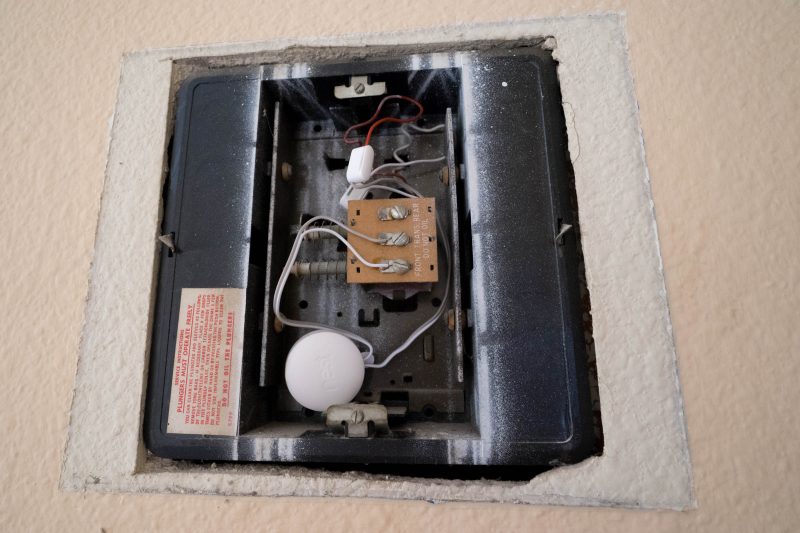 The last step is to install the chime connector that connects to your chime box. This isn't entirely necessary if you have a lot of Google Homes hanging around as they will announce when the doorbell is rung, but it's required if you want the chime to work properly.
Ease of Use
Once the hardware installation is complete, simply connect the Nest Hello into a Nest account. This is quite a painless process and is done using the Nest smartphone app. Nest even has a QR code on the back of the Nest Hello to help facilitate the pairing process. Once paired, the Nest Hello will hook into your Wi-Fi network and work off Wi-Fi. Wi-Fi is necessary for the Nest Hello to properly operate.
Nest Hello can be accessed using the Nest app or at Nest's website. This is extremely easy to use. On the main home screen of the app, you get a live video feed from the Nest Hello.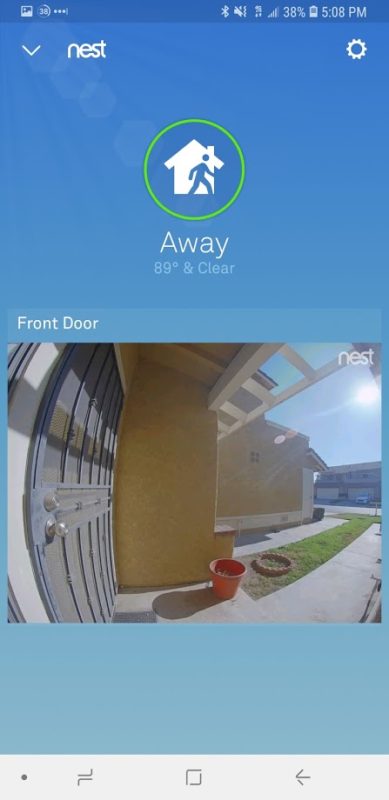 Touching the live video feed, you can quickly scroll through the video timeline and quickly skip to events where the Nest Hello detected people or motion. You can also program names for the Nest Hello face detection system, so it'll tell you when a certain person is at your door rather than just simply "someone" is at your door.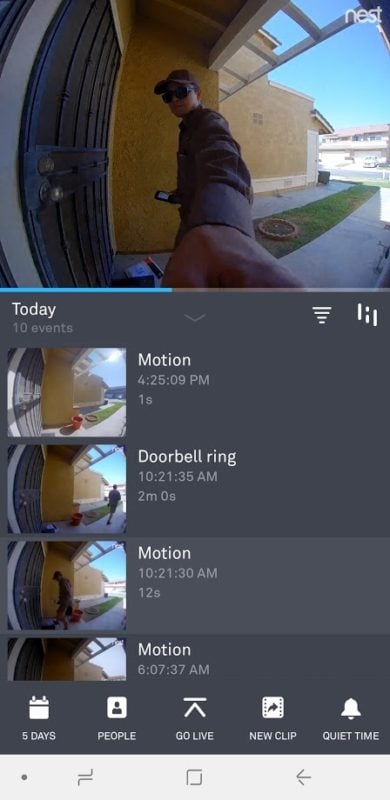 In testing, Nest's motion and person detection speed is very good, and alerts are sent directly to your smartphone via the app are extremely quick.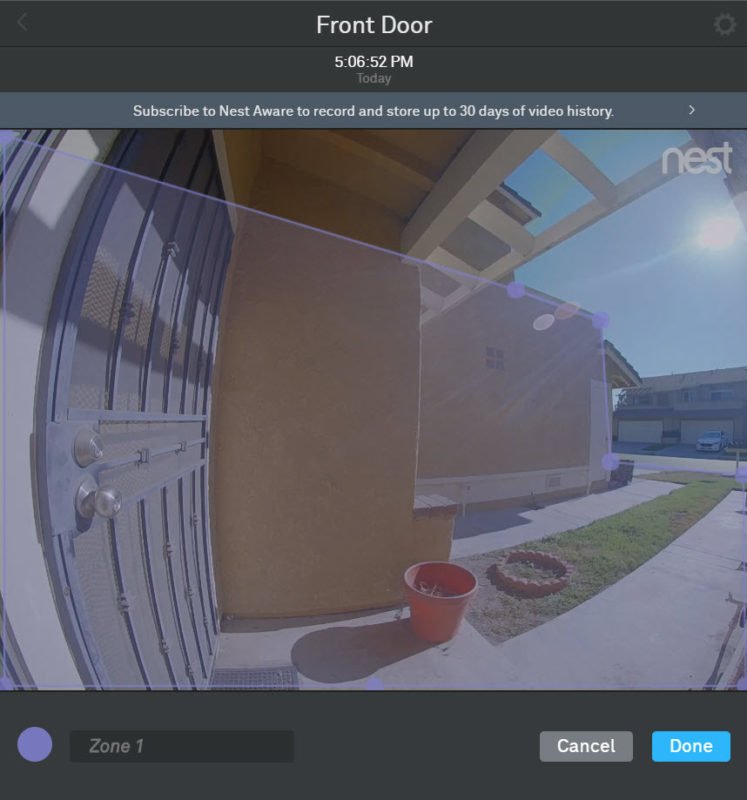 If there's a road or something nearby where a lot of motion occurs, detection zones can also be enabled to ignore movement.
Audio & Video Quality
Audio and video quality on the Nest Hello is easily the best I've seen. The Nest Hello's camera is capable of up to 1,600 x 1,200 resolution at 15 FPS, which is considered its "best" quality setting. Image quality is sharp and colors are always well balanced. It does not disappoint. It even works well under direct sunlight, a situation that would cause lesser cameras to blowout the image. However, the high quality video does come at a cost – bandwidth. At the highest quality setting, the Nest Hello will eat up to 300GB of data a month, which may be a problem for those with slower internet connections, slower Wi-Fi systems, or data caps on their internet.
At medium settings, the camera records at a resolution of 1152 x 864 and at low settings, the camera records at a resolution 512 x 384. At these settings, the Hello will require up to 120GB of data a month or 30GB of data a month respectively.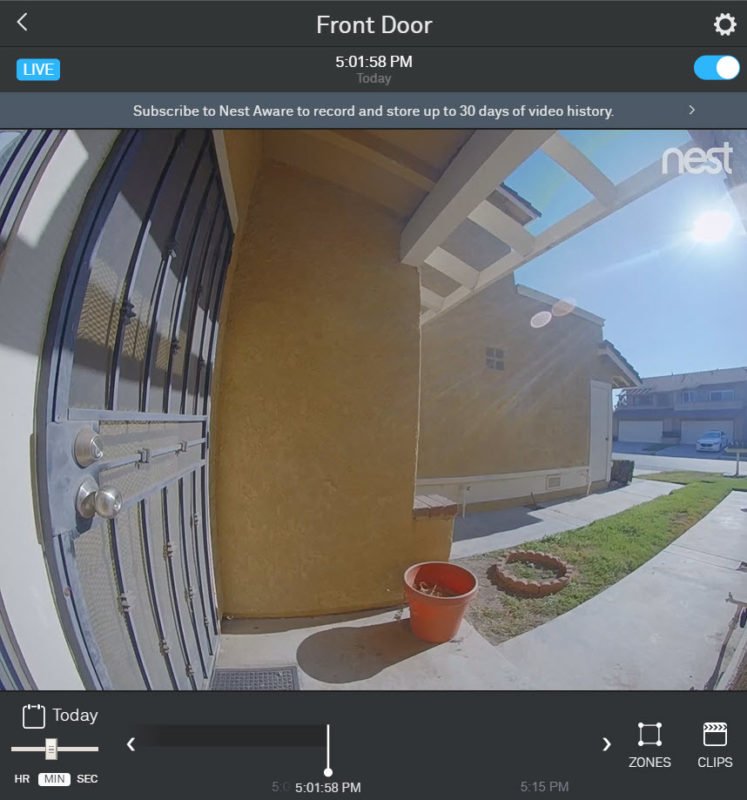 Audio quality is very good as well. Conversations close to the Nest Hello can be heard loud and clear. The Nest Hello also has a speaker that will allow two way conversations with those outside the door, so if you want to tell the a delivery driver to leave a package somewhere or whatnot, that's very possible.
Subscription Plans
The Nest Hello offers the same Nest Aware cloud plans as the Nest Cams, and Nest has pretty much made it so that if you want the Nest Hello to be useful at all, you'll need to subscribe to the plans. Without them, you'll only get three hours history of just images if it detects motion. Essentially, if you don't have your phone on you for three hours and your house gets broken into, you probably won't know who did it. That totally sucks.
Nest Aware plans are available in three subscription tiers: 5-days ($5/mo), 10-days ($10/mo), and 30-days ($30/mo). For those who subscribe to a year in advance, Nest discounts those plans to $50/year, $100/year and $300/year respectively. If you have more Nest Cams, there is also a 50% discount for Nest Aware subscriptions for the additional cameras.
The Nest Aware subscription will provide full 24/7 video recording in addition to Nest Aware's AI functionality such as face detection.
Conclusion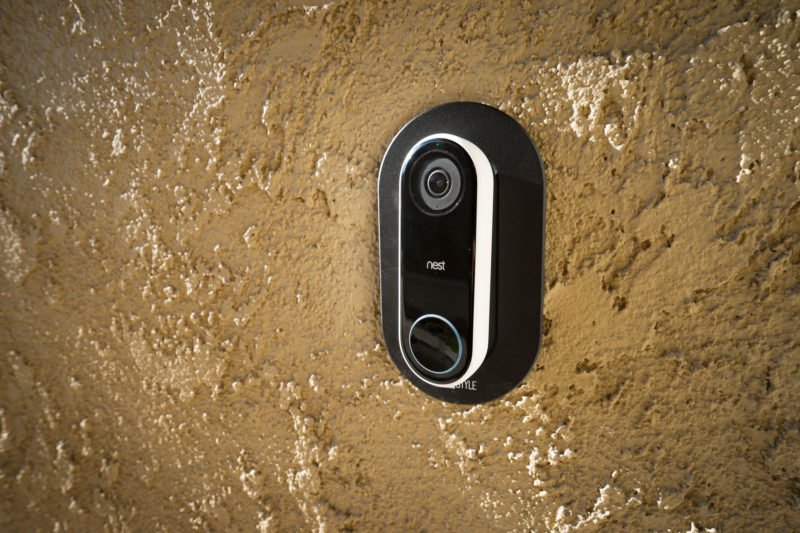 After Google's $3.2 billion acquisition of Nest back in 2014, it was unclear where Google was planning to take the company. Nest had quite the bright future having recently been very successful with the Nest thermostat and recently releasing the well received Nest Smoke Alarm, but nearly four years later, the company had been relatively quiet until now.
The Nest Hello is undoubtedly a much needed addition to the Nest smart home lineup and the company clearly spent no expense developing a product that's easily the best in the industry. Of course, as with any Nest product, the Nest Hello isn't cheap. With a MSRP pricetag of $229 and a $50/year minimum subscription for Nest Aware, the Nest Hello is similarly priced only to the Ring Pro with its $249 MSRP, but a cheaper $30/year minimum plan.
With the highest video quality we've seen for a product in this class, Google Assistant integration, and Nest Aware AI functionality, the Nest Hello is an easy recommendation, if you're willing to pay the premium for it.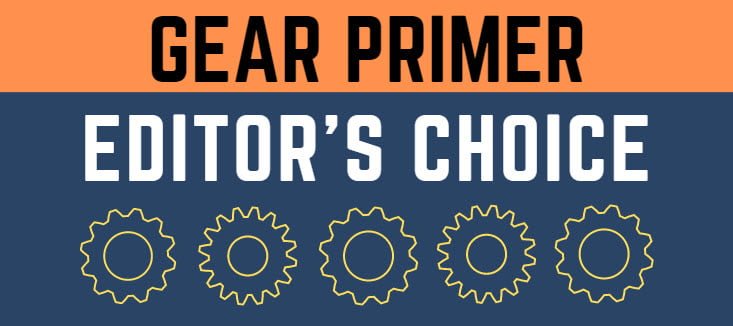 Sample provided by: Editor Purchase