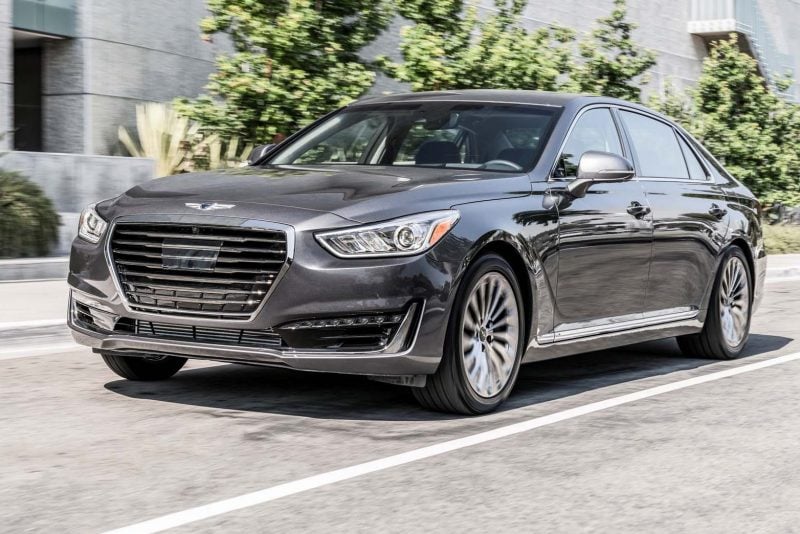 Over the past few years, Hyundai has gained quite a bit of traction in the car market and while the brand no longer has the negative stigma from a decade ago, they are still viewed as a mainstream carmaker. As such, Hyundai decided to spin off the Genesis brand back in 2015 into a separate luxury car brand in order to enter the luxury market.
Starting in 2017, Genesis offer a new flagship model, the 2017 Genesis G90, which is expected to start at $69,050. The base model, which will be the 2017 Genesis G90 3.3T Premium will feature a V6 3.3 liter twin-turbo engine designed to push 365 HP and 376 lb-ft of torque. This is then paired with an 8 speed automatic transmission which will offer up to 24 MPG highway, 17 MPG city and 20 MPG combined. For those who need improved handling, Genesis will also offer an all wheel drive version of the G90, the G90 3.3T Premium, which will be priced at $71,550.
In addition to the 3.3L twin-turbo V6, Genesis will also offer a 5.0L 420HP/383 lb-ft torque V8. Aptly called the 2017 Genesis G90 5.0 Ultimate, this model will start at $70,650 with an all wheel drive version also available for $73,150.
Standard features will include a leather interior, power driver/front passenger seats, heated and ventilated front seats, heated rear sets, 12.3″ navigation screen, Lexicon 7.1 surround sound audio system, 19″ alloy wheels and more. It'll also include a host of safety features including Automatic Emergency Braking, Driver Attention Alert, Blind Spot Detection, Lane Keep Assist, Lane Departure Warning, etc. Those purchasing the 5.0 Ultimate edition will also get LED headlights, ventilated rear seats, memory rear seats, and more.
The 2017 Genesis G90 is expected to be available at dealerships at the end of this month. Check out Genesis' website for more details.
Source: MotorTrend