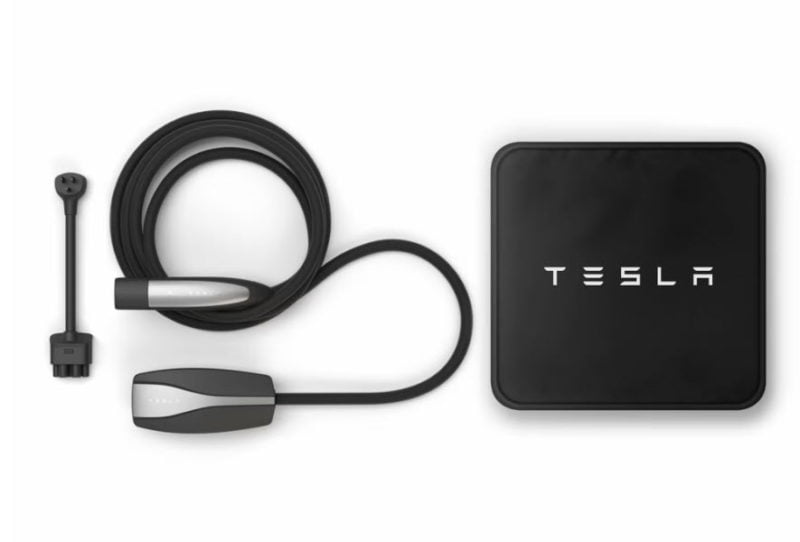 Back in April this year, Tesla decided to no longer include Mobile Connectors (chargers) with newly ordered Tesla vehicles after April 29, 2022 and customers instead had to pony up $200 if they wanted to purchase a Mobile Connector or $400 for the Wall Connector from the Tesla store. Customers who ordered their vehicles prior to April 29th however, were expected to continue to receive a Mobile Connector along with their vehicle.
However, it seems like Tesla has recently made a new change to this policy as they have recently been sending emails out to customers with a $200 credit to use for a Mobile Connector or a Wall Connector on the Tesla store. In a recent Tweet from @TailosiveEV, the email reads,
"Prepare for delivery and consider a charging solution for your Model 3. You may use the Tesla Shop code below to put $200 towards a Tesla Wall Connector, our quickest, most convenient way to charge at home or apply the Shop Code to fully cover the purchase of a Mobile Connector.

Your car comes standard with the J1772 adapter, which can be used at any third-party charging station. "
According to Drive Tesla Canada, the codes will be issued to owners who had an order prior to April 29th and will take delivery of a vehicle built on or after August 15, 2022.
Editors Take
Overall I think this is Tesla trying to achieve two goals.
They likely are trying to simplify production. The burden of having to figure out which vehicles were ordered before April 29th and equipping them with Mobile Connectors while separating those from other vehicles ordered after April 29th is likely a challenge when it needs to be done at scale. It's much easier to just send out a code and have customers order from the store. My guess is this additional complexity is causing Tesla to see elevated amounts of service requests from customers who may not have received the Mobile Connector when they should have.
They're also taking the opportunity to optimize allocation of Mobile Connectors to those who actually need it and try to alleviate some of the potential supply chain issues they're facing. Even if 20% customers opt for the Wall Charger instead, that's 20% fewer Mobile Connectors that's needed. This also ensures that customers will take delivery of the vehicle when its ready even if Mobile Connectors aren't available.