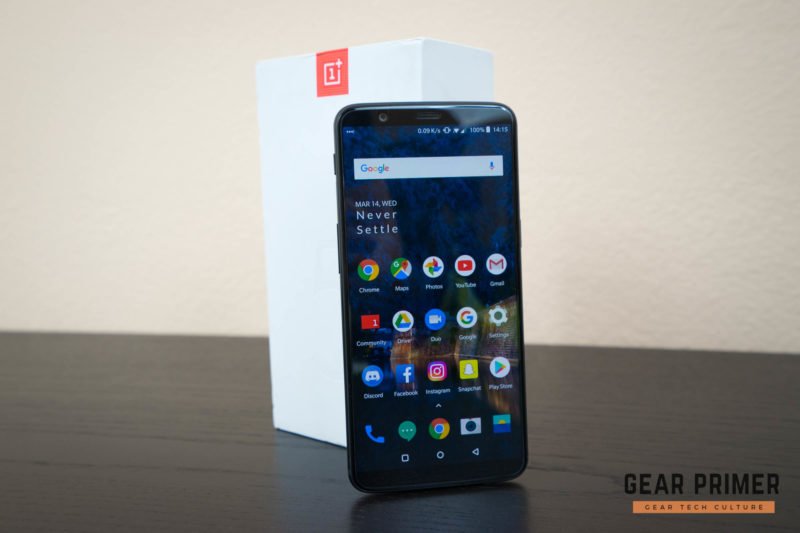 Back in 2013, OnePlus jumped into the smartphone scene with a bang, introducing their OnePlus One smartphone, which quickly distinguished itself by offering flagship class smartphone features at a pricepoint of just $299. Thanks to massive community support, OnePlus was able to quickly build a name for itself as the enthusiast class smartphone with the best value possible.
Fast forward to June 2017 and OnePlus has continued this tradition of delivering flagship class smartphones at very reasonable prices. The OnePlus 5 featured all the latest and greatest hardware including a 5.5-inch AMOLED display, a Qualcomm Snapdragon 835 processor, up to 8GB of RAM, up to 128GB of storage and a dual camera setup for under $500. While the OnePlus 5 was by no means a bad phone, OnePlus quickly upped their game just six months later with the OnePlus 5T which we'll be reviewing today.
The OnePlus 5T is for the most part almost identical to the OnePlus 5 which has now been discontinued. As its name implies, the OnePlus 5T is an incremental upgrade to the OnePlus 5 rather than a full blown redesign of the entire phone. It still features a sub-$500 pricetag, the Snapdragon 835 processor, up to 8GB of RAM, up to 128GB of stroage and a dual camera setup however, OnePlus has equipped the 5T with a larger 6.01-inch 1080P AMOLED display with an 18:9 aspect ratio (along with design changes that come with it), improved the cameras, and included some new software features such as Face Unlock.
Is this enough to keep the OnePlus 5T competitive against its competition? Let's find out!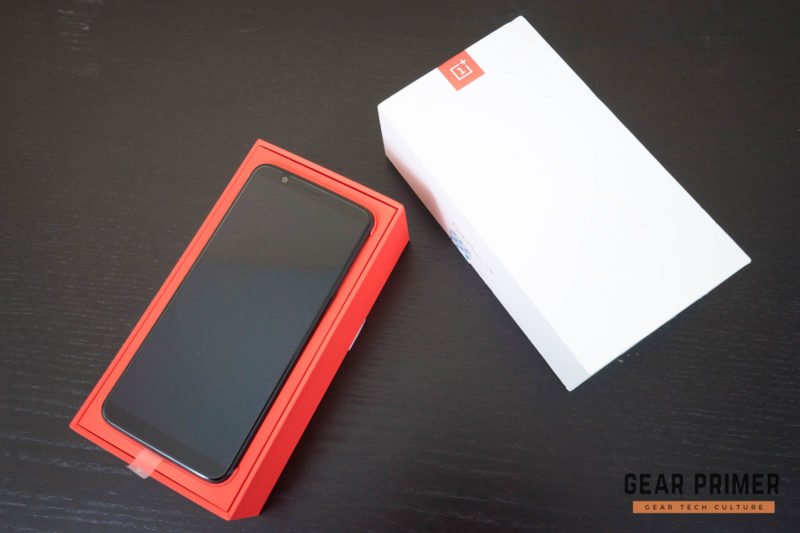 Specifications
| | |
| --- | --- |
| Manufacturer | OnePlus |
| Model | 5T |
| Operating System | Android 8.0 Oreo OxygenOS |
| Display | Size: 6.01 inches Resolution: 1080P (1080 x 2160 pixels), 401ppi Aspect Ratio: 18:9 Type: AMOLED Supports sRGB, DCI-P3 Cover Glass: 2.5D Corning Gorilla Glass 5 |
| Processor | Qualcomm Snapdragon 835 (Octa-core, 10nm, up to 2.45GHz) |
| GPU | Adreno 540 |
| RAM | 6 GB or 8 GB LPDDR4X |
| Storage | 64/128 GB UFS2.1 2-LANE |
| Battery | 3,300 mAh (non-removable), Dash Charge (5V 4A) |
| Cameras | Rear Cameras Main Sensor: Sony IMX 398 Megapixels: 16 Pixel Size: 1.12μm Aperture: f/1.7 Focal Length: 27.22mm Secondary Sensor: IMX 376K Megapixels: 20 Pixel Size: 1.0 μm Aperture: f/1.7 Focal Length: 27.22mm Front Camera Main: Sensor IMX 371 Megapixels: 16 Pixel Size: 1.0μm Aperture: f/2.0 |
| Audio | Bottom-facing speaker 3 microphones with noise cancellation Supports AANC Dirac HD Sound |
| Sensors | Fingerprint, Hall, Accelerometer, G-sensor, Electronic Compass, Gyroscope, Proximity, Ambient Light Sensor, RGB, Sensor Hub |
| Connectivity | LTE: Supports 3xCA Supports 64QAM & 256QAM Supports up to DL CAT 12 (600 Mbps) UL CAT 13 (150 Mbps) depending on carrier supportBands: FDD LTE: Band 1/2/3/4/5/7/8/12/17/18/19/20/25/26/28/29/30/66 TDD-LTE: Band 34/38/39/40/41 TD-SCDMA: Band 34/39 UMTS(WCDMA): Band 1/2/4/5/8 CDMA: BC0 GSM: 850/900/1800/1900 MHzWi-Fi: MIMO 2×2, 802.11 a/b/g/n/ac, 2.4/5 GHz Bluetooth 5.0, supports aptX & aptX HD NFC enabled GPS, GLONASS, BeiDou, Galileo |
| Ports | USB 2.0, Type-C, Supports USB Audio Dual nano-SIM slot, 3.5mm audio jack |
| Material | Anodized aluminum |
| Colors | Midnight Black, Lava Red |
| Dimensions and Weight | 156.1 x 75 x 7.3 mm 5.7 ounces (162g) |
| Price | $499 |
| Check Pricing | GearBest |
Design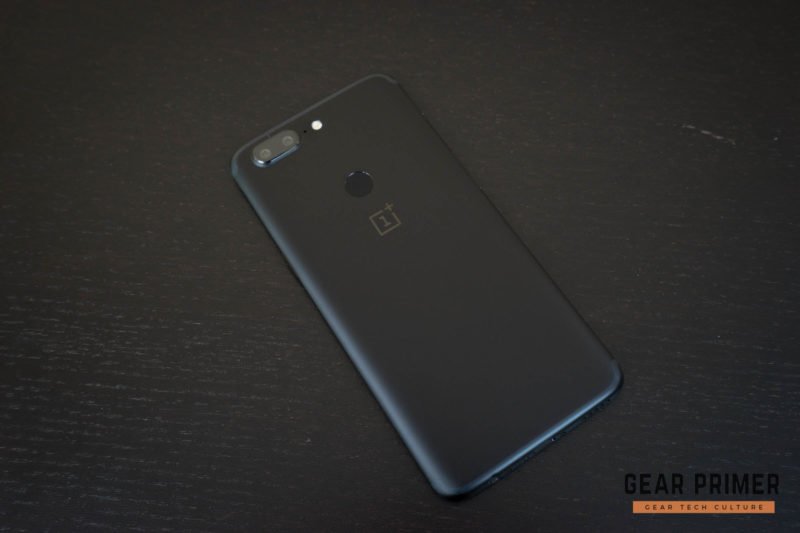 Physically, the OnePlus 5T sports a relatively simple design. The front of the smartphone is simply an edge to edge display and the body of the device is constructed of aluminum alloy. There's no fancy front and back glass on this one, but for those planning to outfit the phone with a case anyway, it really doesn't make much of a difference.
Buttons on the OnePlus 5T include a volume rocker and a power button. There's also a physical switch which switches the OnePlus 5T between audio profiles so that the phone can easily be set to silent, vibrate or ring simply by flicking the switch. At the center rear there's also a fingerprint sensor, but it's a sensor only without an additional button behind it. Similar to previous models, OnePlus did not remove the camera bump on the 5T which means without a case, the camera lenses will likely get scratched over time. OnePlus does include a simple plastic protective case which offers some additional height, but a thicker case is recommended for those who want to completely avoid scratching their camera lens altogether.
At the bottom of the OnePlus 5T is a single bottom facing speaker. The speaker gets fairly loud for a single speaker configuration, but since it's a single speaker, there's no stereo sound. What you do get however, is a headphone jack which is nice to see as smartphone companies try to push Bluetooth and USB-C headphone solutions. Of course, there's also the USB-C port at the bottom which works for charging and hooking up additional devices.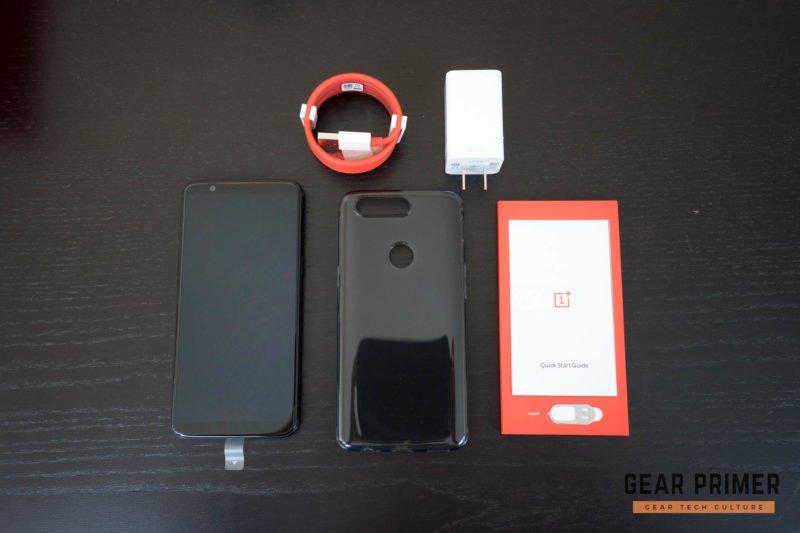 Display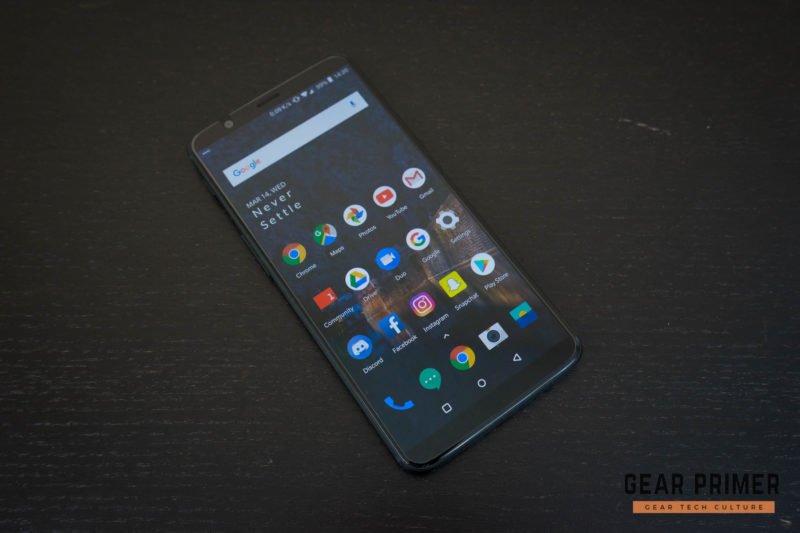 The OnePlus 5T is equipped with an 6.01-inch 2160×1080 AMOLED display which amounts to a pixel density of approximately 401ppi. The display utilizes an 18:9 aspect ratio, which is slightly longer than what you'd find on the more typical 16:9 aspect ratio screens, but because the body is only slightly larger than the screen, the phone itself isn't all that much bigger than its predecessor. If you've been using an older smartphone with a 5.5-inch or larger screen, the OnePlus 5T will feel relatively similar in size.
The AMOLED display equipped with the OnePlus 5T is gorgeous as expected. It's bright, the colors are vibrant and despite the 401ppi pixel density being lower than those such as the Samsung Galaxy S8, the quality of the display is excellent, providing a similar experience to the viewer without the added cost of a higher resolution panel.
Performance
The OnePlus 5T is a flagship device and as such, it features some very high end hardware. Depending on the mdoel, the OnePlus 5T features a combination of the Snapdragon 835, 6 or 8GB of DDR4 RAM and 64 or 128GB of UFS 2.1 2-Lane storage. It's about as top of the line as smartphones come and in testing, this proved to be the case.
In my several month-long test period, performance was nothing less than stellar. Apps installed extremely fast, ran smooth, and with the exception of a couple hiccups during a several month long test, there were zero slowdowns to speak of. Even with heavy usage such as gaming, multiple social media applications, multiple e-mail clients, YouTube and Google Chrome open, apps continued to run without issue.
Even those who with more recent generation smartphones such as the LG G6 powered by the Snapdragon 821 processor, the OnePlus 5T is very noticeably faster thanks in large part to the powerful hardware, but also in part to the significantly less bloaty software.
Here are Antutu, 3D Mark, and Geekbench benchmark results. Smartphone vendors have been known to game benchmarks by turning off thermal throttling or optimizing specifically for benchmarks, so it's recommended to take benchmarks with a grain of salt. However, the figures above do provide a ballpark estimate of performance and the OnePlus 5T is definitely up there as one of the fastest smartphones on the market.
Camera
The OnePlus 5T features two main rear cameras which work together to produce better pictures in lower light situations as well as help create a better depth effect in its portrait photography mode. The primary camera utilizes a Sony IMX 398, 16MP sensor with a 27.22mm focal length and an f/1.7 aperture lens. The secondary camera utilizes a Sony IMX 376K, 20MP sensor with a 27.22mm focal length and an f/1.7 aperture lens.
Overall the cameras did very well when shooting in good lighting situations however, there's no secondary camera for telephoto zoom or wide angle, so for the best quality photos, you're stuck at one focal length. In the camera software, the OnePlus 5T does have a feature to quickly switch to 2x zoom mode, but this is done through software cropping, which isn't ideal.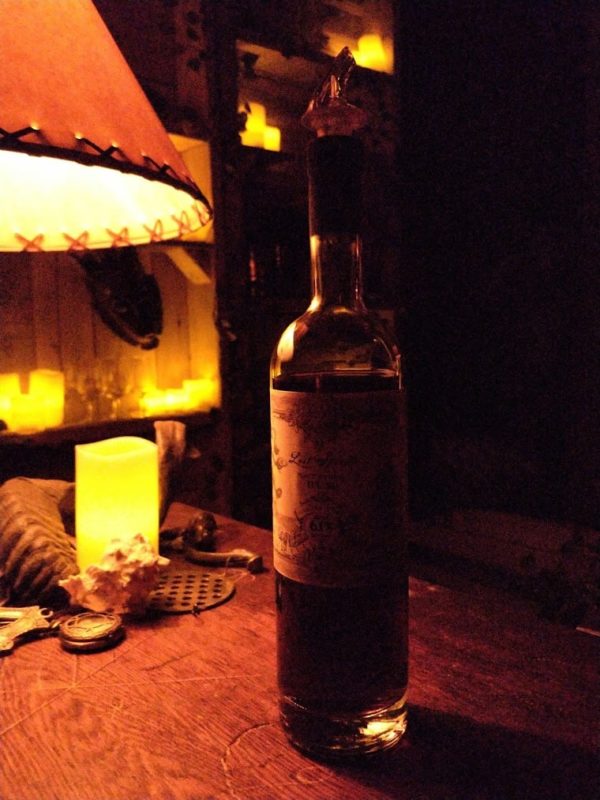 Low light camera performance was relatively mediocre despite OnePlus's "Intelligent Pixel Technology" that merges four pixels to one when ambient light is under 10 lux. This is significantly outpaced by Huawei and Leica's dual camera technology which uses one sensor for black and white only and another for color and intelligently merge the two pictures.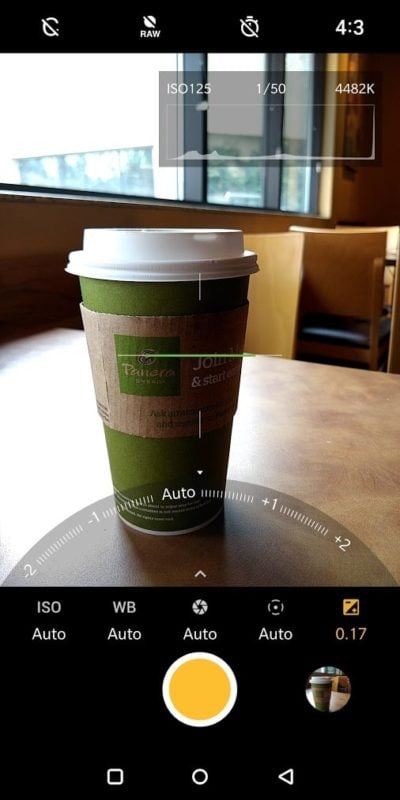 OnePlus also offers a manual mode for the OnePlus 5T for more seasoned photographers who know how to manipulate the ISO, shutter speed, aperture, white balance, etc. Unfortunately this doesn't make the sensor any better, but it helps when the camera's auto modes can't figure out what to do.
The front facing camera on the OnePlus 5T is a relatively standard fare front facing camera. it utilizes a Sony IMX 371, 16MP sensor with an f/2.0 aperture lens. It's a decent selfie camera in decent lighting, although it would've been nicer if OnePlus used a wide angle lens to allow better group selfies.
Software
The OnePlus 5T initially shipped with OnePlus's OxygenOS based on Android Nougat 7.1.1. Since then, OnePlus released a new version of OxygenOS based on Android Oreo 8.0. Unlike the custom OSes most major smartphone manufacturers ship with their devices, OnePlus's OxygenOS is very clean and close to the stock Android experience. The launcher isn't bloaty, there isn't a ton of pre-installed software, and the result is probably one of the best custom Android experiences in the market.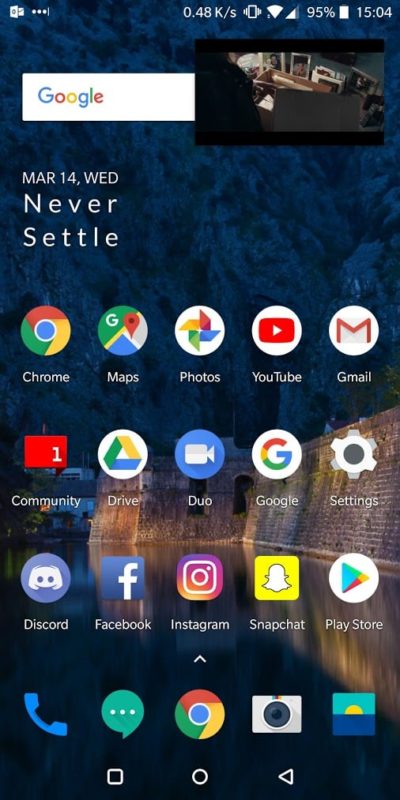 Launcher aside, the OnePlus 5T also has several special features baked into OxygenOS. The biggest is their Face Unlock feature which is similar to Apple's Face ID feature in the iPhone X. After a quick setup, the OnePlus 5T can be unlocked by simply looking at the screen, which worked surprisingly well in testing. Of course, just like Face ID, Face Unlock doesn't work in all lighting conditions nor does it work at all angles, but unlike the iPhone X, One Plus kept the fingerprint scanner, so you could always default to the "old way" of unlocking the phone if needed.
A couple other features include Parallel Apps, and Reading and Gaming Mode. Parallel Apps simply allows multiple instances of apps to be run which can be useful for those who use multiple accounts such as a business and personal Snapchat accounts for example. Another useful feature is Reading and Gaming Mode, which changes the color profile of the displays to optimize them for activities such as reading or gaming.
Battery
OnePlus has included a 3,300 mAh battery in the OnePlus 5T, which is standard fare for most flagship smartphones. In the OnePlus 5T, the battery was able to average about 20-24 hours of total battery life with about 4-6 hours of screen on time. While battery life will depend on how you use the 5T, those playing a few games, using the phone for social media, taking pictures, web browsing, navigation and streaming video shouldn't have to charge their phones more than once a day.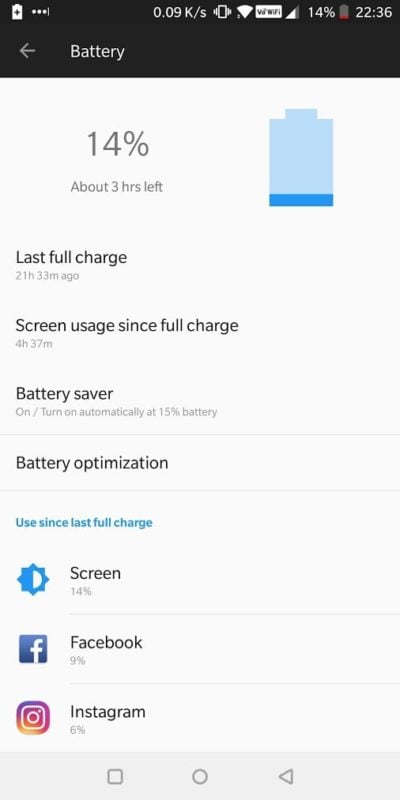 If you do end up running out of battery at some point, the OnePlus 5T also features OnePlus's DashCharge charging functionality which is the fastest charging system currently in the market. In testing, the OnePlus 5T was able to consistently charge from 10% battery life to over 90% battery life in under an hour. This however, does require one of OnePlus's DashCharge chargers which isn't nearly as common as Quick Charge chargers. This can be annoying if you're the only one using a OnePlus in a house or office full of Quick Charge chargers.
Conclusion
OnePlus has always had a good reputation among the enthusiast Android community and the OnePlus 5T is yet another good reason why in a long lineup of good reasons. While the OnePlus 5T isn't a revolutionary phone by any means, it follows the simple formula of creating a reasonably priced phone that's fast, isn't bloated by useless software, has a good display and has decent battery life. OnePlus has crushed it in this department for several generations now and the OnePlus 5T continues this trend. Those looking for a flagship smartphone, but want something more in the $500 pricepoint should take a good hard look at the OnePlus 5T. Highly recommended!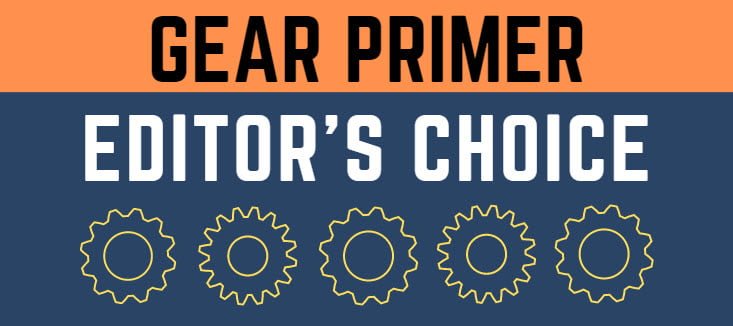 Sample provided by: GearBest