If you're reading this, it's because you've realized that your wallet is too big, too bulky, too heavy, and you're carrying way too much stuff in it. I get it. This was a problem I had years ago before switching to a slim minimalist wallet, which ultimately made me re-evaluate exactly what was necessary in my wallet and what was just extra junk I was carrying for no reason and believe me when I say I was carrying a lot of junk.
So, if some of you are preparing to make the jump to a minimalist wallet, today we'll be presenting you with what we think are the best minimalist wallets the market has to offer.
The Ridge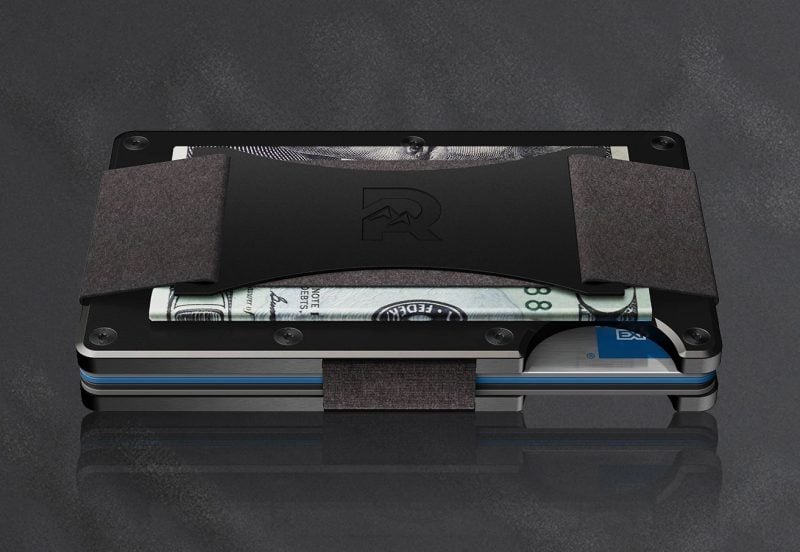 If you ask minimalist wallet enthusiasts, The Ridge is probably one of the first recommendations on the list thanks to its modern, sleek and minimalist look. Measuring in at 86mm by 54mm by 6mm, The Ridge weighs in at two ounces and can hold up to 12 cards and cash.
What's interesting about The Ridge is that it features a notch cut out at the side of the wallet, which allows for easily pushing out the cards contained in the wallet. The Ridge is available in several material options either 6061-T6 Aluminum, Grade 5 Titanium, or 3K Carbon Fiber Weave construction – all of which provide RFID blocking protection and a lifetime warranty. The Ridge also provides an option of equipping the wallet with a money clip or cash strap and can be changed out depending on your preferences.
Trayvax Element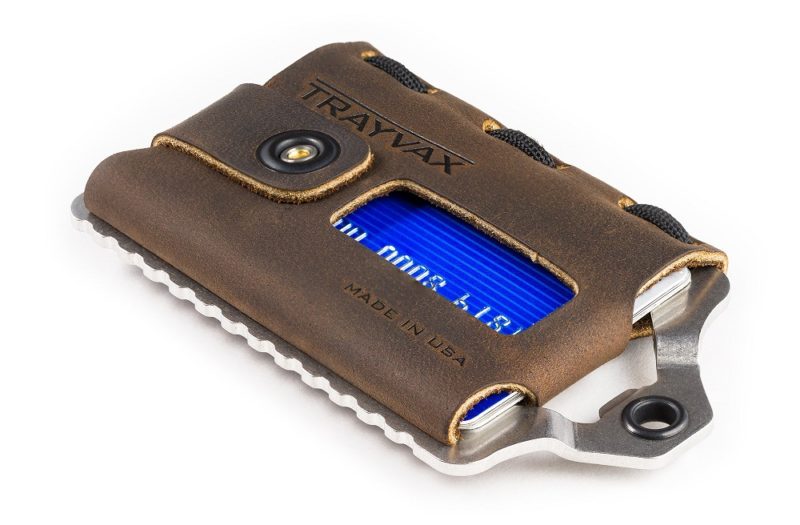 The Trayvax Element is one of our favorite wallets here at Gear Primer thanks to its versatile design, heavy duty construction, and great overall aesthetics. Measuring in at 4.5″ x 2.8″ x 0.5″ and weighing in at just 5 ounces, the Trayvax Element is capable of fitting between 3-10 cards and 1-5 bills and features an integrated money clip, bottle opener, and attach point. For those who own contactless RFID credit cards, rest assured, the Trayvax Element also offers RFID protection, preventing your payment information from being stolen wirelessly.
The Trayvax Element is also incredibly durable featuring a stainless steel frame combined with a top grain oil-tanned leather casing stitched together with paracord. Each wallet is made in the good old USA and features a 65-year heirloom warranty, so this may be the last wallet you ever buy in your life.
Dango Dapper 2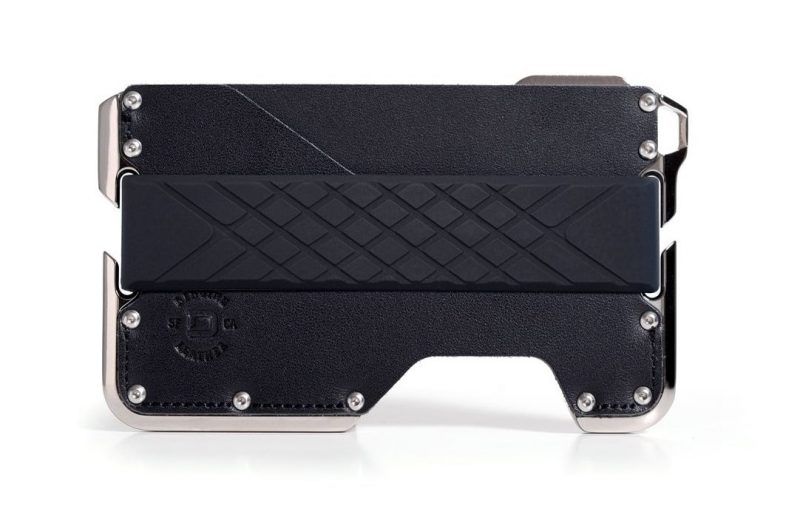 If you're looking for something that combines minimalism with space age technology, feast your eyes on the Dango Dapper 2, a minimalist wallet that's pretty much the pinnacle of what a minimalist wallet can be. Measuring in at just over 0.3 inches thin when loaded up with 6 cards, the Dango Dapper 2 is capable of holding up to 12 cards, a money clip for additional cash, and features RFID blocking.
The "secret sauce" of the Dango Dapper 2 is however, unquestionably the construction. Built in the USA using aerospace grade T6061 aluminum, handpolished for an hour, coated with nickel and bolted together using mil-spec steel bolts, the Dango Dapper 2 is a wallet that'll last a lifetime. Literally.
Dango Tactical EDC Wallet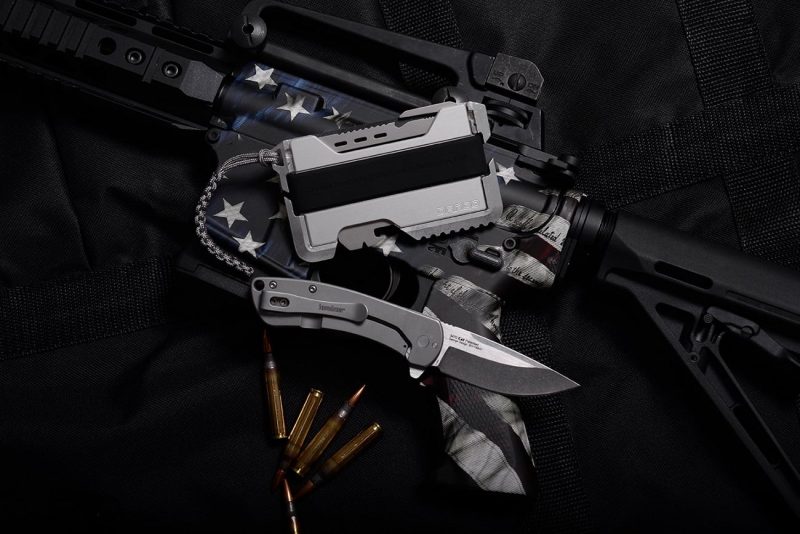 For those who want to go with something a little more minimalist, but still want something with practical value, the Dango Tactical EDC wallet is the perfect choice. In addition to the capability of holding up to 12 cards, the Dango Tactical EDC wallet features the Dango MT02 Multi-Tool, which is a thin, card-sized multi-tool featuring 14 different functions including a paracord cutter, nail pryer, serrated edge, phone stand, and more.
As with other Dango minimalist wallets, each Dango Tactical EDC Wallet features a lifetime warranty, aerospace grade T6061 construction, and is handmade in the USA.
Radix One Slim Wallet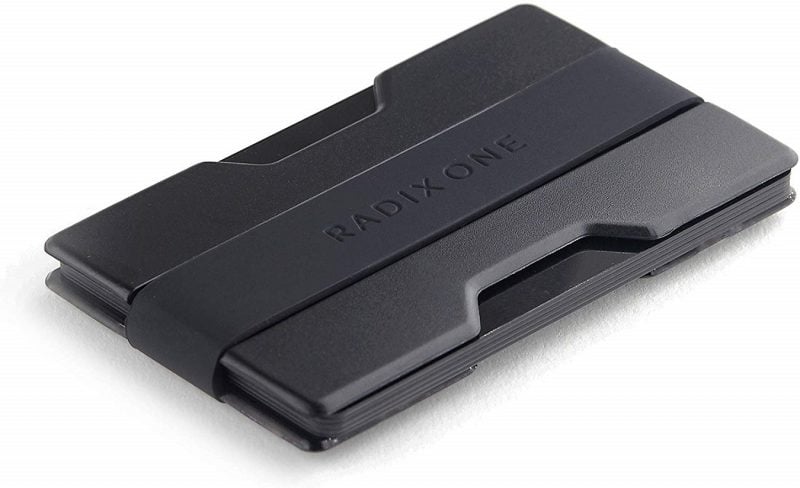 If you're looking for something a little more barebones and a little less pricey to fit your minimalist lifestyle, the Radix One Slim Wallet should be on your list.
Built using just two pieces of polycarbonate held together by a silicone band, the Radix One Slim Wallet weighs less than an ounce, yet is capable of holding between 4-10 cards and the silicone band also doubles as a cash band as well, if you're still into using that archaic method of payment.
Chums Surfshorts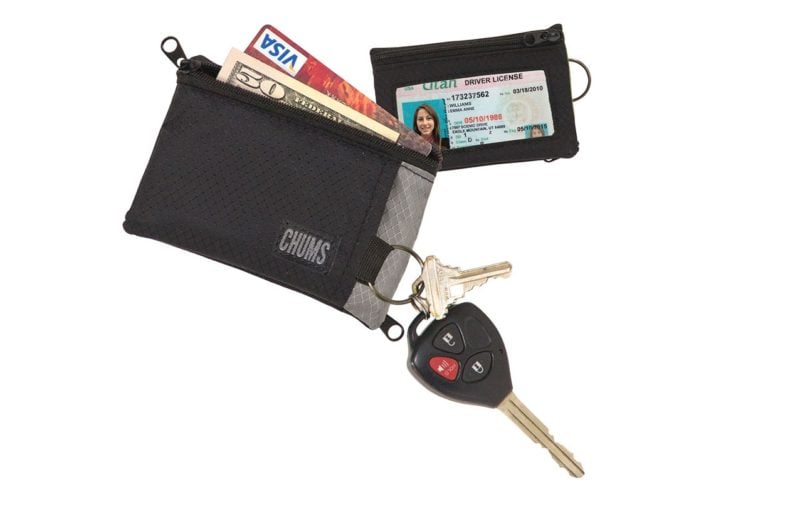 The Chums Surfshorts is one of our favorite travel wallets and also happens to be one of the best minimalist wallets on the market today.
At just 4.5″ x 3″, the Chums Surfshorts is very compact with just two compartments for your cards and cash with an additional keyring on back to tether the wallet to your body or a keychain. The wallet is built using nylon construction and there are zippers for both compartments for those who want to carry coins or just want the feeling of security that zippered compartments bring.
What's super awesome about the Chums Surfshorts is its incredible pricetag. At just $12, the Chums Surfshots is an extremely great value and as a bonus, it's manufactured right here in the USA. For those who want a unique looking wallet, the Chums Surfshorts also comes in a variety of designs.