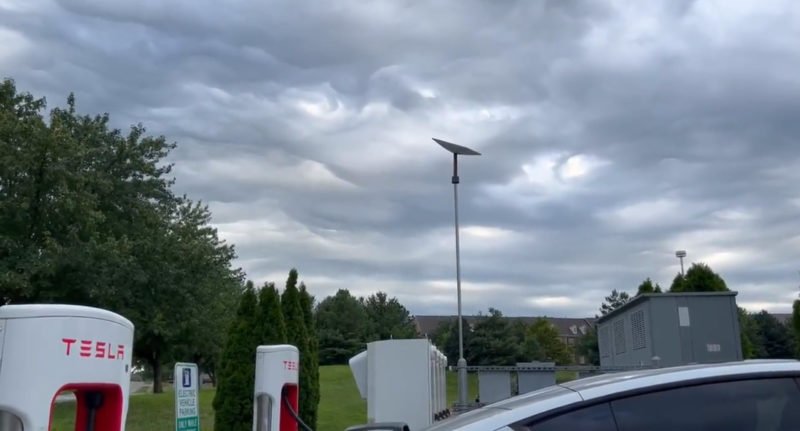 It was widely reported recently that Tesla began to deploy Starlink systems at Supercharger stations to provide internet connectivity and it looks like they have arrived in the Supercharger Station in Lexington, Kentucky.
In a recent Tweet by @Hollowman7717, "Hey Tesla Family, I'm in Lexington,Kentucky and There is a Starlink Satellite at this supercharger and your Tesla connects to the Wi-Fi for it automatically. It's updating my Tesla and I can stream movies through the Wi-Fi. Awesome!!"
In the video, we can see the Starlink dish at the Supercharger Station. Tesla vehicles charging at the station are able to connect to the "Tesla Service" Wi-Fi connection which can provide internet service.
While all Tesla vehicles have 4G LTE internet connectivity, in order to access many of the video entertainment options such as YouTube, Netflix, Twitch, Disney+, etc. without connecting to a Wi-Fi connection requires a $10/mo premium connectivity subscription. However, even with the premium connectivity subscription, the experience isn't always the best given that sometimes the LTE connectivity is weak or the nearby cell tower is overloaded. With Starlink connectivity at the Supercharger stations, this not only allows those who don't have premium subscription services to access the internet but can also significantly improve experience at the charging stations where LTE signal connections are weak.
After first starting to launch satellites in 2019, SpaceX now has over 3,000 Starlink satellites in low earth orbit providing internet access to over 500,000 subscribers around the world and is continuing to grow at a rapid page.