In the past few years, Tesla's stock price has generally hovered somewhere between $200 and $350; however, after Tesla's Q3 2019 earnings call in October of 2019, the stock has since skyrocketed several hundred percentage points leaving many investors and stock analysts wondering how this happened and if the stock price will continue to go up.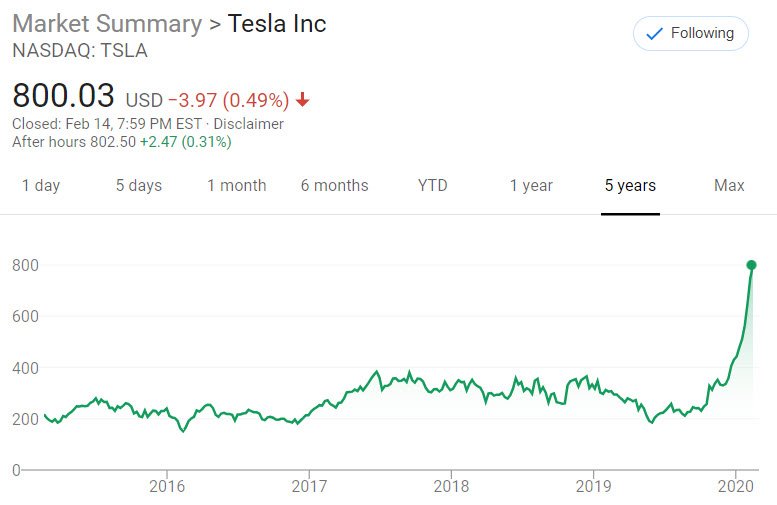 While many on the media have speculated that the reason for Tesla's rise is primarily due to a "short squeeze" or retail investors buying in droves bolstering the price, I believe it's becoming more and more evident that Tesla's massive stock value increase is due to a fundamentals based re-pricing of the stock as investors begin to better understand the fundamentals of the company.
Tesla has numerous competitive advantages over its competition and if it continues to execute the way it has, the company will surpass a $1 trillion valuation in the next five years. Here's why.
Mission Worth Following
Tesla's mission is "To accelerate the world's transition to sustainable energy." This is literally Tesla's mission in its mission statement.
While in years past, investors haven't necessarily been active in investing directly in sustainability, it appears that both business and investment firms are changing their mindsets. For example, the 2020 World Economic Forum held in Davos, Switzerland listed sustainability as one of its key themes for the year and in its annual shareholder's letter, Blackrock CEO Larry Fink announced firm would avoid investments in companies that "…present a high sustainability-related risk."
Tesla is very well positioned here as a large scale company that not only manufactures clean energy vehicles, but also one that manufactures solar energy generation and storage systems. Tesla is the clear winner for anyone looking to invest in sustainability. There simply isn't' another option out there.
Business Strategy Advantages
Agile Culture
Tesla embraces the agile company culture better than any other traditional automaker in the industry. The reason for this is because as Elon Musk has stated numerous times in the past, Tesla is an engineering company. They execute fast, they experiment, they learn, and they iterate.
Examples of this rapid level of iteration can be seen in every vehicle, their manufacturing lines, and the software used in their vehicles. The most prominent example of Tesla's agility is their over-the-air (OTA) software updates.
Up to this point, Tesla is the only manufacturer capable of releasing an OTA software update which is able to address issues with the vehicle's performance characteristics. When Consumer Reports found a braking issue with the Tesla Model 3, Tesla was able to push out an OTA update to fix the issue within a single week. This is absolutely incredible compared to expensive, large scale recalls legacy automakers would have to do in order to fix issues like these.
Of course, vehicle software isn't the only place Tesla appears to be iterating. The Tesla Shanghai Gigafactory was built in 12 months and the plans for the new Gigafactory shows a substantially streamlined production process compared to the complicated process in the Fremont factory.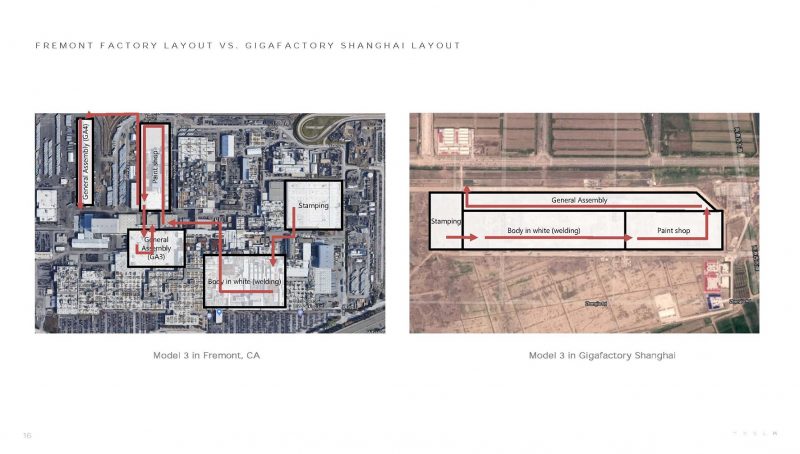 This is much different from the ramp of the Fremont factory which took substantially longer. When Tesla began ramping up Model 3 production, they were in what Elon Musk called "production hell" and weren't able to produce enough vehicles as they projected. However, they were quickly able to ramp the Model 3 from 2,000 to 5,000 vehicles a week in a single quarter from Q1 2018 to Q2 2018.
Tesla Gigafactory
Tesla's Gigafactory is a major strategic advantage for Tesla. No other automaker has this kind of battery manufacturing capability and only Volkswagen and GM has plans for anything close to Tesla's Gigafactory.
Why is this important? Well, even if the legacy automakers decided to completely stop investing in legacy internal combustion engine vehicles and were capable of building a great electric vehicle, they simply wouldn't be able to secure enough batteries to actually produce in volume.
Mercedes-Benz for example recently had to cut production of their "Tesla Killer" EQC electric vehicle in half because they couldn't secure enough of a battery supply. Audi has not only cut their production targets, but they've also had to suspend production at their Audi e-tron factory due to battery supply shortages. It's more than likely other automakers would face the same issues going forward unless they all figure out a way to build out these supply chains and secure enough battery supply.
The Tesla Gigafactory also gives Tesla massive scale in production of batteries, thus lowering the cost of production. A recent report by Cairn Energy Research Advisors estimates that Tesla's cylindrical batteries are 25%-60% cheaper than pouch or prismatic batteries used by its competitors. Research by Ark Invest suggests that this competitive edge will continue due to Wright's Law – a theory first introduced by Theodore Wright which estimates that cost will decrease by a consistent amount for every doubling of production. For example, Theodore Wright noticed that when producing airplanes in the 1920's, the cost to produce the 2,000th plane was 15% less than that to produce the 1,000th plane, and the cost to produce the 4,000th plane was 15% less than that to produce the 2,000th.
No Dealer Network
Tesla is not only able to better control customer experience, but is also able to realize better profits compared to traditional automakers as they do not have a dealer network to sell their cars.
Unlike every other automaker on the planet, Tesla's buying experience is far superior as there isn't a haggling process with a salesperson. Simply order the vehicle online and pick it up when it gets delivered to the store. Those who want to interact with a salesperson can do so also at one of Tesla's 200+ stores and galleries worldwide.
Dealerships generally average a 10-15% profit margin between sales and service which can either be savings passed onto consumers or additional profits passed onto Tesla. Dealerships make on average 1-2% on new car sales, which account for around 26% of the dealership's total gross profit. In addition to taking a portion of the profit margin on each new car sold, dealers make a significant portion of their money on post sales vehicle maintenance, as much as 50% of their gross margin. As electric vehicles require little to no maintenance, the monetary incentive for dealerships to sell electric vehicles are incredibly low as they would essentially be giving up years of future services.
No Legacy Supply Chains
Legacy ICE (Internal Combustion Engine) vehicle manufacturers have created some of the most advanced supply chains in the world to supply their factories with enough parts to build millions of ICE vehicles. However, electric vehicles do not have things like combustion engines, transmissions, and various other components. As a result, ICE automakers will need to not only figure out a way to get rid of existing supply chains, but also build new ones with battery makers, electric motor makers, and semiconductor suppliers. Let's also not forget about human capital working in ICE vehicles who will likely need re-training to develop electric vehicles.
If you need an example of legacy supply chains causing issues for legacy automakers, a recent teardown of the Tesla Model 3 by Nikkei Business Publications says it all. Tesla's Full Self Driving (FSD) computer is five years ahead of anything the industry expects yet, legacy automakers can't accelerate development of their own. An engineer working for a major Japanese automaker simply said "We cannot do it." The reason? Legacy supply chains. Legacy automaker suppliers face bankruptcy and job losses if the automakers decided to vertically integrate.
Tesla Supercharger Network
Tesla's Supercharger network provides Tesla vehicles the largest high-speed electric car charging infrastructure in the world.
As of 2019, Tesla had over 1,804 Supercharger stations and 15,911 Superchargers worldwide. That number continues to grow at a rapid rate. Electrify America, the charging network created by Volkswagen as a result of their Dieselgate scandal has just 356 charging stations and 1,656 chargers.
While it's far more convenient to charge an electric vehicle at home, one of the top concerns of electric vehicle ownership continues to be battery anxiety, or running out of battery while away from home or a charging station. This is despite the fact that for most people, driving even 100 miles per day is unlikely. That being said, Tesla's coast-to-coast Supercharging network helps alleviate these concerns.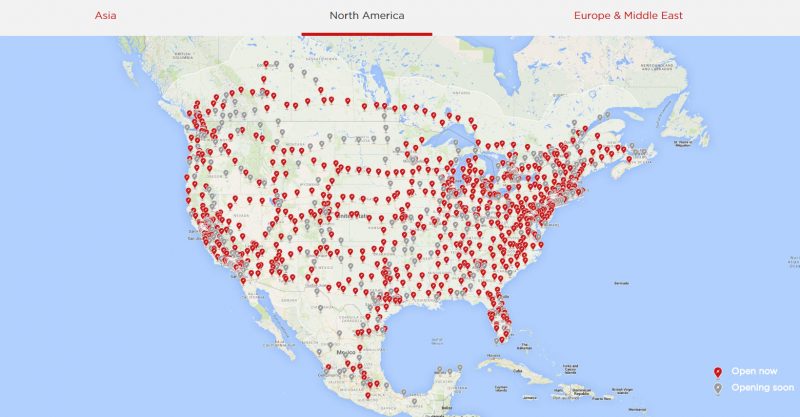 Elon Musk
Love him or hate him, Elon Musk's innovative vision is an asset for the company. He isn't afraid of pushing the boundaries of automotive design. Take for example the Cybertruck. Love it or hate it, it will be the most unique mass produced vehicle ever.
Elon is also incredibly hardworking, passionate, and isn't afraid to get his hands dirty. Elon is also the only automotive CEO who is passionate enough about his company to actually work 100+ hours a week and sleep on a cheap couch in his office in order to build and deliver cars. He is also willing to take zero salary, but rather be compensated by stock options that only vest when the company has hit certain performance milestones. There isn't a single legacy auto executive willing to do that.
Additionally, having a celebrity CEO is also a major marketing tool. For better or worse, every time Elon Musk Tweets, he reaches 31.3 million followers. Ask 10 people who the CEO of Ford, GM, Toyota, or Honda is. Then ask them who the CEO of Tesla or SpaceX is.
No Marketing Cost
Speaking of marketing, Tesla is famous for not doing any marketing. Its products speak for itself and all marketing is done by word of mouth.
Tesla's word of mouth marketing is so successful that Tesla vehicles are the only vehicles on the market that are being bought without even being seen, a test drive never being done, and a salesperson never even met. That is brand power.
Marketing generally represents 5% – 15% of the cost for legacy automakers which Tesla doesn't need to spend on.
Complete Corporate Alignment
Tesla has complete corporate alignment with its vision of sustainable energy and transportation. Legacy automakers must fight internal company politics in order to bet huge amounts of resources and people towards the push for pure battery electric vehicles (BEV). It's hard enough gathering 10 people together for lunch. Imagine rallying thousands of people who have spent their lives working on internal combustion vehicles and telling them they need to switch to electric. It's not easy.
Location and Talent
When creating a new technology such as artificial intelligence for self-driving, it helps to tap into the best engineering talent in the world. Engineers of this caliber tends to be in Silicon Valley, which just happens to be where Tesla is headquartered. As a result, Tesla has the capability of hiring the best talent which ultimately leads to a far superior product.
Shark Tank Judge Kevin O'Leary shared in an interview on CNBC the following:
"Colleges and universities around the world with an engineering department generally puts forward an electric Formula 1 car and engineering teams in their graduating years race these cars all over the world. I've been hanging out at the pits with these engineers, and I've learned something extraordinary. When you go to one of these races… when the race is over, the winning team — they come from anywhere on Earth — who do they want to talk to? They want to talk to the Tesla hiring team there. The HR people hanging around at the pits."
"Every one of these engineers, the smoking hot kids that sit with their cars, the men and women that sleep with them for 24 hours a day; it's an unusual culture I've never seen before. They all want to work at Tesla. Why? Because the teams are six to eight people. If they go to a legacy car company, they get drowned out in the back somewhere. These smart, young, men and women make a big difference as interns. I can't believe the access to talent they have."
SpaceX Intellectual Property Sharing
Tesla has the unique competitive advantage of also having access to intellectual property of SpaceX. This unique competitive advantage includes a vast amount of IP such as semiconductors, materials, and manufacturing technology just to name a few.
Tesla CEO, Elon Musk has even confirmed that they have joint employees between SpaceX and Tesla. One such employee, former Apple alloy expert Dr. Charles Kuehmann is Vice-President of Materials Engineering at Tesla and SpaceX.
Examples of intellectual property sharing can be seen in Tesla utilizing SpaceX Dragon Spacecraft 30x Cold Rolled Stainless Steel and Armor Glass windows for the Cybertruck, and SpaceX utilizing Tesla's quick and low cost tent manufacturing strategy for its spacecraft.
Best Electric Vehicles
Built to Be Electric
Tesla EVs are built from the ground up to be electric. As a result, Tesla EVs are at least 30% more efficient compared to other EVs on the market. Tesla not only has better batteries, but they've learned quite a lot from developing, manufacturing, and tuning their vehicles to be the most efficient vehicles on the road.
In recent testing by Consumer Reports, Tesla vehicles had a significant efficiency advantage over electric vehicles from competitors. It was found that the Tesla Model X with its 100kWh battery (328 miles) had a 62% range advantage over the Audi E-tron with its 95kWh battery (204 miles). Similarly, the Tesla Model S with its 100kWh battery (373 miles) had a 46% range advantage over the Porsche Taycan with its 93kWh battery (201 miles).
"Tesla Killers"
The Tesla Model S, 3, and X are currently the best electric vehicles on the market. No one comes close. Every "Tesla Killer" has gotten killed. No EV comes close in comparison to any of the EVs in Tesla's lineup.
In the US 4th Quarter 2019, the Jaguar I-Pace sold 752 units, the Audi E-Tron sold 1,829, and the Porsche Taycan sold 130. This is in comparison to the Tesla Model 3 which sold 47,275 units, the Tesla Model X which sold 5,500 units, and the Tesla Model S which sold 3,750 units.
The only thing these "Tesla Killers" have done is drive even more demand for Tesla as the combined marketing campaigns by Jaguar, Audi, and others have simply created more awareness for electric vehicles.
Future Product Pipeline
Tesla has a number of new vehicles in its future product pipeline including the Tesla Model Y, Tesla Cybertruck, Tesla Semi, and Tesla Roadster. Each of these vehicles represent billions of dollars in additional revenue and are all slated to be delivered within the next five years.
Tesla Model Y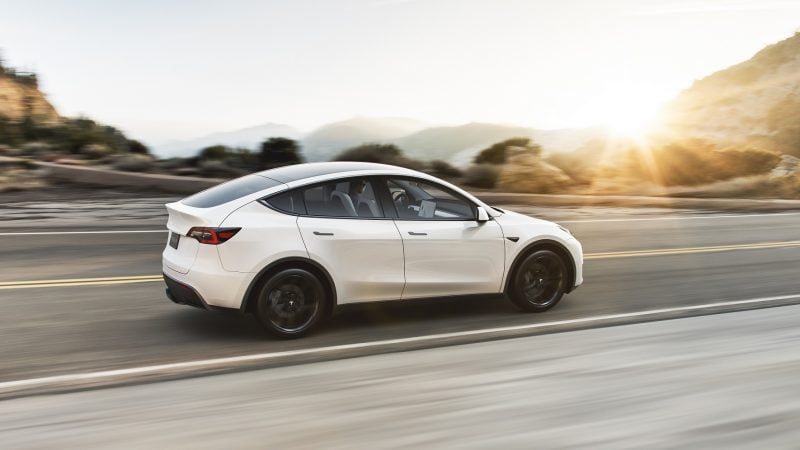 Tesla's Model Y is slated to begin deliveries in March 2020 which is two quarters (6-months) earlier than previously expected. According to Tesla, the Model Y is expected to outsell the Tesla Model 3 as the crossover segment of the market is the largest segment today.
Tesla Cybertruck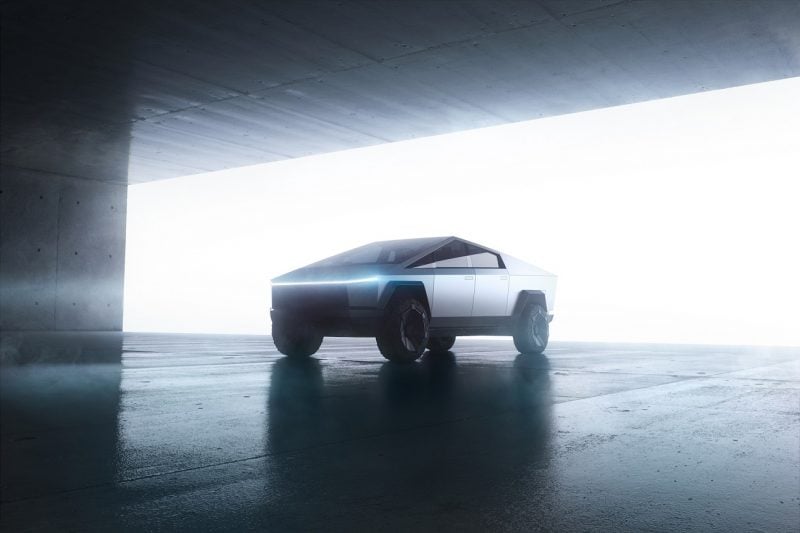 The Tesla Cybertruck is expected to be released in late-2021. According to Tesla CEO Elon Musk, the Cybertruck has racked up more than 250,000 pre-orders and recent estimates by a crowdsourced pre-order tracker by the Tesla community has pegged the number of pre-orders at 500,000 making it insanely successful over a year before its actual introduction into the mass market.
Tesla Semi
Tesla Semi is also slated to arrive in limited production in the late-2020 timeframe.
Tesla Roadster
Tesla Roadster is also slated to arrive in the 2020 timeframe.
Over-the-Air (OTA) Updates
OTA updates are relatively exclusive to Tesla. Only Tesla vehicles improve over time. Examples of this include better performance, braking distance, Dog Mode, Sentry Mode, Romance Mode, Arcade, Netflix, Spotify, and a lot more.
In Tesla's 2020.8.1 firmware update, Tesla responded to a feature request by the Tesla owner community by adding seat-activated Bluetooth functionality. The Tesla community requested the feature by directly Tweeting at Tesla CEO Elon Musk who was able to develop, test, and deploy the feature in a firmware update less than two months later. This level of agility and speed is unmatched by any automaker in the market today.
Safest Vehicles
All Tesla vehicles are rated top in each category making them some of the safest on the road according to US and EU auto regulators.
Low Maintenance
Tesla EVs are very low maintenance compared to ICE vehicles. There's no oil changes, no transmission fluid changes, engine air filter changes, spark plugs, timing belts, alternators, etc. to replace. This is not only a massive cost savings to the customer, but it also reduces vehicle downtime as customers no longer have to bring their car in for service as often.
Autopilot / FSD (Full Self Driving)
When Tesla held their Autonomy Day in 2019, Tesla unveiled a new self-driving AI chip designed in-house, which is known as the FSD chip or HW 3. The chip is designed by veteran industry chipmaker Jim Keller, who also designed famous SoCs and processors such as the Apple A4 and AMD Zen.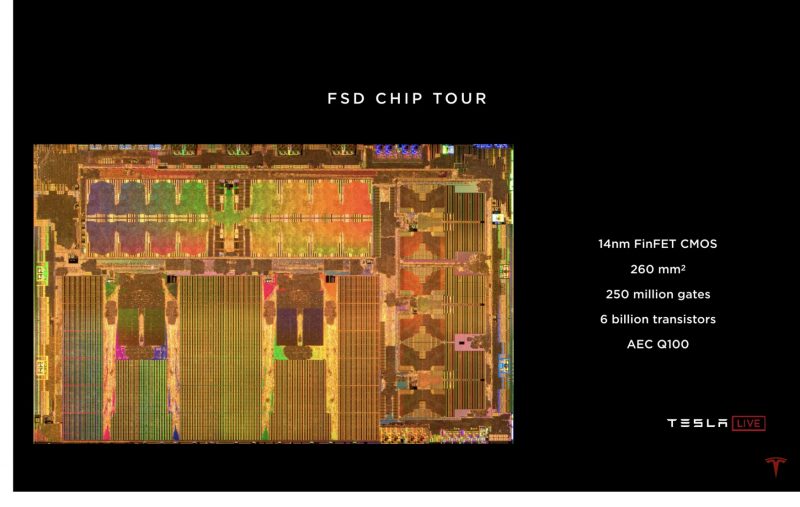 According to a recent teardown of the Tesla Model 3 by Nikkei Business Publications, they noted that the chip is far ahead of anything else in the industry by about 6 years.
Tesla has collected the most amount of driving data of any auto-maker on the planet with an estimated 2.2 billion. This contributes to the deep learning / neural networks needed for full self driving. Tesla is also the only automaker on the planet with a proprietary full self driving computer capable of up to 144 TOPS (Tera Operations Per Second). This is faster and more capable than what's available from chipmakers such as Nvidia. Once Tesla completes their full self driving technology, it won't be too far away from their proposed robo-taxi network.
Solar / Infrastructure
Tesla Solarglass Roofs are the only way to get normal looking solar roof tiles rather than solar panels. California is already mandating all new homes to be built with solar and if it's successful, other states are likely to follow. In addition to residential solar, Tesla also supplies major solar and battery infrastructure projects to reduce the reliance on coal and other environmentally unfriendly power plants. This will be continue to grow as a source of Tesla's revenues in the coming years.
Tesla recently released the Solarglass V3 product, which is the first Solarglass product Elon Musk believes is ready for primetime. Tesla currently believes they can deploy as much as 1,000 Solarglass roofs a week thanks to a significantly improved installation process and competitive pricing structure.
Clean Energy Future
Sustainable energy is the future. That's a fact. The alternative is unsustainable energy and even its name suggests that there is no future in it. Tesla is the only automaker with scale well positioned to take advantage of this clean energy future while everyone else is still years away.
European Union Push to a Clean Energy Future
The European Union has already set aggressive CO2 emissions targets over the next decade aiming for emissions reduction of 15% from 2025 on and 37.5% from 2030 on in cars and reduction of 15% from 2025 on and 31% from 2030 on in vans. Manufacturers that do not meet these required will be fined severely whereas those who do meet those requirements will be able to sell emissions credits to those unable to meet these requirements. Tesla has met these requirements every year and has sold credits every year to legacy automakers unable to meet these emissions requirements.
On top of new emissions standards being rolled out, the United Kingdom has recently announced that they will be banning the sale of fossil fuel powered vehicles by 2035. Scotland has previously announced they will be banning the sale of fossil fuel vehicles by 2032. Norway has plans to ban fossil fuel vehicle sales by 2025. Ireland, the Netherlands, Denmark, Slovenia, and Sweden plan to ban the sale of fossil fuel vehicles by 2030.
Final Thoughts
Due to the reasons above, Tesla has and will continue to be the leader in the move to a sustainable future. As Tesla continues their disruption of multiple trillion dollar industries, there is no question that Tesla will easily surpass a trillion dollar valuation in the coming decade.
Full Disclosure: I'm long TSLA and have been long TSLA since 2018.